This Play-Doh Valentine Free Printable is a perfect non-candy treat option for Valentine's Day. Print at home and gift with small 1oz packages of Play-Doh. This post contains Amazon affiliate links.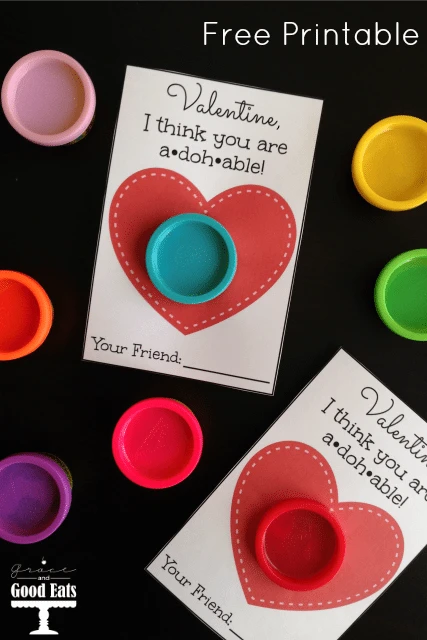 We're big fans of Play-Doh at our house. It's minimally messy and usually keeps the kiddos entertained long enough for me to make dinner or get some laundry done. I'm also a fan of giving it in favor bags at birthday parties or on Valentine's Day, instead of the usual candy and sugar.
Not that there's anything wrong with treats, but sometimes it's nice to have other options especially for kiddos that may have food allergies. I've also got this free Valentine's Candy Wrapper printable to pair with a package of Sun Cups for those with nut allergies.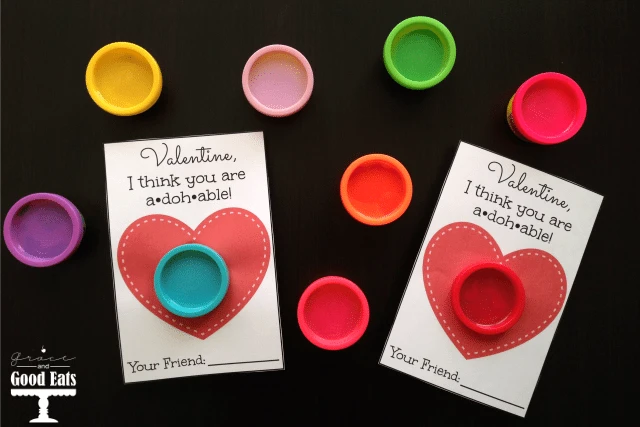 My kid's friends have always loved this simple Valentine's Day printable with a small 1oz container of Play-Doh. You can find the Play-Doh Party Bag Dough, 15 Count (assorted colors)
on Amazon or in select stores.
To assemble: print out the Play-Doh Valentine cards on card stock and cut a circle in the center of each heart. An easy way to do this is to trace the bottom of the Play-Doh carton (make sure you cut inside the lines). Use a little tape on each side of the container to the back of each card if you accidentally cut too big of a hole opening.
Click the link directly below to download and print the Play-Doh Valentine Cards:
Looking for more candy free Valentine's Day cards? I also created these "You Make My Heart Race" valentines. I picked up some inexpensive matchbox cars at the dollar store (though I think I could have just easily shopped my kids' play room and found at least fifty or so) and used washi tape to stick them directly to the card stock. Another super easy and super cute candy free valentine.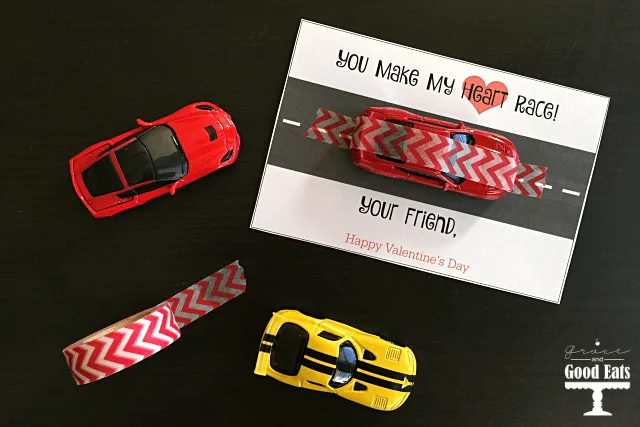 ---
Looking for more Valentine's Printables: