This is a sponsored post written by me on behalf of Tom Thumb. All opinions are 100% mine.
Kids Snack Ideas: create a delicious snack board with protein for growing bodies, fat for brain power and fullness, fruits and veggies for vitamins and minerals, and their favorite treats for extra fun!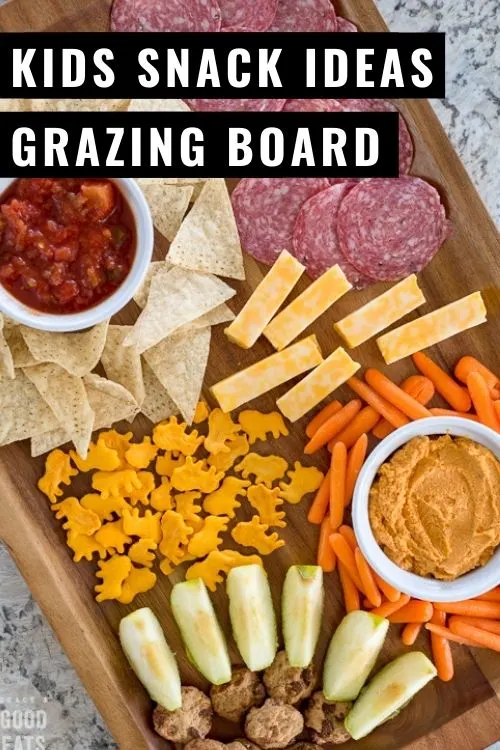 We've been homeschooling for a few weeks now and are still trying to get the hang of our new routine. I tend to be the type to over-schedule while my husband is much more laid back; we're trying to meet in the middle and let the day flow around our natural rhythm of meals, snacks, and naps.
We're all enjoying the slower pace, and it's been nice to be able to put more intentional effort into our meals and snack times together as a result. The kids are loving homemade pancakes and waffles for breakfast during the week (usually only a weekend treat before), and the "snack board" I've started making for their afternoon snack.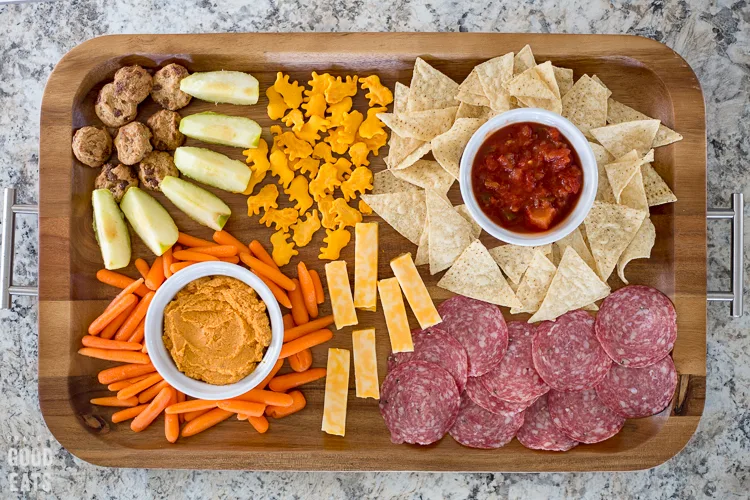 How to Make a Snack Board for Kids
I don't want to say it is as simple as tossing a few of their favorites onto a platter, but it kind of is. That said, there is definitely some intention behind what I choose. Here are the basics behind how I build my kids snack board:
Start with protein for growing bodies. I don't want to have to do a lot of actual cooking for snack, so I always keep ready-to-eat Primo Taglio® Italian Dry Salame (and their yummy cheeses) in my refrigerator.

Add in fat for brain power and fullness. My favorites here are O Organics® Roasted Red Pepper Hummus, creamy peanut butter, and different types of cheeses (my oldest always asks for more Primo Taglio Feta).

Supplement with carbs for energy. These are often the vehicles for the protein and fat, like O Organics Tortilla Chips or Pita Chips.

Balance with fruits and veggies for vitamins and minerals. Baby carrots and snacking peppers are also great for dipping and scooping hummus or salsa.

Sprinkle in their favorites for fun. My kids love the O Organics Mini Chocolate Chip Cookies and Cheddar Crackers. I love that the O Organics line is always non-GMO and 100% USDA-certified organic.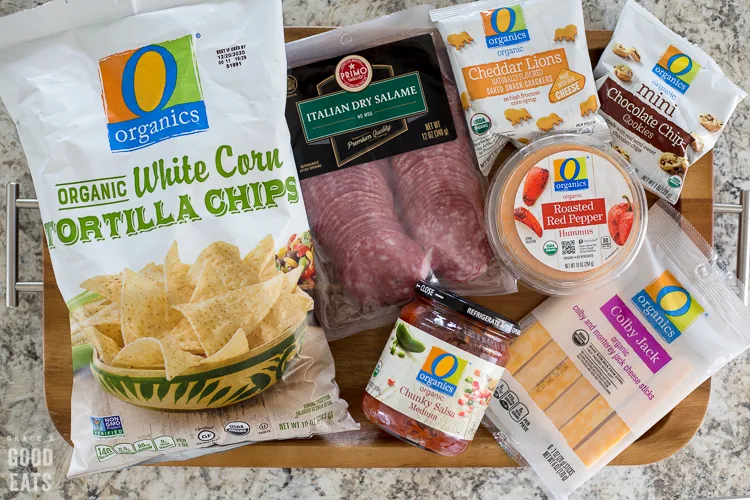 The Primo Taglio products are made with the finest ingredients, using traditional, time-honored preparation methods, and no artificial flavors or colors.
I appreciate that many of the Primo Taglio (which stands for "first cut" in Italian) meats use whole muscle meat with no binders or fillers and that their cheese uses the highest quality milk and old-world recipes, which can be naturally aged up to 2 years.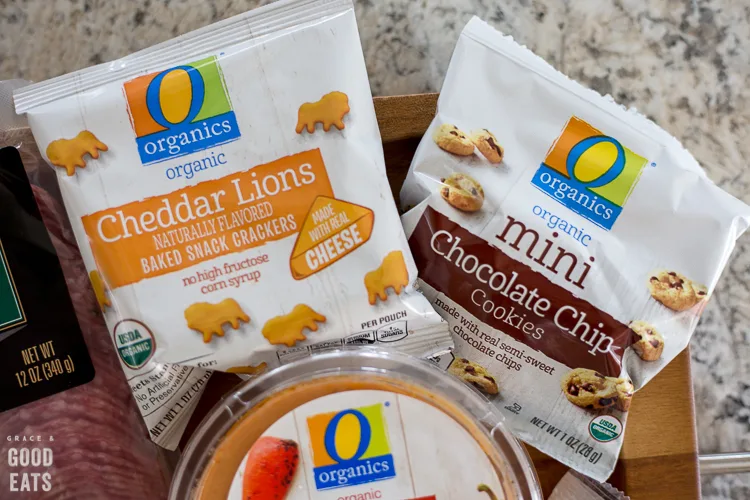 I prefer to buy multipacks for their treats like the O Organics cookies and crackers. It helps them stay fresh longer so I can swap them out more often and not feel like I have to serve the same thing over and over to finish off a giant tub. This helps keep snack time new and exciting.
They're also easy to grab and go for the days we decide to take school on the road!
Tips for Making a Snack Board
This might look like a lot of food, but I have four kids, so it goes quick! That's one reason grazing boards are one of my favorite kids snack ideas, you can scale it up or down based on your needs.
Anything that doesn't get eaten from the snack board either gets put away for tomorrow or incorporated into dinner. My youngest is the least picky of all my kids and will happily eat leftovers without complaint.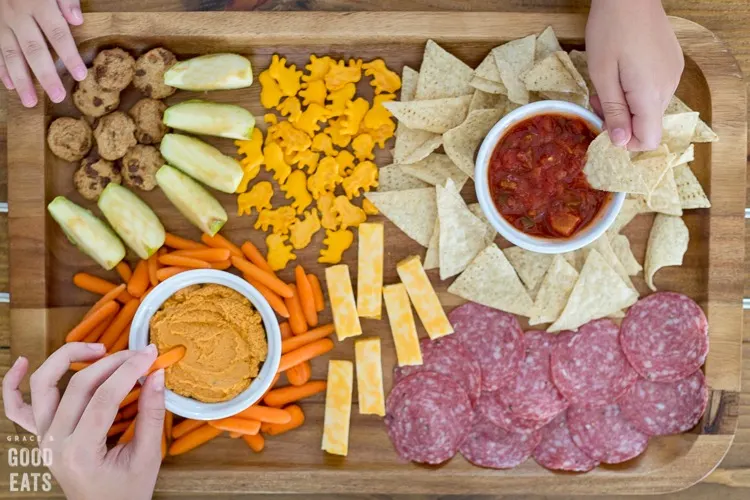 Snack Board for Kids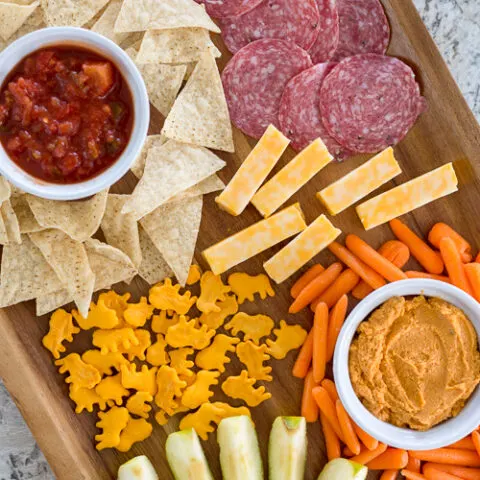 Kids Snack Ideas: Make this yummy snack board loaded up with protein, healthy fats, fruits and veggies.
Materials
Protein: Deli meat, salami, pepperoni slices
Fat: Hummus, peanut butter, cheese
Carbs: Tortilla chips, pita bread, pretzels
Veggies: Baby carrots, snacking peppers
Fruit: Apple slices, grapes, clementines
Favs: Crackers, cookies, popcorn
Tools
Food-safe wood tray or serving platter
Instructions
Start with your bowls and arrange dipping items around.
Fill in with fruits, veggies, protein, fat, or carbs.
Sprinkle in treats around the main items.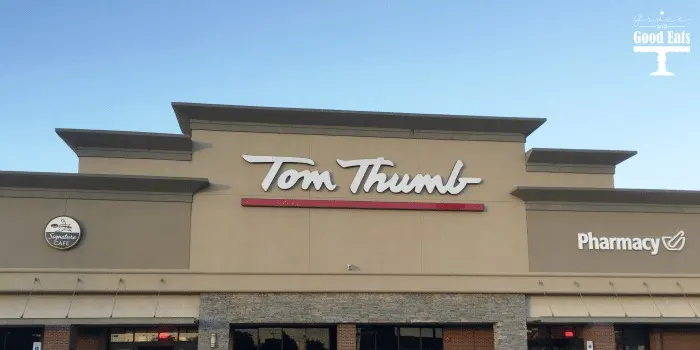 I found all of my favorite high-quality O Organics® and Primo Taglio® products at my local Tom Thumb store but you can also find the items I mentioned above at the Albertsons Companies family of stores, including Albertsons, Safeway, ACME Markets, Jewel-Osco, Randalls, Shaw's Supermarket, Star Market, Tom Thumb and Vons. Tom Thumb also offers Grocery Delivery and Drive Up & Go™ for convenient ways to shop!