Ice Cream Floats are one of our favorite summertime treats! Root beer served over classic vanilla ice cream in a frosted mug is the perfect way to cool off on a hot day.
I used to despise root beer. We grew up drinking Dr. Pepper and as an adult I switched over to regular Coke. I could probably count on one hand how many times I had ever had root beer before marrying James.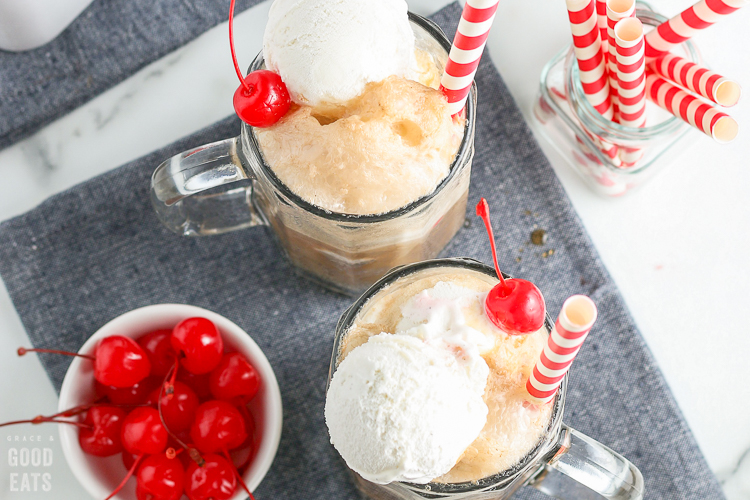 He finally got me to try the Buc-ee's brand of fountain root beer and OH-MY-WORD, it was delicious. I took a timid first sip expecting to hate it… and then I refused to give it back. It has just the right amount of spicy vanilla without any weird wintergreen or licorice taste.
(If you don't know about Buc-ee's, it's a gas station famous for it's clean restrooms and snacks. They're huge and have a loyal fan base in the South.)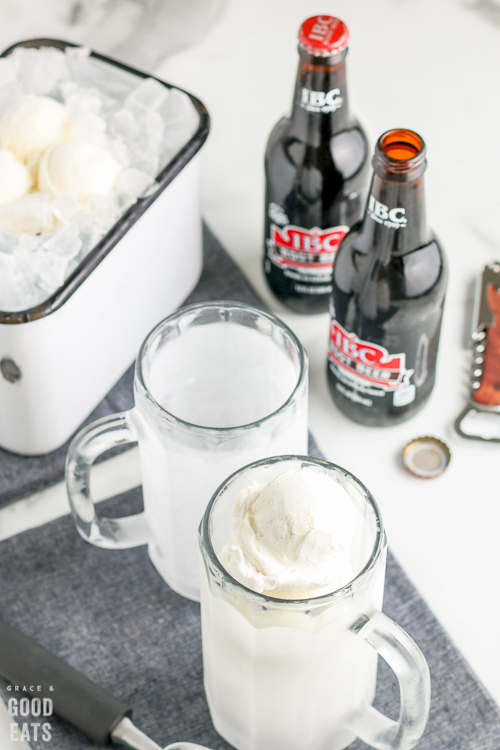 Since becoming a root beer convert, I've decided IBC Root Beer is the next best thing when I can't make the thirty minute drive to Buc-ee's. It's become our nighttime routine; after we put the kids to bed, we pop a bag of popcorn and enjoy a super cold IBC root beer while we watch our shows. (IBC Root Beer is perfect for this pre-bedtime treat because, like most root beer, it's caffeine free.)
A few weeks ago we used it to make ice cream floats and they've now become our favorite summer treat!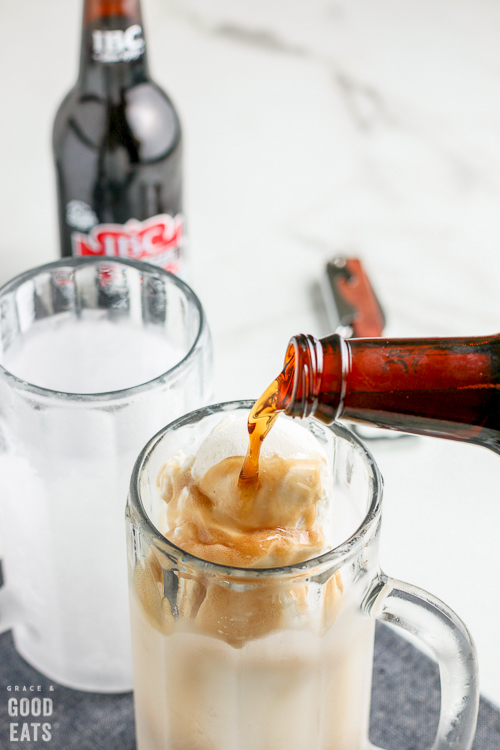 What goes in a root beer float?
To make these simple root beer floats, you will need the following:
IBC Root Beer (or your favorite brand)
Vanilla Ice Cream
Maraschino Cherries (optional)
How to make root beer floats
This recipe couldn't be easier- add all of the ingredients to a glass and serve immediately. Here are the basic steps to making a delicious Root Beer Float:
Scoop cold ice cream into a glass mug.
Gently pour the root beer over the ice cream.
Top with a cherry and enjoy!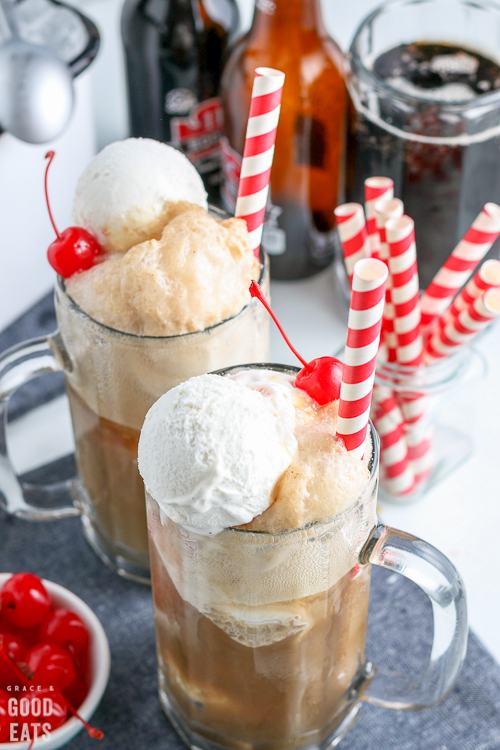 Toppings for ice cream float
Of course you can always customize your ice cream float by using other varieties of soda- such as Coke or Dr.Pepper. You could also swap out the vanilla ice cream for chocolate or Neapolitan. Homemade whipped cream would be a delicious addition. We like to keep it traditional with the root beer and vanilla- the flavors are just too good together.
What kind of ice cream for ice cream float
I haven't ever tried to make an ice cream float with "nice cream" or dairy-free ice cream, but I imagine it would work just fine!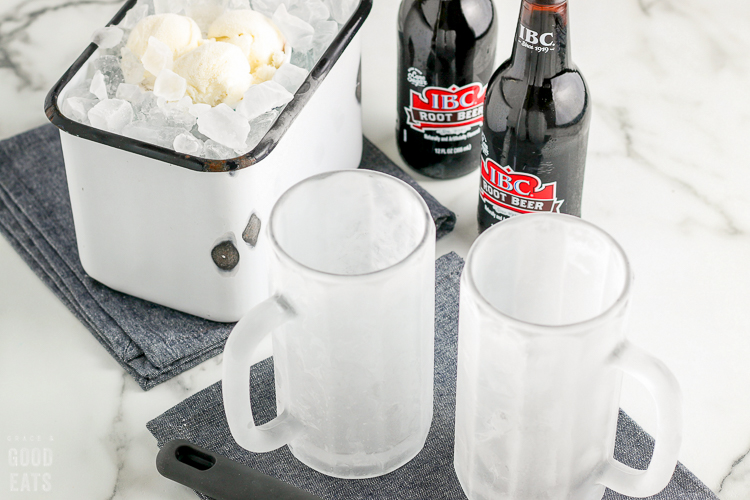 Tips for the best ice cream float
For best results, serve your root beer float in a throughly chilled mug. I like to pop my glasses in the freezer a few hours before I'm planning to make mine. (Just make sure your mug of choice is freezer-friendly.)
Another tip is to pour the liquid over the ice cream slowly, if you pour it too fast it will cause it to fizz up and melt too quickly.
More delicious frozen treats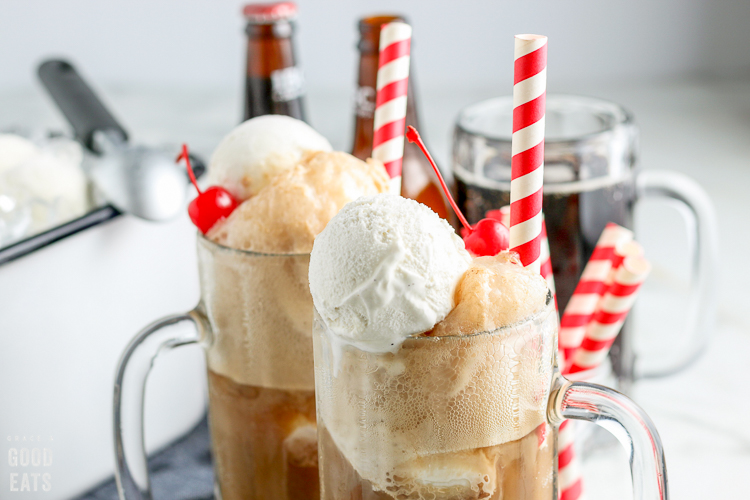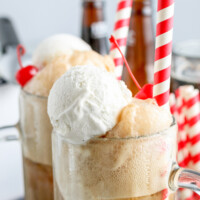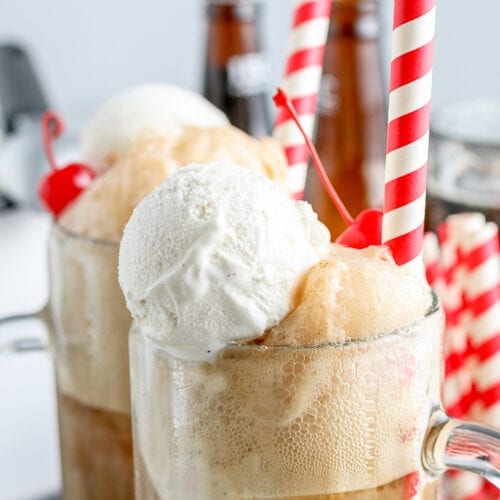 Ingredients
2

cups

vanilla ice cream

2

bottles

root beer
Instructions
Add several scoops of ice cream to a chilled mug.

Slowly pour root beer over ice cream.

Add any toppings you like and serve immediately.
Notes
Note these nutritional facts are just an estimate and will vary wildly based on the type of and how much of the ingredients you choose.
Nutrition
Calories:
274
kcal
|
Carbohydrates:
31
g
|
Protein:
5
g
|
Fat:
15
g
|
Saturated Fat:
9
g
|
Cholesterol:
58
mg
|
Sodium:
106
mg
|
Potassium:
263
mg
|
Fiber:
1
g
|
Sugar:
28
g
|
Vitamin A:
556
IU
|
Vitamin C:
1
mg
|
Calcium:
169
mg
|
Iron:
1
mg