This DIY Vertical Planter is the perfect garden option for those with limited space. Grow your own herbs or flowers in this easy to maintain vertical planter.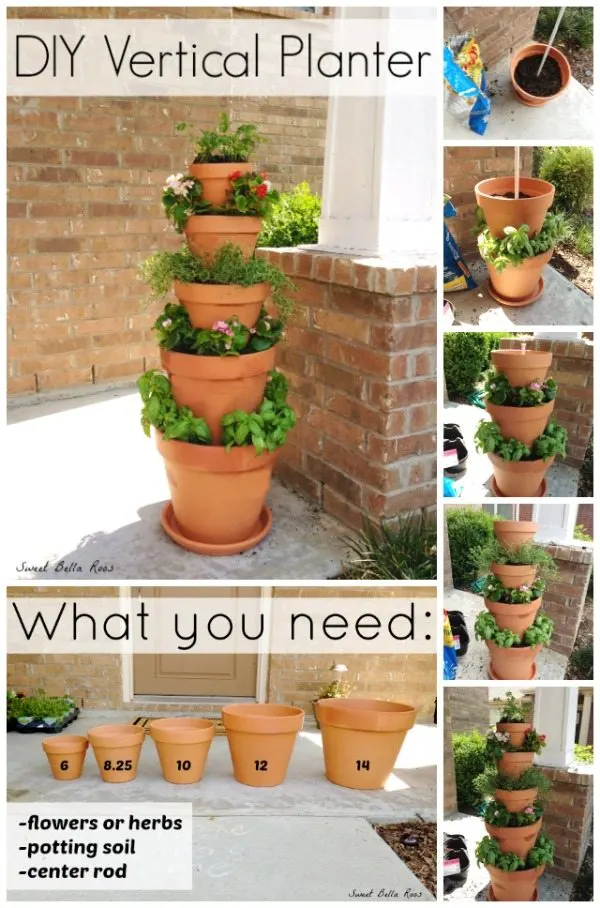 I am so happy with the way this project turned out! It makes me smile every time I walk past it on the front porch. It was super easy, and much like my ombré note cards, pretty self-explanatory.
Here's what you need to make your own DIY Vertical Planter:
14 in terra cotta pot
12 in terra cotta pot
10 in terra cotta pot
8.25 in terra cotta pot
6 in terra cotta pot
14 in terra cotta base
potting soil
flowers or herbs
a wooden stake or rod, such as rebar
Note: You will need enough plants for five pots, but keep in mind they will only be on the edges. I was able to do the entire project with one bag of potting soil, and had a little left over. I purchased a wooden stake, but it was too thick to fit through the center holes. (Keep this in mind when purchasing.) I actually ended up using a curtain tension rod I had in my garage. It worked perfect for me, especially being extendable.
Place your base where you want your vertical planter to be. (I don't recommend moving it after assembled, so it's best to build where you want it.) Starting with the largest pot, fill it with dirt 3/4 of the way full and place the rod in the center. Plant your herbs or flowers on the outermost edge, and add more dirt as filler as needed. Place the 2nd largest pot in the center of the first pot. Continue this process until all five pots are stacked. Don't fill the center all the way to the top with dirt, the next pot should sit down a couple inches inside the first pot.
I decided to make my vertical planter multipurpose and used 3 of the 5 pots as an herb garden. This is a great option for people who want a small herb garden, or are running low on space. Would be perfect for an apartment balcony even! My basil is growing like crazy, we can't make enough pesto to keep up. I planted begonias in the other pots because I liked the contrast they added to the herbs.
I have enjoyed this DIY vertical planter so much! I don't consider myself to have a green thumb (I usually kill all of my indoor plants as soon as I buy them) but I am pretty proud of this project. It has been a lovely addition to our front porch!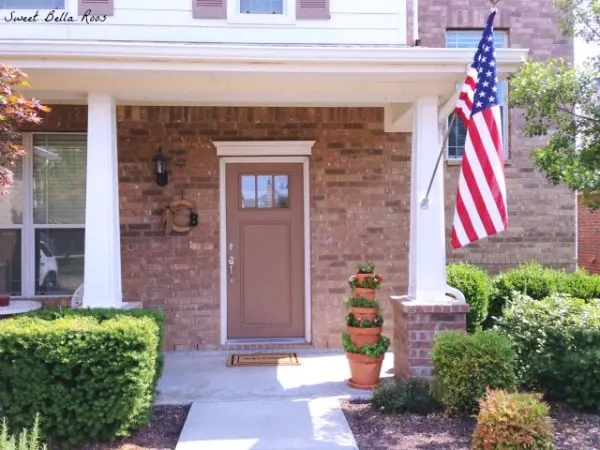 You can find the tutorial for my $10 & 10 Minute Wreath here.
I am dying to paint my front door… any suggestions?