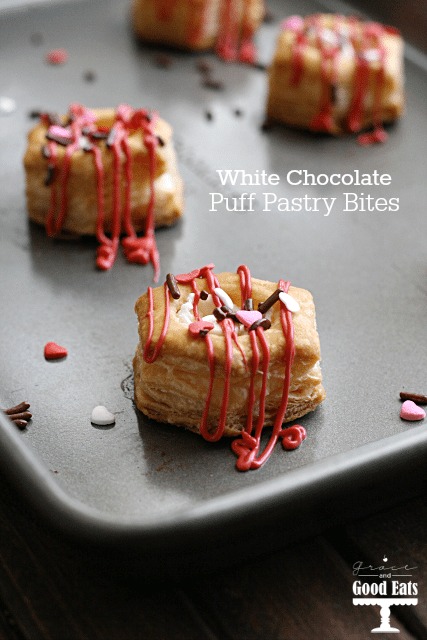 Do you ever have those days where you pat yourself on the back and think, "Man, I'm really nailing this whole parenting gig"? The last 24 hours were not one of those days. Warning: if you don't have kids, or don't want to hear about someone else's kid's puke and poop, feel free to skip ahead to the lovely White Chocolate Puff Pastry Bites recipe I have for you today. And while you're enjoying that, pray for me.
James has been working a ton lately, like 100+ hours a week, a ton. But, hallelujah, this weekend he actually had a day off and we wanted to make the most of it. One of the chefs that James used to work with at the Four Seasons opened a new restaurant in Dallas and was hosting a chili cook-off with some of the local craft breweries this weekend. It just so happened that another of one of our friends would be playing live music there as well. We decided to make an afternoon of it and head out there as a family after church and naptime.
Our plan started to go awry when Isabella came home from Girl Scouts with a headache. She gets them regularly, poor girl, and I was hoping we caught this one early. I gave her a dose of medicine and she chilled on the couch waiting for Sophia to wake up from nap. We set out for Dallas, about a 45 minute drive, with one kid wilted and asking how much longer before we even got out of the driveway and one kid just happy to be included and leaving the house. As we made our way to the highway, I decided to pull up the menu and make a plan for what the kiddos were going to eat, especially because Isabella sometimes feels better after she eats. Problem number two: no kid's menu. And really, barely an Emily-approved-adult menu. The very first thing on the menu was Brussels sprouts… down to beer braised shredded beef tongue. I all but told James to turn the car around.
We get there and of course it's packed. It was actually a really cool space, open patios, and the weather was gorgeous. The staff was awesome and made the girls peanut butter and jelly and a grilled cheese- and James and I had grass-fed burgers. So good. Not five minutes after our food arrives, Isabella goes pale and tells me she's going to throw up, which is not at all uncommon for her when she gets a headache. We rush to the bathroom- two singles, both occupied. Suddenly I feel like I'm on a bad episode of 'Nina needs to go', her need is imminent. I spot a plastic bowl nearby holding bottle caps, quickly dump them out, and place it under Isabella just in time to catch a bowl full of puke. Still standing in line for the bathroom, holding a bowl full of everything Isabella's eaten that day, a woman comes up and asks if they are both occupied and if we are in line. Yeah. That just happened.
We finally get cleaned up (though, do you ever really) and get back to our table. Sophia is still loving life, enjoying her PB&J between visiting all of the cute doggies at the different tables. We finish up and decide to go next door to The Cake Bar, because I have earned some cake dang it. It's an adorable little space, and I do mean little, that is packed to the gills with beautiful cakes and people waiting in line for said beautiful cakes. While we're waiting, the girls decide to sit down at one of the tables an arm's length away from me. Not 60 seconds later, Sophia manages to flip the chair she is sitting in, and lands flat on her back. Cue the immediate panic cry. The one that is delayed just a few seconds while they look at you in fearful disbelief that that actually just happened. It did. And everyone in the one room tiny cake place is now torn between staring and feeling sorry for her, or staring and judging me. It was all fine in the end, she calmed down, we assured the owner we had no plans to sue, and a nice gentleman ahead of us in line actually bought her a cake ball without us knowing. Everyone in the car, Mommy has had as much fun as she can handle for one day.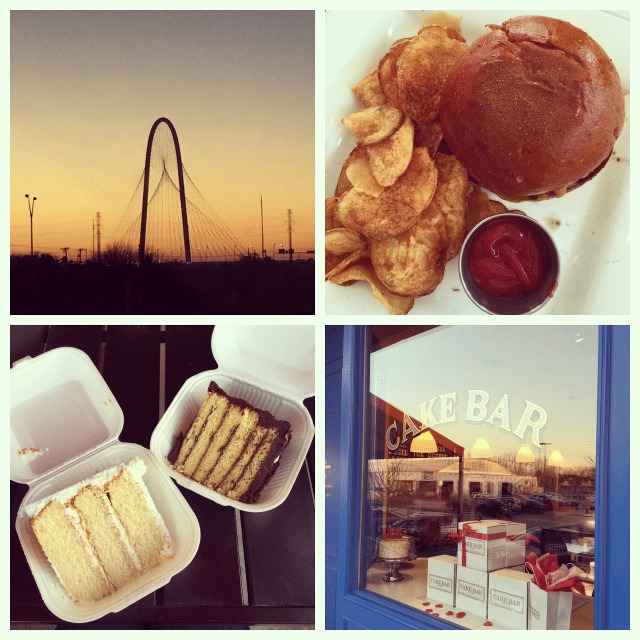 We drive back towards home across Dallas' signature Margaret Hunt Hill Bridge, where Isabella promptly pukes again. We have to pull over to throw it out, luckily Mom brought another bowl. Thankfully she falls asleep for the rest of the drive home… well, that is, until we have to stop 5 minutes from our house so that the two-year-old can poop. Thank God for clean QT bathrooms. Potty training is the best. She's not potty trained enough to, you know, not wear diapers anymore, but she is potty trained enough to know that hey, pooping in diapers maybe isn't the best game in town anymore. We are so close to home, yet still so far away, with Isabella crying that she might die and Sophia pretty freaking pleased with herself for pooping in the strange big potty.
Isabella threw up twice more before the night was over. And when I woke up the next morning the dog had peed and pooped in the dining room. The same dining room I just had professionally cleaned less than a week ago. If you need me, I'm packing my bag and running away. I don't know where yet, but it will be somewhere that I can go to the bathroom by myself and not be responsible for any one else's bathroom events. Somewhere I can eat all of these delicious little White Chocolate Puff Pastry Bites and not have to share with anyone.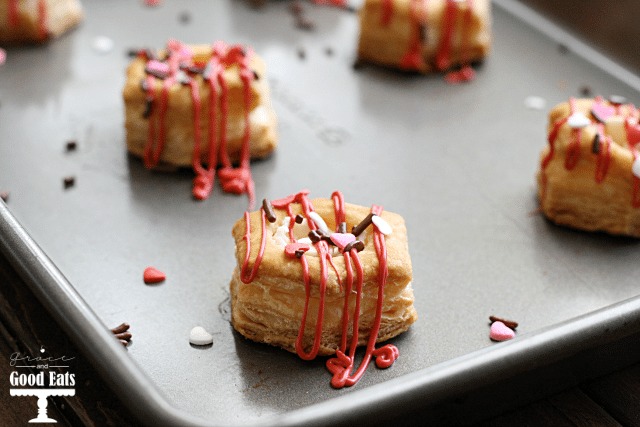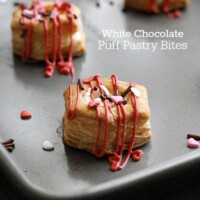 Ingredients
12

Pepperidge Farm Puff Pastry Cups

2-4

tbsp

white chocolate chips

2

tbsp

red candy melts

like Wilton

Sprinkles

optional
Instructions
Cook the puff pastry cups as directed on the package.

Two minutes before pastry cups are fully cooked, remove from the oven.

Punch in the center of each cup and fill with white chocolate chips.

Return to oven and finish baking.

Melt candy melts in microwave for 30 second intervals on half power until smooth.

Allow cups to cool, drizzle with melted red candy melts and top with sprinkles.
Nutrition
Calories:
277
kcal
|
Carbohydrates:
23
g
|
Protein:
3
g
|
Fat:
19
g
|
Saturated Fat:
5
g
|
Sodium:
120
mg
|
Potassium:
35
mg
|
Sugar:
2
g
|
Calcium:
10
mg
|
Iron:
1.2
mg
Sorry for all the bathroom business today. I don't usually go all real-talk mom-blog on you, but at least I brought you chocolate, right?