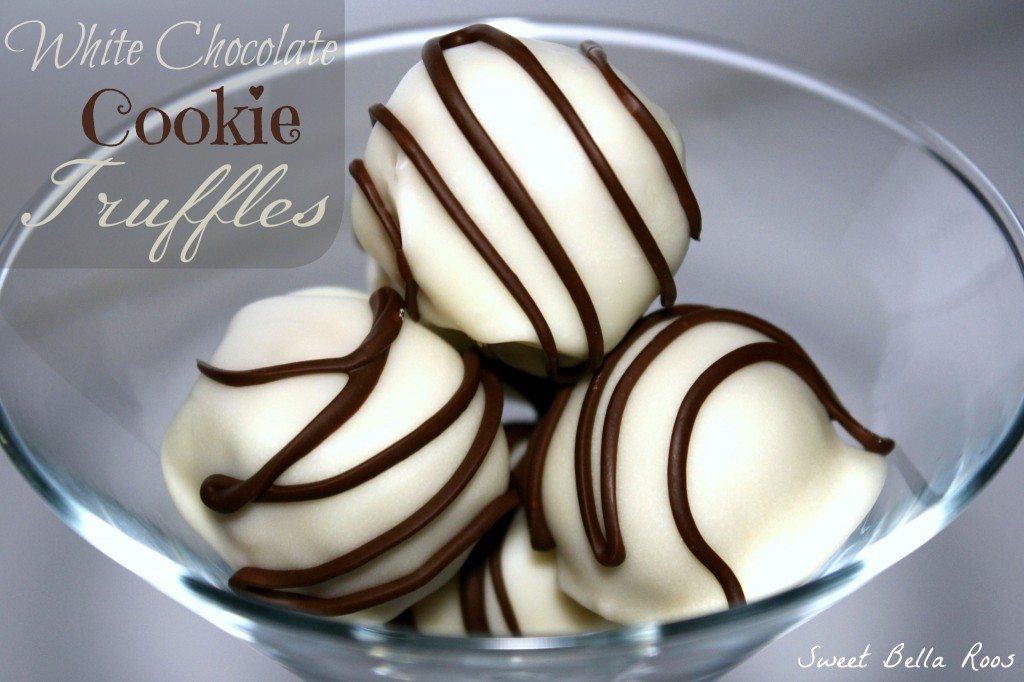 These little balls of goodness are the epitome of necessity being the mother of invention.
The other night the kids were in bed, Hubby was making some popcorn, we were getting snuggled in to watch The Walking Dead (which I hate because I don't watch scary shows/movies, but I somehow got suckered in and now I can't stop) and I was craving something sweet. I raided the pantry to find vanilla wafer cookies, exactly 15 Hershey's Hugs, and no less than three packages of almond bark. Now the logical choice would have been to eat one (or six) of the Hugs right?
But that's just not how I roll; James says I can't go into the kitchen without getting my stand mixer dirty ha-ha. I remembered there was a package of cream cheese way back in the fridge, so I decided the only real choice was to make truffles at 9pm!
I only had a cup of powdered sugar in the pantry, so that's where the vanilla wafers come in. I wanted something else to add some sweetness and also to get the consistency right. These truffles did not disappoint. The almond bark adds a crunchy shell that goes perfect with the creamy filling.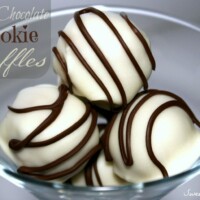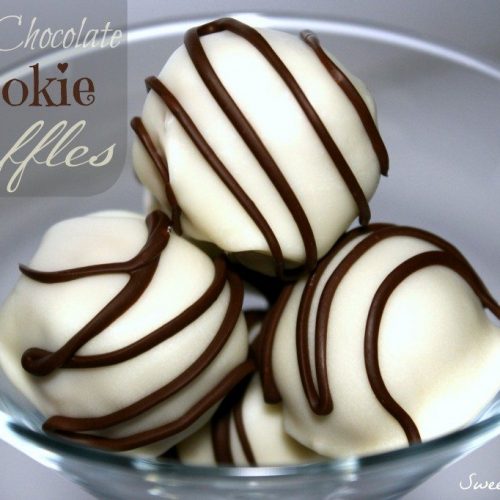 Ingredients
1/2

cup

Hershey's Hugs

1

cup

crushed vanilla wafer cookies

1 1/2

cup

powdered sugar

8

oz

Philadelphia Cream Cheese

1

tsp

vanilla

12

oz

vanilla almond bark

6 squares)
Instructions
Melt the Hershey's Hugs in the microwave, about 30 seconds.

Mix the melted chocolate and cream cheese.

Add in the powdered sugar, crushed vanilla wafer cookies, and vanilla. Beat until well combined.

Chill the mixture in the refrigerator for at least one hour.

Remove the filling mixture and shape into balls. (I use a cookie scoop).

Place back in the refrigerator to chill while preparing the coating.

Melt the vanilla almond bark in the microwave until smooth.

Coat each truffle in the almond bark and place on a cookie sheet lined with parchment paper.

Return truffles to the fridge to allow the almond bark to set.

Drizzle with chocolate if desired.
Nutrition
Calories:
394
kcal
|
Carbohydrates:
51
g
|
Protein:
1
g
|
Fat:
19
g
|
Saturated Fat:
14
g
|
Cholesterol:
25
mg
|
Sodium:
127
mg
|
Potassium:
40
mg
|
Sugar:
46
g
|
Vitamin A:
305
IU
|
Calcium:
22
mg
|
Iron:
0.1
mg