I remember holding Sophia in my arms for the first time like it was yesterday. Nine pounds two ounces of brand new baby. I also remember the feeling of staring into her big brown eyes and knowing that our family wasn't complete. James has always wanted three kids, and even though it took me a little while to get onboard with having another after Isabella, I quickly came around. We knew we wanted to have them closer together in age this time, we didn't know how difficult that would prove to be.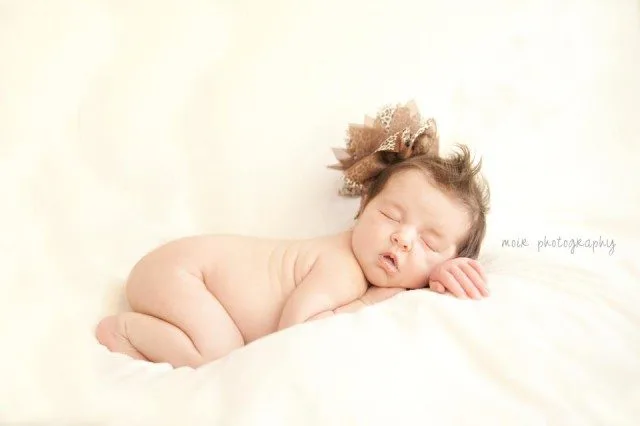 Out of the last 12 months of trying, the first month it didn't happen was probably the most upsetting. I know how irrational that sounds, but I really expected it to happen right away like it did in the past. The following months were disappointing, but I figured we just weren't getting our timing down right. I would see sweet little brand new babies on Instagram and get excited at the idea of our new little one coming soon.
The nine month mark of trying was the second hardest- the whole idea that if we had gotten pregnant right away when we first started trying then that baby would be here. But for the most part, we were still feeling okay. Not too alarmed it hadn't happened yet, not feeling pressure or desperate for it to happen, but starting to wonder if something else was going on. Because I suffered from postpartum thyroiditis after having both of my kiddos, I decided to make an appointment with my endocrinologist to check my levels and see if I needed to get back on thyroid medication. It was also time for my annual appt with my OBGYN.
My endocrinologist ran my thyroid panel, and my levels came back borderline- as they had been all year. I mentioned to him that we were trying to conceive, and he suggested we go ahead and put me back on synthroid. It wouldn't hurt, and if anything it would improve my energy levels, etc from hypothyroid symptoms. Everything with the OBGYN came back fine, and I mentioned to him at the appointment that we were trying for another and that my cycles had been irregular since getting off birth control pills. He decided to run some lab work to ensure that I was ovulating. I had to do two rounds- at different points in my cycle- but everything came back normal. He suggested we give the synthroid some time to see if that helped regulate things.
By December, things weren't improving and we still weren't pregnant. I checked back in with my endocrinologist to see if my levels had improved, or if we needed to up my medication level. Lab work came back good, my levels had improved, and my thyroid was looking good. My endocrinologist decided to run more extensive labs to check my hormones, with the understanding that if my issues weren't hormonal they were mechanical, and I would need to return to my OBGYN. Lab results came back normal, back to the OBGYN. I was honestly really shocked that it wasn't my thyroid and only a quick adjustment in my synthroid to get us back on track.
By now I'm starting to get a lot more frustrated. People who announced their pregnancies when we first started trying are now having their babies. My Instagram and Facebook are full of adorable new babies… but I no longer get the warm and fuzzies when I see them. Feels more like the warm and angries… lol. I'm truly happy for them all, but the sting is definitely setting in. I want it to be my turn, and am feeling even more frustrated at my body for not knowing what to do when it's done this twice before.
My OBGYN decided to send me for a pelvic ultrasound to rule out any fibroids, cysts, abnormalities, etc. At the same time, he ordered a semen analysis for James to rule out any issues on his side. This is the first time he was brought into the testing. Up until that point it had been me going to appointments alone, leaving with "good news" each time, but without any explanation of why we weren't pregnant. We were closing out the required "12 months" of trying before we were supposed to start worrying.
The nurse called with our results a few days later. My ultrasound was normal, James analysis was not. His counts were all good, except for motility. Motility was low, but even lower was progressive motility- the ability to swim forward. We were completely shocked. Honestly, I thought it was dumb to be sending him and we never even questioned it being a possibility. My OBGYN suggested we repeat the test in three weeks. From there it would determine if we continued with him, or if we moved on to working with fertility specialists. The second test results came back exactly like the first and we made an appointment with the fertility docs.
Read the next part of our story soon. I don't know how regularly I will share about this, some days I want to talk about it and some days I don't. Today was a long day and I felt like writing it all out. I'm also slightly hoping that maybe if I finally tell everyone we will get pregnant- HA. Though I was just sure after we got a new puppy I would wind up pregnant, and clearly that didn't work. 🙂 Most of all, I feel like it's helped me to read other blogs with people going through this, so maybe my story will give someone else hope or comfort as well.
I also feel like no one really talks about the money aspect of all of this, so I wanted to share what we're experiencing on that front.
Running total of expenses in our journey thus far:
Endocrinologist Appt August 2014: $40 copay
Lab work August 2014: $5.70 after insurance
OBGYN Appt September 2014: $40 copay
Lab work September 2014: $8.28 after insurance
OBGYN Appt September 2014: $40 copay
Endocrinologist Appt December 2014: $40 copay
Lab work December 2014: $23.46 after insurance
OBGYN Appt December 2014: $40 copay
Pelvic Ultrasound December 2014: $40 copay
Semen Analysis December 2014: $75 not covered
OBGYN Appt December 2014: $40 copay
Semen Analysis January 2015: $75 not covered
= $467.44