Reading Chart Free Printable: 100 Books of Summer. Help your kids keep track of how many books they read over the summer or use this sticker chart as a way to incentivize reading.
The time has come, friends.  Summer is officially here.  This is what we've been training for.
I have big plans for this summer.  I've officially nicknamed it the 'Summer of ALL THE THINGS'.  While some may be planning their Disney or beach vacation, I'm planning some big personal goals for our family.  Probably the biggest is my goal to get our family off sugar.  I've been talking about it for months, but I finally feel ready to take that project on.  (Read: pray for me.)
We are also working on character building.  My mantra this summer is KINDNESS EMPATHY RESPECT RESPONSIBILITY.  I am working to ingrain these values in their core, especially before the oldest enters the teenage years and the younger starts school.  (Read: pray for me.)
While those projects seem incredibly slightly daunting, one that I'm not worried about is preventing the "summer slide" before school starts back in the fall.  What is the summer slide?  It's the tendency for students to lose some of the achievement gains they made during the previous school year.  I met with Isabella's teacher at the end of the year to see what we should be focusing on to prepare her for fourth grade and her number one suggestion was: READ!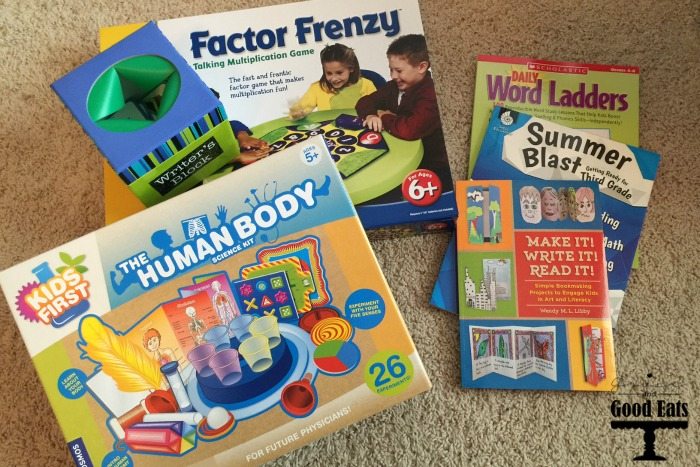 Isabella and I talked about making summer reading goals and we decided on: reading every day and trying to read 100 books before the end of summer.  I may or  may not have incentivized that last goal, but hey, I'm not above a little cold hard cash bribery.
DOWNLOAD THE FREE 100 BOOKS OF SUMMER PRINTABLE
(The circles are the perfect size for these Avery Round Color Coding Labels.)
I also partnered with Classroom Direct to check out some of the tools they have available to combat the summer slide.  They have some awesome resources for all grade levels- workbooks, games, craft projects, etc- that kids can do on their own.  I plan to incorporate some of these tools with our summer reading chart.
May the odds ever be in your favor this summer.
This is a sponsored post with Classroom Direct. This post may contain affiliate links.