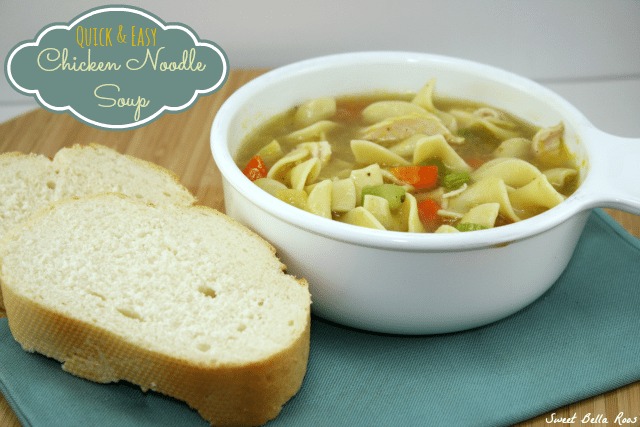 I made this chicken noodle soup a few weeks ago when we were all battling a cold. It never fails that when I start to come down with something I quickly get upstaged by my kids, and if my husband gets it, it's all over. That is exactly what happened this time around too.
Just when we all get over the cold though, Isabella got sick again. This time it's her tonsils. When she was two years old she had a peritonsillar abscess that required emergency surgery; up until then she had never even had an ear infection or anything more than a runny nose. It was awful. Now here we are four years later with the same thing. Since this is her 2nd occurrence, her ENT has recommended we remove her tonsils and adenoids.
I had pretty much prepared myself for that and was expecting it when he said it. Isabella's response on the other hand was that she "likes her tonsils!" and doesn't want to get them taken out. Didn't help our case when James and I both still have ours. Of course she doesn't remember having surgery before (something I will never forget), so I am dreading explaining this whole process to her. Did I mention it's next week? Like, while we are unpacking in our first week in the new house? Gah!
So I'm dishing up this soup to everyone that needs a bowl right now. Whether you are sick or overwhelmed (or both, Hello!) take a minute to make this soup. I used a stock "helper" and rotisserie chicken to make this even easier! So easy, so yummy, and so much better than soup from a can.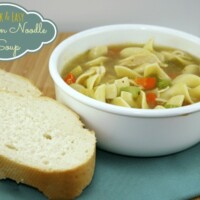 Ingredients
1/2

cup

chopped celery

1/2

cup

chopped carrots

1/4

cup

chopped onion

2

tbsp

butter

6

oz

wide egg noodles

2

tubs of Knorr Homestyle Chicken Stock

7

cups

water

2

chicken breast

cooked and chopped
Instructions
Saute your celery, carrots, and onion in butter until soft.

Boil water and add the chicken stock.

Add the vegetables and noodles to the broth, let boil until noodles are cooked, about 5-7 minutes.

Add the chicken to the soup right before serving.

Season with salt and pepper to taste.
Nutrition
Calories:
116
kcal
|
Carbohydrates:
13
g
|
Protein:
7
g
|
Fat:
3
g
|
Saturated Fat:
1
g
|
Cholesterol:
34
mg
|
Sodium:
67
mg
|
Potassium:
164
mg
|
Vitamin A:
1180
IU
|
Vitamin C:
1.1
mg
|
Calcium:
16
mg
|
Iron:
0.4
mg