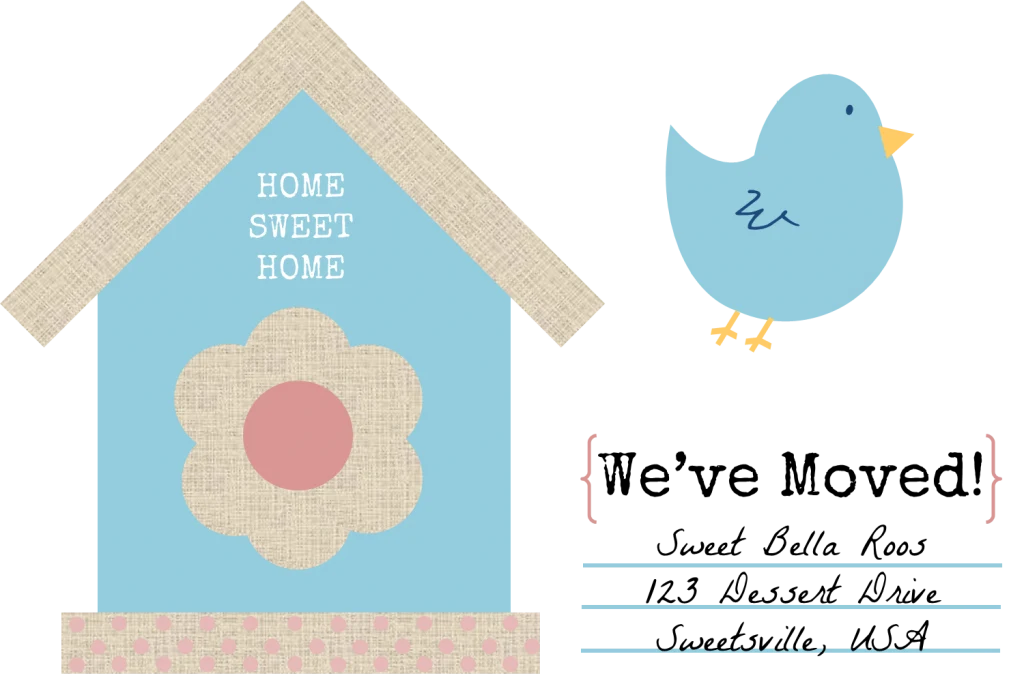 Usually I do my printables on Friday, but I am just too excited about this one to wait. How sweet is that little bluebird? Not to mention, this Friday I should be busy moving myself! Am I all packed up and ready to go? HAHAHA, no. I've seriously got to kick it into high gear and start filling some boxes! BTW who knew boxes were so expensive?
This will be our third move in three years… finally to our own house, no longer renting. I can't wait! I'm not sure I'm completely ready for all the adjustments though. We will be moving into a two story house, with both the girls upstairs and us downstairs. Right now one (or both) of them generally need me during the night at least 1-2x a week. That's going to be a long, sleepy, trek in the dark at 2am! Isabella will continue to go to her current school to finish out the school year (about two more months), so the logistics of getting her to school, getting Sophia to my mom for childcare, and me getting to work on time makes my head hurt. Did I mention that my Mom lives two houses down from me right now? Yeah. Big adjustments, friends.
But when I'm not worrying about all of that, I am beyond excited to be in our new house. A bigger kitchen, a master bath en suite, HUGE walk in closet… all things we've never had in any of our previous houses. I seriously have clothes and shoes in three different closets in our current house right now. Not because I have that many items (although I'm sure I'm due for a good clean out) but because we have tiny little single closets right now. My poor husband basically has negative closet space.
Do you have any cute "home" boards on Pinterest? I'd love to see! Leave a comment with your board URL, and be sure to follow me too because I'm going to be pinning a ton of decorating and DIY ideas now!
You can download the change of address printables here.
Hope you like them! Happy moving!! 🙂