Disclosure: I received product and compensation for my time and efforts creating this recipe. All thoughts and opinions are 100% my own.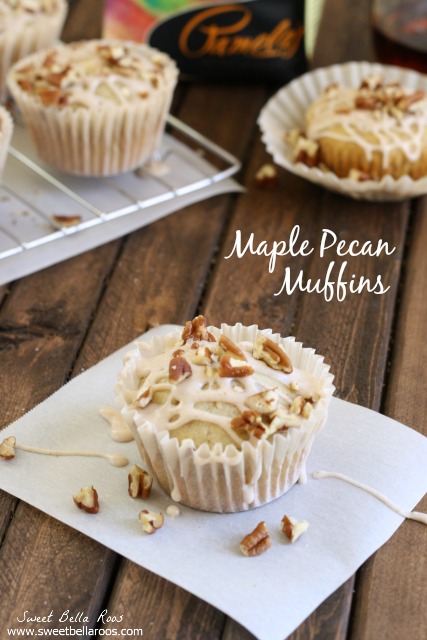 These Maple Pecan Muffins are seriously my new favorite! I mean muffins with icing are basically cupcakes that are acceptable to eat for breakfast, am I right? Even better that these muffins are gluten-free!
I have to admit- I don't have much firsthand experience with living a gluten-free lifestyle. This past year though I have spent more time focusing on food as nourishment, and being more aware of what I feed my body. My daughter and I both suffer from frequent migraines and headaches, and her pediatrician has recommended we look to our diet to see if we can eliminate the triggers- common offenders being dairy and gluten. The thought of going gluten-free sounds overwhelming, and uncomfortably restricting, at first. Especially because I live off of bread and pasta.
We make an effort to shop organic for our fruits, veggies, and dairy. I buy all of Sophia's snacks from the Natural Food section of our grocery store. It was there that I found Pamela's Products; gluten-free baking mixes and cookies. I had no idea that there were ready made options available to help accommodate a gluten-free diet.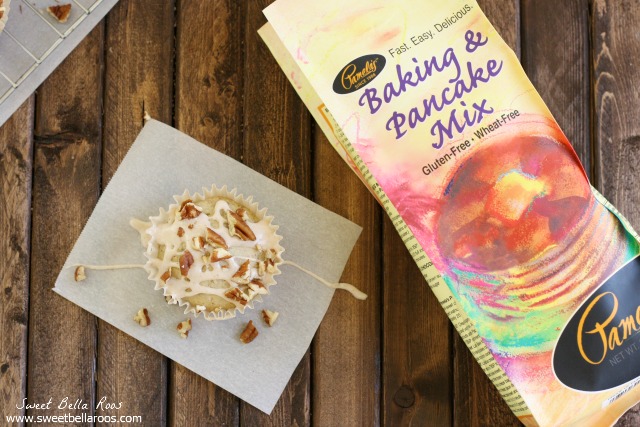 Pamela's Baking & Pancake mix is also without artificial colors, flavors or preservatives. I LOVE that. Once you begin reading labels, you start to notice "artificial flavors" showing up in everything. This is actually the reason we switched from using a big name baby food because they listed artificial flavoring on the package and refused (and are not required) to disclose to me what was in it. I was also surprised how versatile Pamela's Baking & Pancake mix is. You can use it to make everything from pancakes, waffles, muffins, cookies, to your favorite gravy or as a thickener for a roux! Quick, easy, and delicious with 8 grams of whole grains per serving.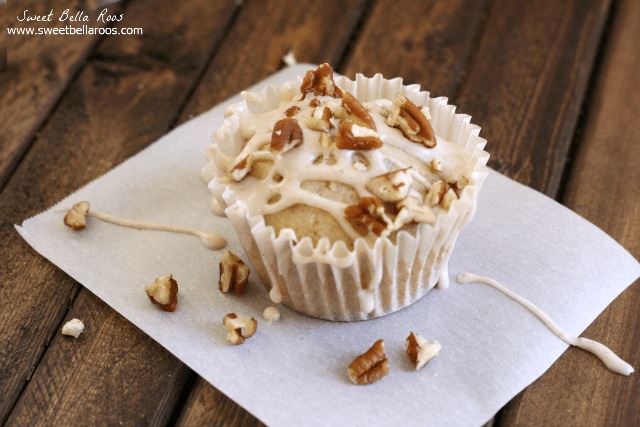 I've always heard stories of how difficult it is to bake gluten-free. After a little research I found that most baked goods are actually BETTER without gluten. It makes sense when you think about it: most often the last step of a recipe is to "mix until just combined" or "don't over-stir" (especially for muffins!). Why is that? If you over mix batter containing flour, it will become "tough" or "breadier". This is because of the gluten! The more you mix, the tighter those gluten molecules form creating a chewier texture. This can also cause problems for the chemical leaveners (ie baking soda/powder) as they cannot rise as well in the tougher batter. This can result in the "tunnels" you find in cakes and muffins sometimes- because the overdeveloped gluten traps the bubbles of carbon dioxide generated by the rising process. Gluten is also the reason for different flours for different baking needs- such as pastry flours or bread flours. Flours lower in gluten content produce more tender baked goods, while a higher gluten content will have a chewy, breadier outcome.
And I have to say, these Maple Pecan Muffins are delicious! Perfect texture and beautiful shape. I love that this recipe only makes 6-8 muffins (depending on how full you fill them), because rarely do we end up eating all of the muffins a traditional mix yields. So easy to pop in the oven on a busy morning before school or work and not have to worry about making multiple batches to finish off the extra batter. I topped mine with icing, but that is completely optional. One note about the icing- check to ensure your powdered sugar is gluten-free as some brands are not.
I am excited to experiment with more gluten-free baking. Be sure to also check out Pamela's other mixes like: pizza crust, cornbread, biscuit, brownies, cake mixes, and even frostings!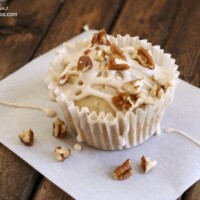 Ingredients
1 1/4

cups

Pamela's Pancake Mix

1/4

cup

water

1/4

cup

sugar

1

egg

1

tsp

vanilla

1/4

cup

pecans

, chopped

1

banana

, mashed
Icing
1 1/2

cup

powdered sugar

2

Tbsp

milk

1

tsp

maple syrup

1/4

tsp

cinnamon

1/4

cup

pecans

chopped
Instructions
Preheat oven to 350 degrees. Grease muffin tin or line with liners.

Mix all ingredients together in a large bowl.

Scoop batter into prepared muffin pan filling each cup 2/3 full.

Bake for 20 minutes.

To prepare the icing: mix all ingredients together, add more milk if needed to reach desired consistency.

Top each muffin with icing and chopped pecans.
Notes
For the icing, mix together:
1 1/2 cup powdered sugar
2 tbsp milk
1 tsp maple syrup
1/4 tsp cinnamon
1/4 cup pecans, chopped
Add more milk if needed to reach desired consistency.
Nutrition
Calories:
301
kcal
|
Carbohydrates:
52
g
|
Protein:
4
g
|
Fat:
8
g
|
Saturated Fat:
1
g
|
Cholesterol:
47
mg
|
Sodium:
150
mg
|
Potassium:
174
mg
|
Fiber:
1
g
|
Sugar:
41
g
|
Vitamin A:
120
IU
|
Vitamin C:
1.9
mg
|
Calcium:
74
mg
|
Iron:
0.7
mg