A few days ago my daughter asked about sending a letter to Santa. She has been learning about "needs" vs. "wants" in her class lately, and I thought this would be a perfect time to drive that point home. I whipped up this cute little Letter to Santa Free Printable that is perfect for a little one to fill in the blanks. I also created a blank version in case you have some older ones who would prefer to write their own letters.
My next mission was to figure out the best place to "send" her letter. I was hoping to find somewhere that will send you a response back. Instead I found the Macy's Believe initiative. For every letter received, Macy's will donate $1 to the Make A Wish Foundation, up to $1,000,000! You must drop off a stamped letter addressed to Santa at the North Pole into one of the special letterboxes located at select Macy's stores. (You can locate a letterbox here.)
I'm not sure if you will get a letter back, but I think this is more important anyways!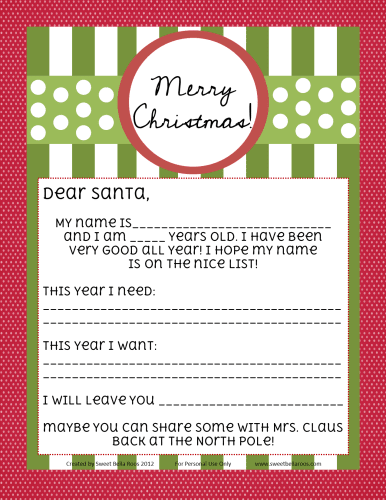 You can download the blank printable here.
You can download the fill-in-the-blank printable here.