How to stock a first aid kit according to a first responder, plus a free emergency contact printable. Tips on what additional emergency items you should keep in your car and how to pack a remote first aid kit if you live in a rural location. This post contains affiliate links.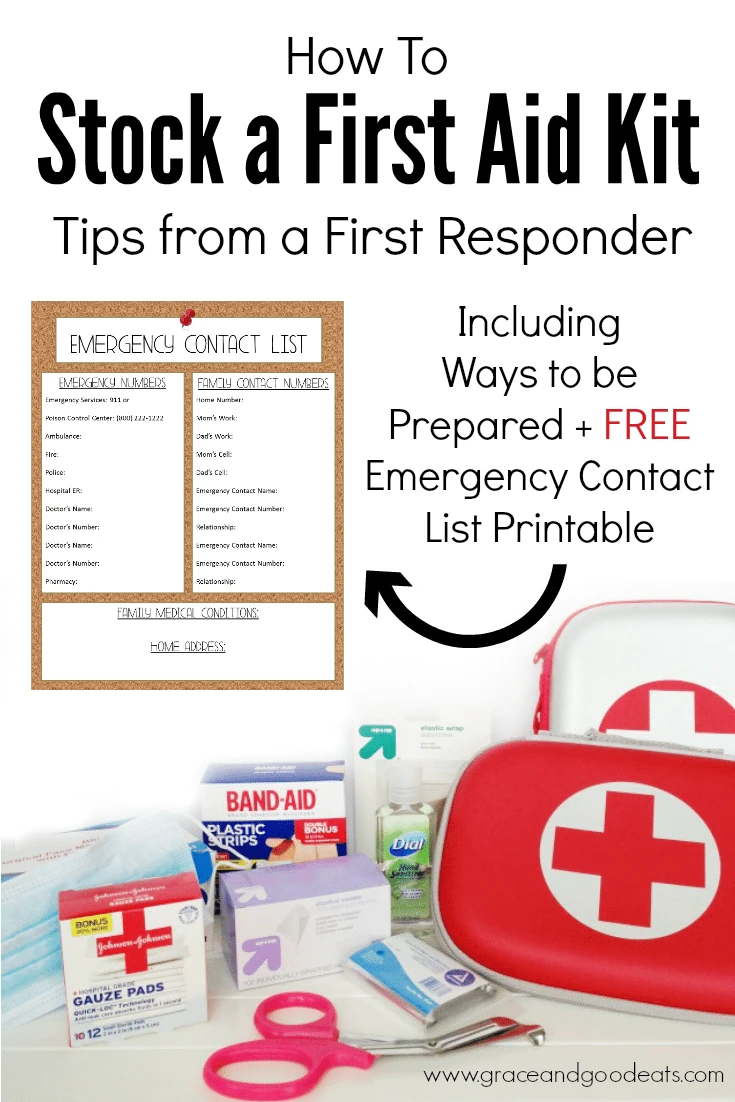 Summer is a great time to check the supplies in your first aid kit or create one if you don't already have one! You can purchase a first aid kit at most drugstores, a local Red Cross office, or you can easily make your own. The nice thing about making your own is that you can tailor it to suit the needs of you and your family.
I asked my firefighter and paramedic husband what contents he would recommend in a first aid kit. He said most people should strive for a small and simple kit with multi-use items. First aid kits are meant to treat minor injuries such as cuts, burns, abrasions, stings, splinters, or sprains; but you should also take into consideration your personal level of medical training and your distance from professional medical help. (For example: I am CPR certified so I choose to keep a CPR mask in my vehicle with me. I also keep one of these handy tools to cut seat belts and break windows.)
Now that we have moved from a major city to a small, remote town, we are MUCH further away from any hospitals and rely on our volunteer fire department/ EMS units from other neighboring cities. Due to our rural location and the time it may take to receive emergency services, I may look at adding other items for a more remote medical first aid kit, like a tourniquet or splint.
The Basics- What to Include in a First Aid Kit:
sterile gauze pads of different sizes
adhesive bandages in several sizes
antiseptic wipes
antibiotic ointment
hydrocortisone cream
Benadryl cream
acetaminophen and ibuprofen
sharp scissors (trauma shears)
tweezers
tooth preservation kit (for saving knocked out teeth)
plastic non-latex gloves (at least 2 pairs)
If you are making a first-aid kit for your car, it might also be a good idea to include items such as a blanket, a flashlight (and extra batteries), bottled water, and some granola bars or trail mix. These items can come in handy if you get stuck in your car during bad weather. Be sure to check the supplies often and replace anything that has expired.
Tips to Make Your Own First-Aid kit:
Choose containers that are durable, easy to carry, and simple to open. (Plastic tackle boxes or craft storage boxes make great containers!)
Use plastic sandwich bags to compartmentalize and keep items separate.
Make sure everyone in the family knows where the kit is kept. (You may the one that needs help!)
Store home kits in the kitchen. (As opposed to the bathroom where the humidity is higher and can shorten the shelf life of the items inside.)
Include an emergency contact sheet with names and phone numbers for personal physicians, as well as emergency services and poison control.
I've created a handy emergency contact list printable for you to include in your first aid kit. Just click the link below to download and print.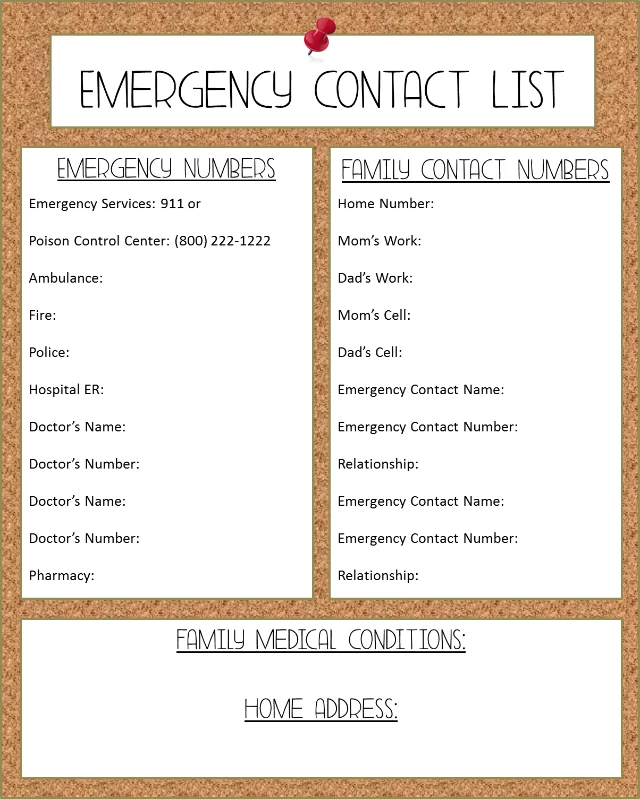 What other helpful items do you keep in your first aid kit?