Enjoy pizza night at home with this easy homemade pizza dough recipe. Load it up with cheese and your choice of toppings for a delicious weeknight meal.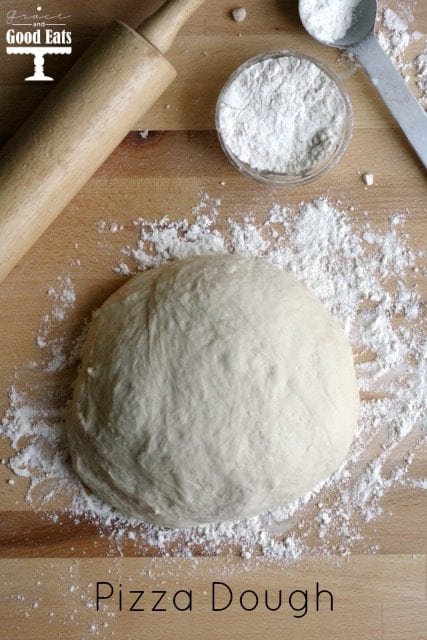 At the Fire Station my husband works at the guys usually all pitch in together in the kitchen or rotate nights on who wants to make dinner. Because of this, James has developed a love for cooking… which I'm thoroughly enjoying.
When he raved and raved about the homemade pizza dough they had at the station the other night, I knew I had to get him to make it for us!
We used this homemade pizza dough recipe to make two pizzas in baking sheets, one half cheese (Sophia) and half pepperoni (Isabella) and the other half hamburger/ sausage (Me) and half meat lovers supreme (James).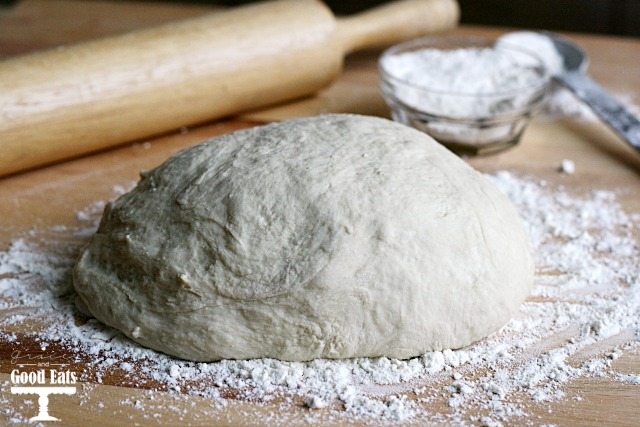 One of Sophia's favorite foods (probably second only to ice cream) is pizza. We live practically across the street from a pizza place and we get delivery wayyy more than I want to admit. I had forgotten how easy (and how much tastier) homemade dough pizza is. It might require a little more effort than just picking up a phone, but it's worth it!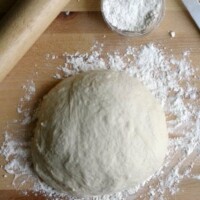 Ingredients
1 1/3

cups

warm water

1

tbsp

sugar

1

pkg active dry yeast

1/4oz or 2 1/4 tsp

3

tbsp

olive oil

3 3/4

cups

flour

1 1/2

tsps

salt
Instructions
Whisk the sugar into the warm water; it should be almost too hot to the touch, or about 105 degrees. (Too hot and you kill the yeast, too cold and the yeast won't activate.)

Sprinkle the yeast on top and set aside until foamy (about 10 minutes).

Stir in the olive oil. Whisk the flour and salt in a large bowl.

Make a well in the center and pour in the yeast mixture.

Gradually stir with a wooden spoon to make a rough dough.

Knead the dough until smooth and elastic. (You can turn the dough out onto a lightly floured surface, but I generally just knead inside the bowl.)

Knead about 5 minutes, dusting with more flour as needed.

Form into two balls and place inside of individual bowls coated with olive oil.

Cover with plastic wrap and set aside until doubled in size.

Roll out and top as desired.
Notes
This dough makes two pizzas- feel free to wrap one in plastic wrap and freeze for up to 1 month. I like to let my dough rise on the stove top while my oven preheats (with the pan inside). Cooking time may vary depending on your oven, but I usually go by the guidelines of baking at 450 degrees for 7-12 minutes. (Golden brown edges, bubbly cheese) Brush the edges of the crust with butter and sprinkle with coarse sea salt immediately after taking out of the oven.
Nutrition
Calories:
1061
kcal
|
Carbohydrates:
184
g
|
Protein:
24
g
|
Fat:
23
g
|
Saturated Fat:
3
g
|
Sodium:
1749
mg
|
Potassium:
250
mg
|
Fiber:
6
g
|
Sugar:
6
g
|
Calcium:
35
mg
|
Iron:
11
mg
More pizza recipes: