These quick and easy Grilled Peaches and Peppers Pork Kebabs are a fun spin on pork chips and a delicious way to use up leftover veggies (or fruit)! Sweet peaches, spicy peppers, and juicy pork are brushed with a simple glaze to create this meal that cooks up in under 10 minutes.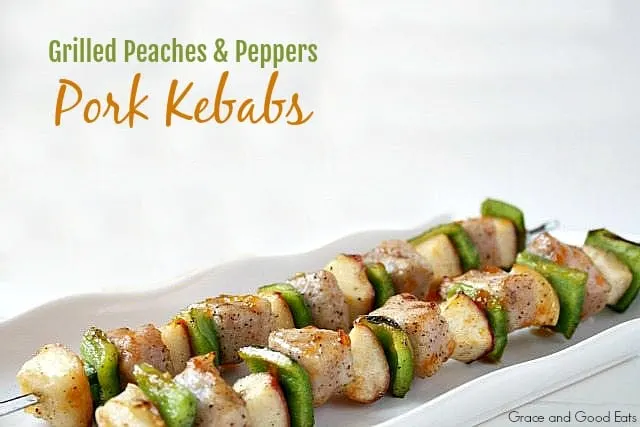 We had a gorgeous week last week with temps staying in the 90's, but it has been back to business with the Texas heat this week. Most days I will do just about anything to get out of turning on the oven but my husband can only take so many pasta dishes before he needs some meat. I gave him a brand new grill for Christmas and we have been putting it to good use this summer!
How to Prepare Pork Kebabs
My family loves pork chops; we usually buy the thin cut variety and make our favorite Buffalo Style Mozzarella Pork Chops. For this recipe I decided to use the thick cut pork chops because I didn't want them to fall apart on the grill or cook too quickly. When making pork kebabs, look for center cut boneless pork chops that are about 1 1/2-inch thick. (Just thick enough to quickly cut into perfectly sized cubes.)
Bamboo or Metal Skewers
I prefer flat, stainless steel skewers because they are easy to wash and reuse. A flat shape vs round helps to keep the foods from rotating around. It's important to also consider the length of the skewer- I like to go with skewers 12in long or less because it is a nice individual portion size but also gives room to work with.
If convenience is what you're after, say making kebabs for a big cookout or party, then you may want to opt for the inexpensive bamboo skewer instead. The important thing to remember is that wooden skewers burn! To prevent this, wooden skewers need to be soaked in water for at least thirty minutes beforehand. (Another plus for metal because I can never remember to soak!)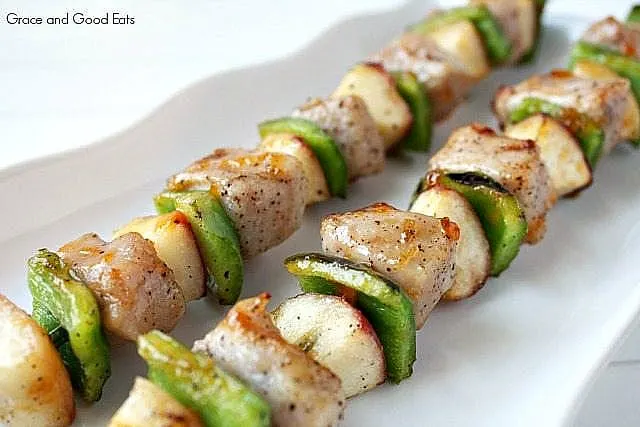 This quick and easy pork kebab recipe requires less than ten ingredients, cooks in about 10 minutes, and is a definite crowd-pleaser. Would be great served individually at a cookout or with rice as a quick family meal. The kebabs provide a fun novelty that the kids love and my counter is always overrun with peaches and peppers during the summer months.
Pro Tip:
When you are threading the meat and veggies onto the skewer, pack everything close enough together so that each piece touches. Don't overstuff it, you don't want them to be too heavy, but putting the pieces together prevents the heat from reaching all sides of the cubes. While this method will take the kebab slightly longer to cook, it helps to provide more consistently juicy results.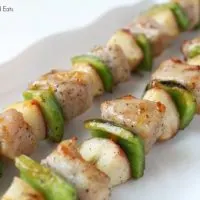 Ingredients
1/4

cup

olive oil

1/2

tsp

salt

1/2

tsp

pepper

1-2

lbs

thick cut pork chops

cut into 1in cubes

2-3

peaches

cut into 1in wedges

1

green bell pepper

cut into 1.5in cubes

1/2

cup

apricot preserves

2

tbsp

red wine vinegar
Instructions
Preheat your grill to medium heat while preparing the kebabs.

Combine oil, salt, and pepper in a large bowl.

Add the pork, peaches, and bell pepper; toss to coat.

Thread the pieces on skewers.

Grill 10 minutes (or until pork is done), turning to brown evenly.

Mix the preserves and vinegar together in a small bowl.

Brush the kebabs with the apricot mixture during the last few minutes of cooking.
Notes
I used white peaches, but any will do! Be sure to use a quality olive oil in this recipe for best results.
Nutrition
Calories:
224
kcal
|
Carbohydrates:
6
g
|
Protein:
16
g
|
Fat:
14
g
|
Saturated Fat:
3
g
|
Cholesterol:
50
mg
|
Sodium:
231
mg
|
Potassium:
411
mg
|
Fiber:
1
g
|
Sugar:
5
g
|
Vitamin A:
235
IU
|
Vitamin C:
19.2
mg
|
Calcium:
10
mg
|
Iron:
0.6
mg
Published July 9, 2013 | Updated: June 17, 2018