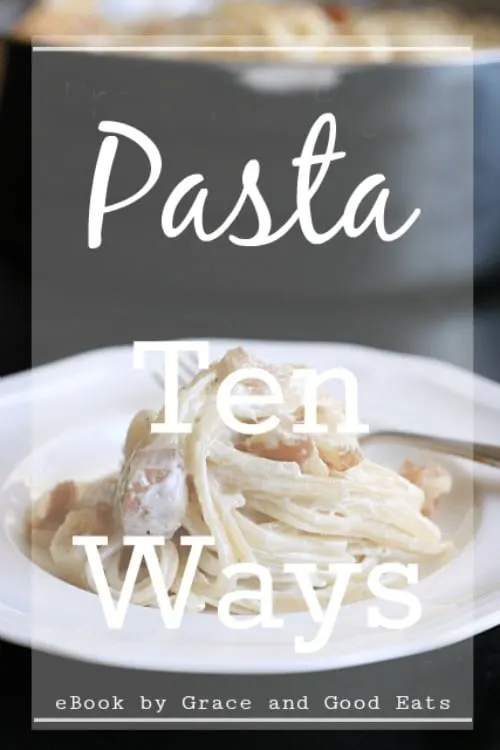 If you haven't noticed, I kinda-sorta-maybe love pasta. It's a regular staple in our house and I am always looking for ways to change it up to keep my family from getting tired of eating it. I love it because (aside from being delicious) pasta is a cheap, filling meal with endless possibilities of sauces, meats, and toppings.
If you sign up now for my newsletter, not only will you receive yummy recipes delivered straight to your inbox periodically, but you can also download my free Pasta eBook with over 10 of my favorite pasta recipes!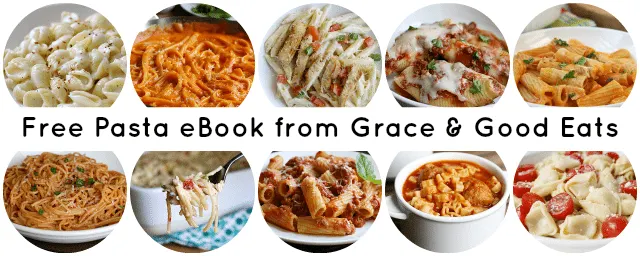 The recipes in this free eBook include:
Simple Alfredo
Roasted Red Pepper Parmesan Fettuccine
Cajun Chicken Pasta
Italian Stuffed Shells
Chicken Rigatoni
"Leftover" Spaghetti
Chicken Spaghetti
Parmesan and Sausage Bolognese
Homemade Spaghettios and Meatballs
Parmesan Tortellini and Tomatoes
Creamy Lasagna without Ricotta
One Skillet Baked Spaghetti
These are my go-to recipes for quick, delicious meals- especially on busy weeknights and I'm sharing them with you all in one easy to download PDF. (Pictures of each recipe included.)
Sign up below to get the FREE eBook for yourself! You will also be on the list to receive new recipes. You can unsubscribe easily at any time and read my privacy policy here.
And if you haven't downloaded my FREE Holiday Cookies eBook, be sure to visit that post as well. This digital cookbook features 10 of my most favorite cookies (never before seen on the blog).