Thank you Tillamook for sponsoring this post. Visit your local Target to buy Tillamook Cheeses today!
Green Chile Macaroni and Cheese takes classic mac and cheese to the next level with just a hint of heat and a boost of flavor! My kids love this dish made with hot green chiles but you can certainly swap them out for mild if you prefer.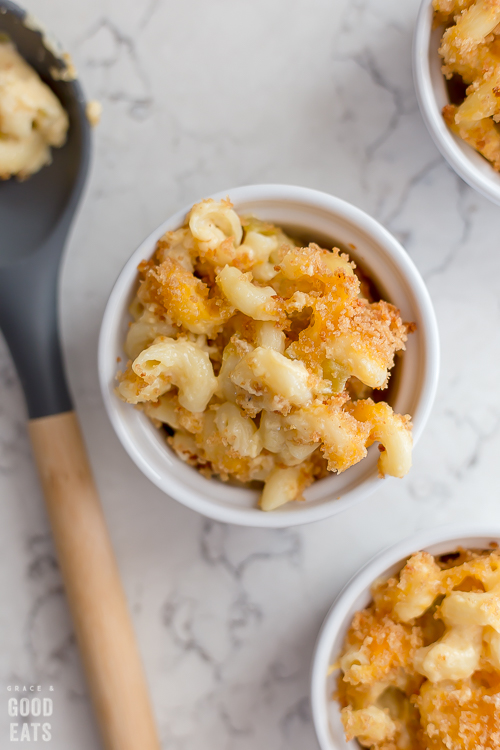 James' shift at the fire station falls on Thanksgiving every two out of four years and this is one of those years. When that happens we typically go to my Mom's for lunch and then visit the fire station for dinner with all of the other families. It's a fun tradition to see all of the kids running around the station… as the captain sneaks them all extra desserts throughout the evening.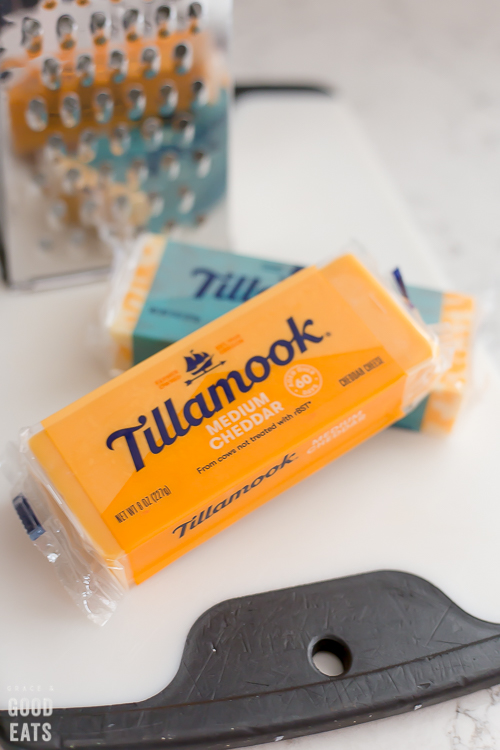 The firefighters cook a big dinner with all of the traditional Thanksgiving items- smoked turkey, mashed potatoes, creamed corn, cornbread dressing, sweet potatoes, and homemade rolls, while the families typically bring a dessert or another side to share.
I don't think they would let me in if I didn't bring my famous Pecan Pie, but this year I'm also going to upgrade one of my favorite holiday dishes and bring a batch of this Green Chile Macaroni and Cheese made with hot green chiles and Tillamook Cheese.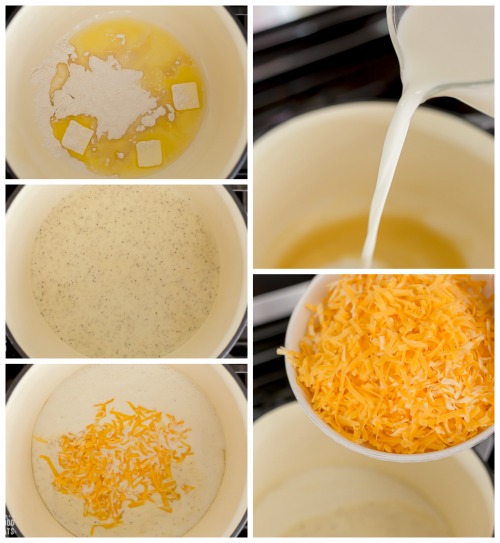 How to Make Macaroni and Cheese from Scratch
I start my homemade Green Chile Macaroni and Cheese with a simple roux. You want to whisk together equal parts of Tillamook Extra Creamy Unsalted Butter and all-purpose flour into a paste until the mixture just starts to brown. Next, pour whole milk in a slow and steady stream while stirring continuously. You don't want to break the roux by pouring the milk in too quickly or all at once.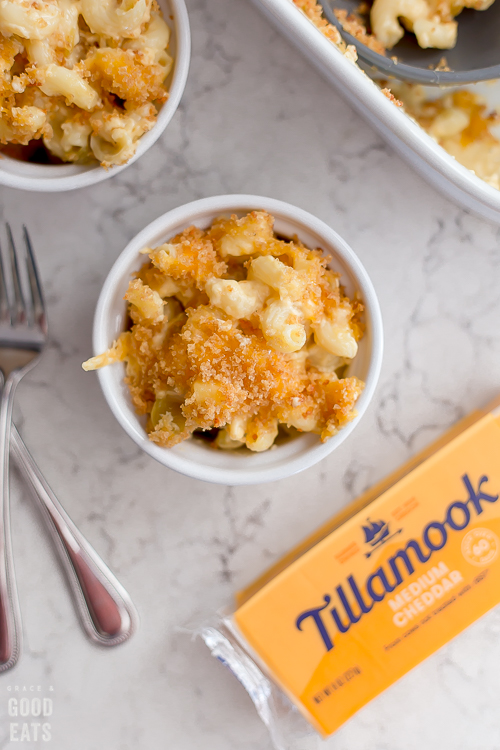 Tillamook Cheese
Let the roux simmer gently while shredding up 16 ounces of cheese. I like to use a mixture of cheeses like Tillamook Medium Cheddar Chunk and Tillamook Colby Jack Chunk (now available nationally at Target. See where to find it at your local Target here.) Tillamook cheese is made from only the highest quality ingredients- which includes milk from cows not treated with artificial growth hormones.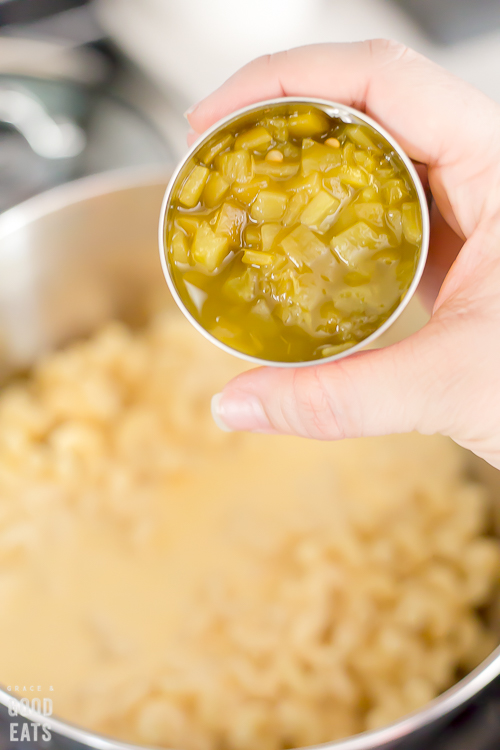 Hatch Green Chiles
The shredded cheese goes into the roux by the handful (again, don't add it all at once), whisking after each addition. From there the decadent cheese sauce gets mixed with the noodles and green chiles.
I prefer green chiles from New Mexico for their flavor, but any kind will do. You can buy fresh chiles in season, but I use canned chiles all year long. Hatch chiles offer an ideal balance of heat and sweetness and vary in intensity, so don't automatically assume that this dish will be too spicy.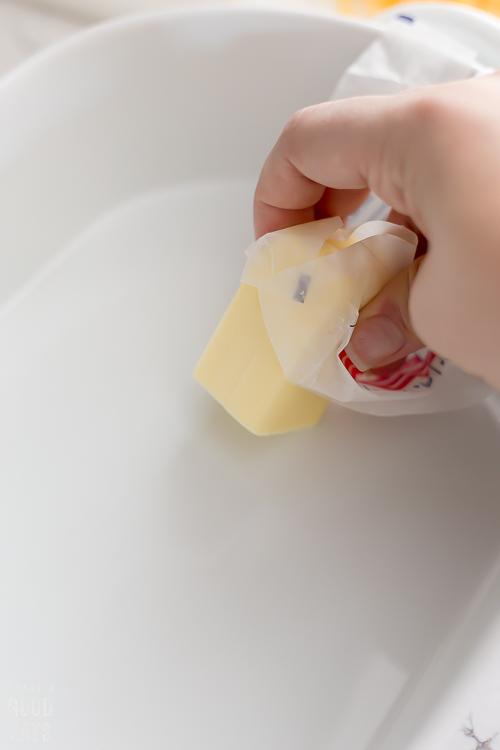 This Green Chile Macaroni and Cheese also gets topped with bread crumbs (and more cheese) and baked in the oven for a delicious crunchy topping. It's an extra step that I don't always do when making mac and cheese, but it's so worth it for this recipe.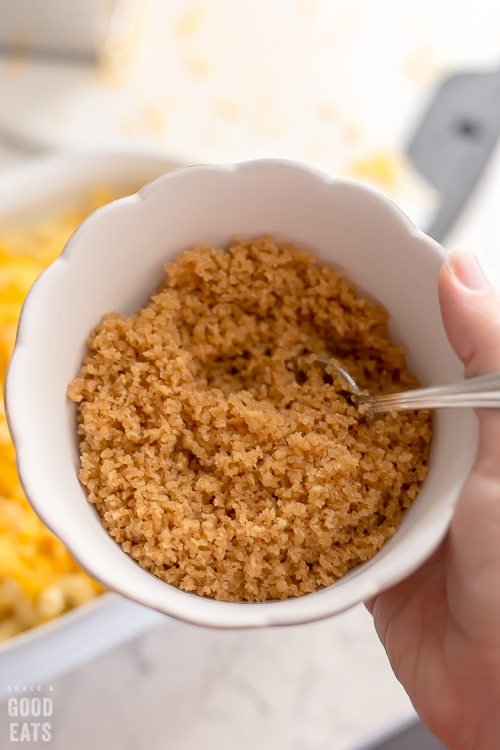 The bread crumb topping bakes up golden brown and really takes this dish to the next level. I was having a debate with someone a few weeks ago about what makes a great mac and cheese and for me, that's varying texture, creamy sauce, and cheese pulls.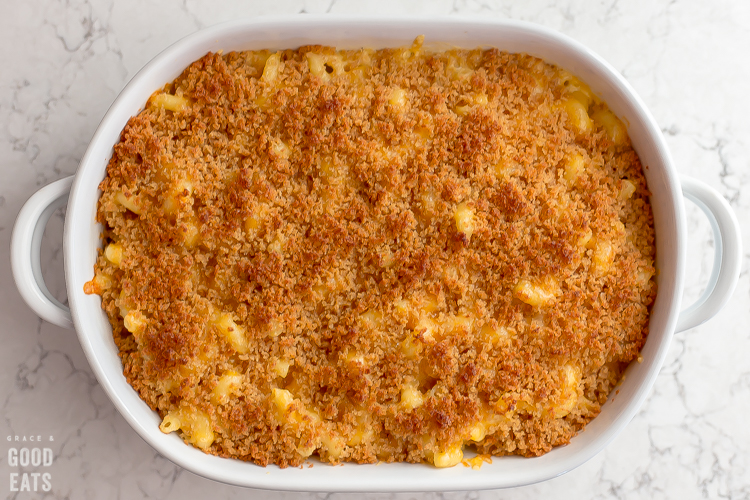 There's nothing worse than mac and cheese with bland sauce and overcooked noodles where you can't really find any variance in texture. Conversely, there's nothing better than coming across a pocket of stretchy cheese hidden in there.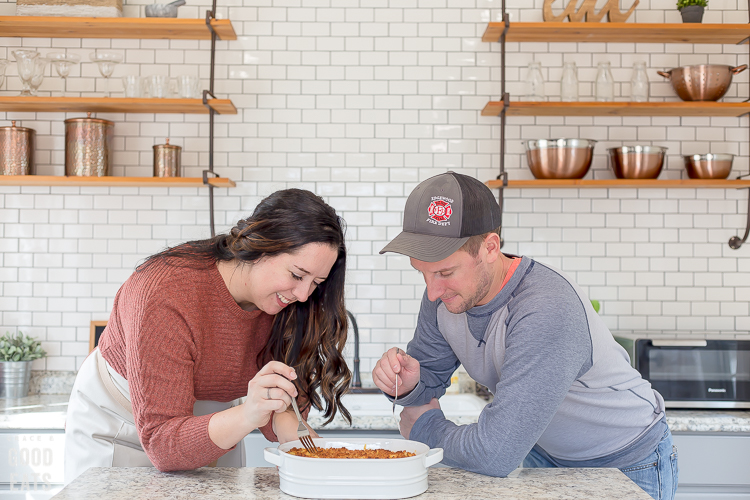 I've been testing this recipe to get the right amount of heat + flavor + texture, and I think we've found the winner. I had my firefighter hubby + picky kids test it out for me before the big Thanksgiving debut and received all the thumbs up.
Cooking for 10-12 hungry men and still pleasing kid palates is no small feat!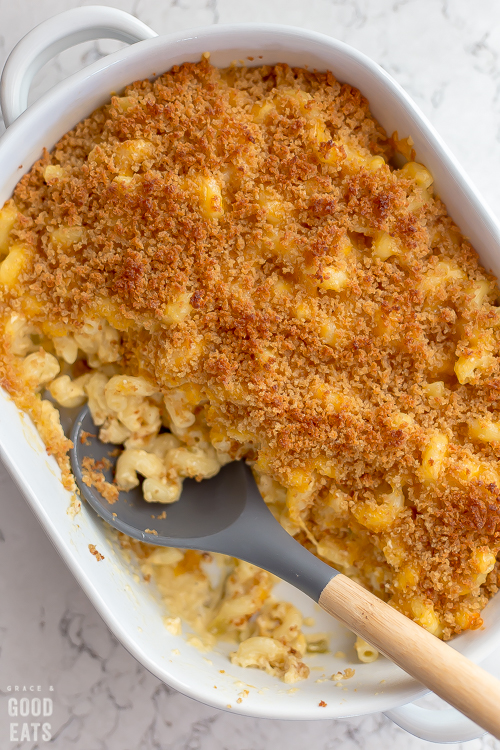 Swap out your boring mac & cheese for this firefighter + kid-approved Green Chile Macaroni and Cheese this holiday season- you won't regret it! Head to Target to purchase Tillamook Medium Cheddar Chunk to upgrade your holiday recipes and do it all with a one-stop-shop at Target.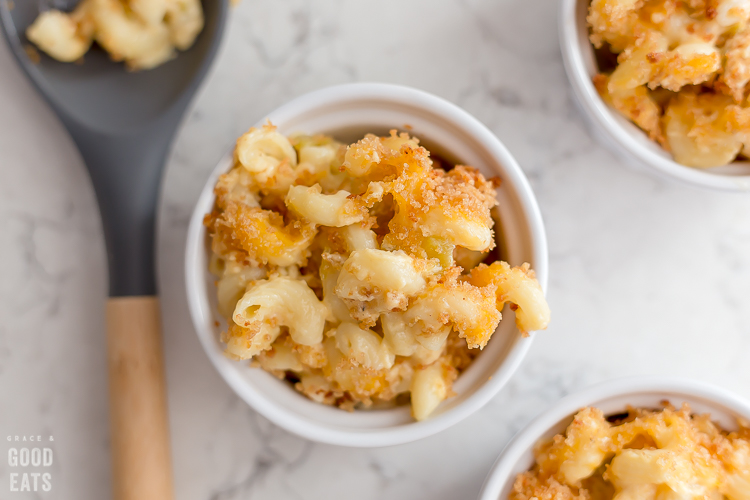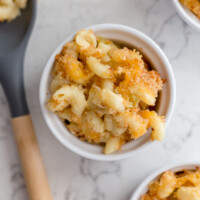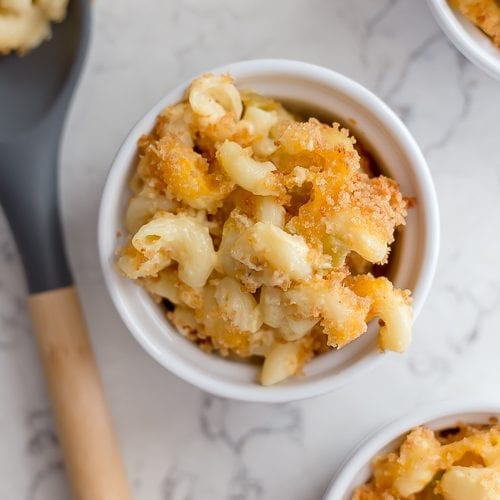 Ingredients
16

oz

Cavatappi pasta

4

tbsp

Tillamook Extra Creamy Unsalted Butter

4

tbsp

all-purpose flour

3

cups

whole milk

1/2

tsp

onion powder

1/2

tsp

black pepper

1

tsp

salt

6

oz

Tillamook Medium Cheddar Chunk

6

oz

Tillamook Colby Jack Chunk

4

oz

can hot green chiles
Topping
2

oz

Tillamook Medium Cheddar Chunk

2

oz

Tillamook Colby Jack Chunk

4

tbsp

Tillamook Extra Creamy Unsalted Butter

melted

1

cup

Panko breadcrumbs
Instructions
Preheat oven to 400 degrees F. Butter a 9x13-inch casserole dish. Heat a large pot of water over high heat for the pasta; cover.

Add the pasta to the boiling water and cook the pasta according to the box directions for al dente pasta. (You don't want to overcook it.) Strain the pasta once finished cooking.

While the pasta is cooking, make the sauce. In a large saucepan, melt the 4 tablespoons of the butter over medium heat. Once the butter has melted, whisk in the flour and cook for about 1 minute, until the flour starts to brown a bit and smells nutty, whisking constantly. In a slow, steady stream, whisk in the milk. Allow the sauce to come to a simmer.

Once the sauce comes to a simmer, stir in 6oz each of the medium cheddar and colby jack cheeses, adding a handful at a time and stirring with a wooden spoon until completely melted before adding the next handful. Stir in the spices and turn off the heat.

Add the cooked, drained pasta and green chiles to the sauce. Stir with a wooden spoon until everything is completely combined and evenly distributed. Pour the mixture into the prepared casserole dish.

In a small bowl, combine the melted butter with the breadcrumbs.

Top the macaroni and cheese with the remaining shredded cheeses. Sprinkle the breadcrumb mixture on top of the cheese.

Bake until browned and bubbly, about 15 to 20 minutes. (Keep an eye on it, don't let the breadcrumb topping get too dark.) Allow to sit for 10 to 15 minutes before serving.
Nutrition
Calories:
639
kcal
|
Carbohydrates:
57
g
|
Protein:
26
g
|
Fat:
34
g
|
Saturated Fat:
21
g
|
Cholesterol:
96
mg
|
Sodium:
892
mg
|
Potassium:
342
mg
|
Fiber:
3
g
|
Sugar:
7
g
|
Vitamin A:
1082
IU
|
Vitamin C:
5
mg
|
Calcium:
536
mg
|
Iron:
2
mg