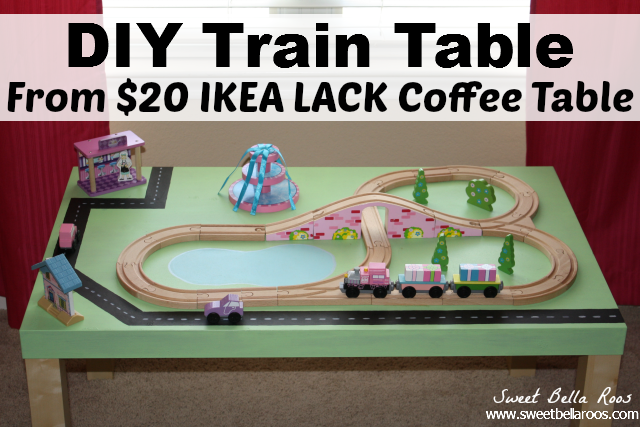 Before my husband and I got married we had each lived on our own, which meant we both brought furniture to the marriage. Which really meant I brought furniture to the marriage and he brought bachelor furniture and a really nice TV. Huge southwestern style couches (that he admitted were ugly but comfortable), IKEA birch coffee tables and end tables that had long since seen better days (hello, coasters?), a chin up bar that he wanted to display in the living room, and art that you would find in quirky bar bathrooms.
Some of these items found new homes, some were relocated to his man-cave (aka garage), and some made it in to the house. One thing he didn't want to part with was his IKEA coffee and end tables. Thankfully we finally made a trip to IKEA a few months ago and purchased a bright, shiny, new, white coffee table to go with our new decor. As I was getting ready to add the old one to the donate pile, I decided it would be PERFECT to make a DIY train table from. (You can find the IKEA LACK Coffee Table here.)
I wish I had taken a "before" picture to show you. This poor little table was looking sad with scuffs, scratches, and marks. But for a $20 table, it had lived a good life and survived several moves and years of abuse. That's one thing I love about IKEA products- budget friendly, but not cheap on quality. I broke down the table by unscrewing the legs, and was ready to get started painting. I thought the easiest way would be my go-to spray paint method. Wrong. I applied a kelly green coat, and followed it up with a once over of green glitter spray paint. It was HORRIBLE. Didn't apply evenly, dried clumpy, and the color was way too dark. I seriously didn't think I could get back from that mess.
Luckily I knew I had a bottle of Martha Stewart green paint, but I wasn't sure I had enough or that it would even cover the mess I made. Amazingly I had just enough for two coats and it worked PERFECTLY! That's what I get; next time always, always, go with Martha first. I used Martha Stewart Multi-Surface Acrylic Craft Paint in Mint and Sea Lavender for this project (purchased at Michaels).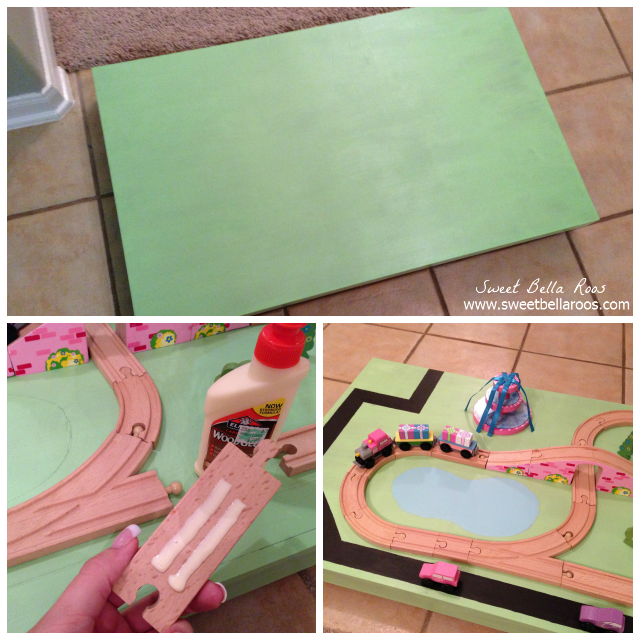 After I painted two coats and let it dry completely, I assembled the train track to fit best on the table. I picked up each individual piece and applied a healthy amount of wood glue to each piece. Make sure to press down firmly for a few seconds before moving on to the next piece, but don't use too much glue or it will squeeze out the sides. After letting the track dry, I sketched out the road and lake. A yard stick was the perfect width for my road and made it super easy to trace onto the table. I free handed the lake by drawing an "8" without the holes. Go lightly with the pencil because it will show up under the blue paint. I used paint pens to trace the edge of the lake (and cover the pencil lines), and to draw the white stripes on the road.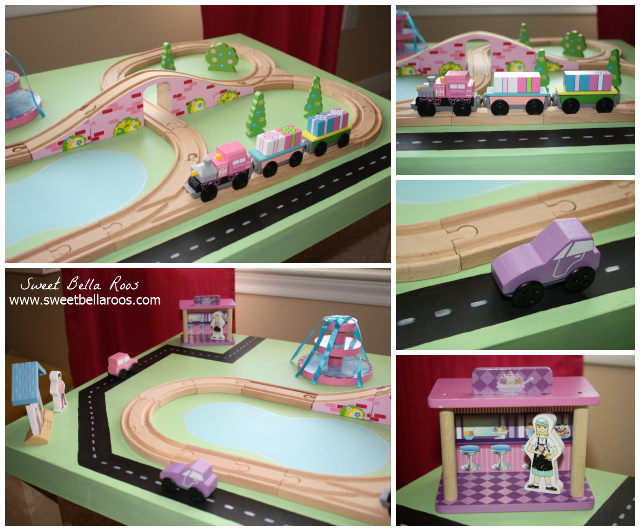 I didn't glue down the trees, cars, people, or houses because I wanted the girls to be able to move these pieces around during play. The legs for the table easily screw back on after you are finished assembling and painting. (I didn't paint the legs, but you could. The paint really covers well the surface well. You could also paint more features on the table like flowers, grass, etc.) Sophia was gifted this pink train set for her birthday, which has since been discontinued, but you can find a great train set from IKEA- LILLABO 20 Piece Train Set.
I love that the train set has a permanent "home" on this table- one less thing to get out and put away- and it looks great in the playroom. The LACK table is the perfect height for little sister (1 yr old) to stand at and for big sister (6 yrs) to kneel and play too. They have really played well together and I've been a little surprised how much they have enjoyed this DIY train table.
Come back the rest of the week to see:
–IKEA Inspired Play Room Ideas
-DIY Play Room Decor
-Play Room Reveal