As I mentioned in my previous post about my Play Room Inspiration, I knew I wanted to add some DIY touches to the play room. One way I did that was with my DIY Train Table. Here are a few of the other DIY Play Room Decor items I made: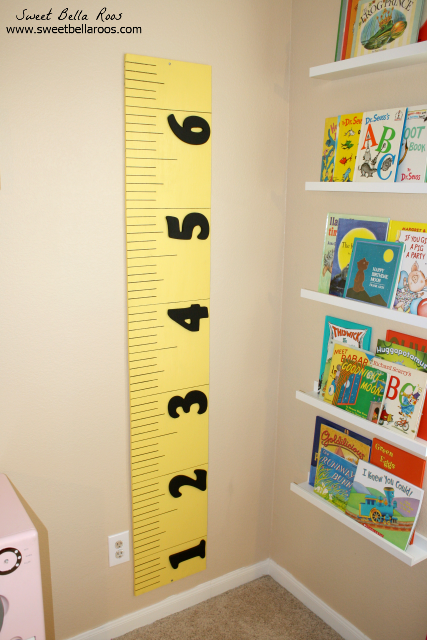 This DIY Growth Chart might be my favorite thing in the room. This was actually the last item to be added because I wanted to fill the space in that corner. As I was looking for ideas I ran across these growth charts at Pottery Barn Kids. Now, I don't know about you, but there was no way I was spending $89 for this! I actually liked the style of the $49 one better, but I wanted it to be wood. So, I made my own!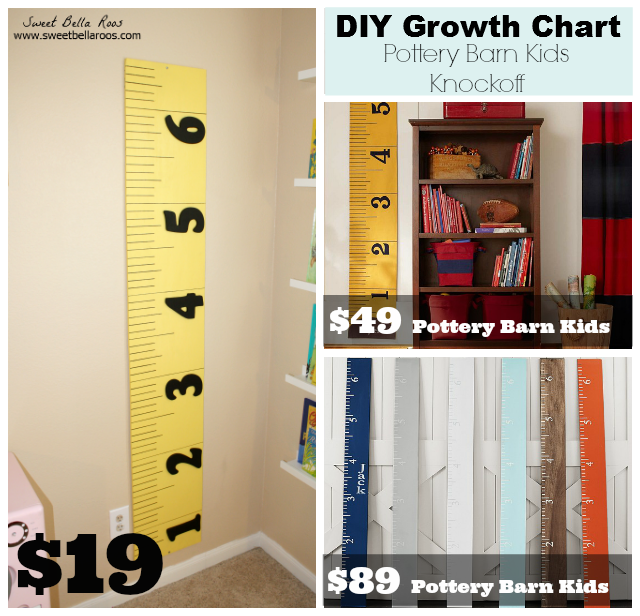 We had some leftover wood in the garage, so I had James cut me a 6ft x 1ft rectangle piece. I then painted it yellow with paint that we had leftover from the Laundry Room Makeover. This project would have cost me ZERO dollars, but I really wanted to use wooden numbers instead of painting them on. I got these at Michaels for $3ea and painted them black. After measuring out the proper spacing I used wood glue to adhere them to the board. I used a black Sharpie to create the measured lines all the way up the board. This little tool was a LIFESAVER and the right angle made all of my lines perfectly straight. SO EASY!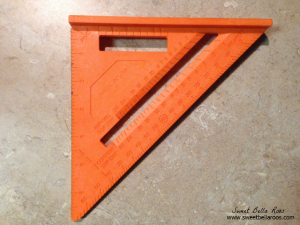 I'd also like to point out a flaw with the PBK growth charts- maybe not a flaw, but a feature I didn't care for. If you notice the PBK charts they start at 0, which means for it to measure correctly it would need to be flush with the floor. (Which is not how they are shown in their pictures…) This wouldn't be a big issue for the fabric chart, but there might be an issue trying to get the wooden one to lay flat against a baseboard. I chose to start my chart at 6in so that I could hang it on the wall.
I also painted these "READ" and "PLAY" signs. I used the same wooden letters from Michaels, and glued them to white canvases. I used Martha Stewart paint: Carrot, Sea Lavender, Mint, and Habanero.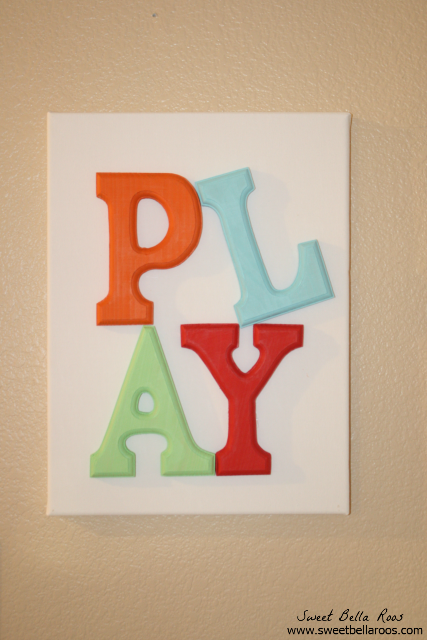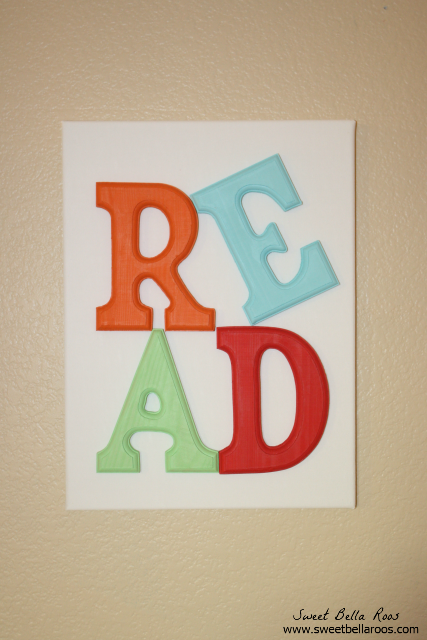 Another one of my favorite DIY features of the play room is this DIY half chalkboard wall. This wall overlooks the staircase, so it was really important to me that I not put anything in front of it that the girls could climb/stand on to look over (and potentially fall over) the side. I love this use of space now; it's not just a blank wall and it added some dimension to the room. I was afraid the black might make the room dark, but by framing it with the hot pink trim it really makes the other bright colors in the room pop. I spray painted plain white trim with Rust-oleum Painter's Touch Ultra Cover in Gloss Berry Pink. We used finishing nails to nail the trim to the wall. I used a gray primer and black chalkboard paint, both only one coat, but allowing to dry 24 hours inbetween. I also "primed" the finished chalkboard by rubbing a piece of chalk over the entire surface and waiting 24 hours to wipe it clean for use.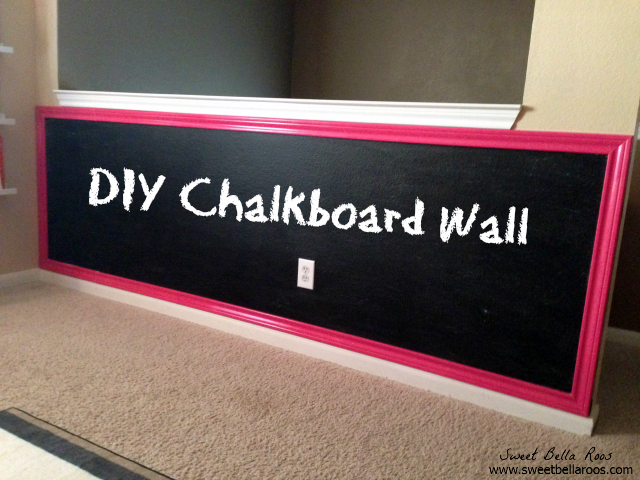 I wanted to add something that had the girls' names on it to the room, so I created the DIY birth stat posters. I used IKEA SONDRUM frames to hang them on the wall. I've added these birth stat posters to my Etsy shop- you can check them out here.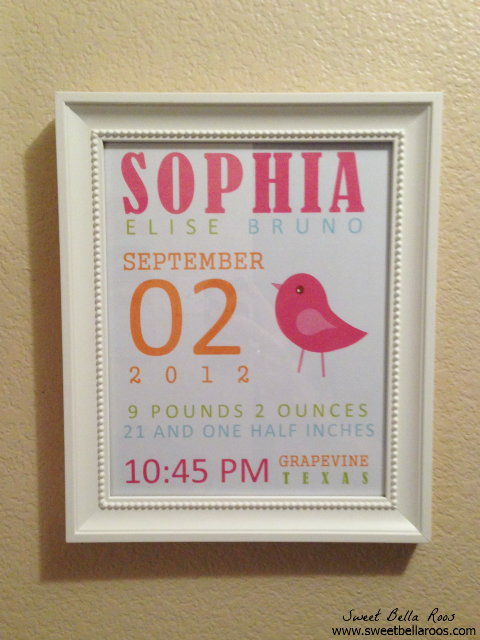 I've created a few different styles, with several colors and graphics to choose from.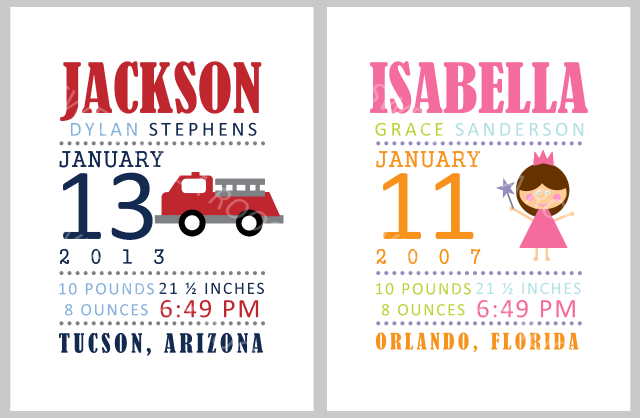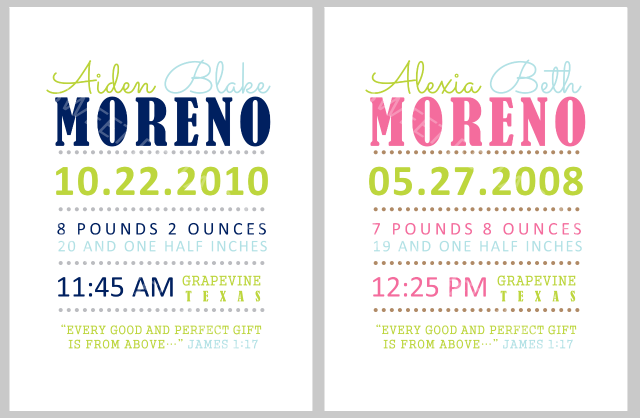 Make sure you enter the giveaway for a $100 IKEA gift card, it ends tomorrow! And come back then for the reveal as well!! Can't wait to show you everything put together!
–IKEA Inspired Play Room Ideas
–DIY Train Table: IKEA Hack
-Play Room Reveal