I received the EXPEDIT shelving unit and SUNDVIK table and chairs from IKEA as a sample for review. All opinions on the product & company are that of my own.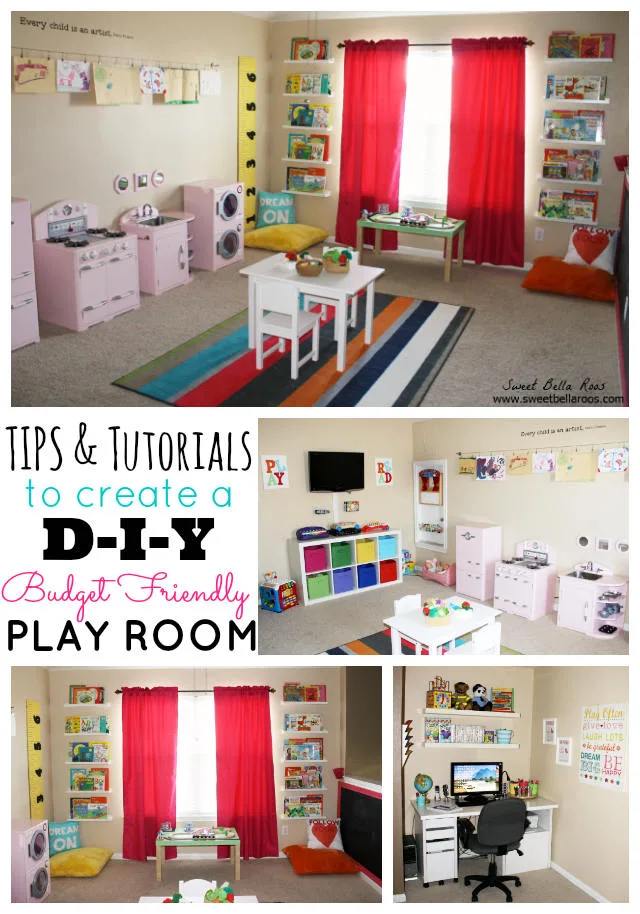 I am so excited to finally be finished with our DIY play room makeover! I love our new space and we are already enjoying it. Leading up to the big reveal, I've shared my inspiration for the play room, as well as a tutorial for the DIY train table and DIY growth chart.
One of the first areas I knew I needed help with was storage. I like to use the bin system to corral toys. I prefer that the girls only get out one bin at a time, but I don't strictly enforce it. The beauty of this system is the easy pick up. Every bin is a different group of toys (blocks, baby doll supplies, Wii accessories, Legos, snap beads, cars, infant toys) so when they are done playing everything goes back into it's bin. The EXPEDIT shelving unit is the perfect home for all of the bins. I've looked at similar "cube" shelves, but they all just looked so cheap (and cost more!). I love the way the bright colored bins pop against the solid white. It also doubles as a great media console to set our DVR and Wii on. TIP: For faster help cleaning up and putting toys back in their bins, offer to time your child. I'm amazed at what Isabella will do simply if she thinks it's a race/ I'm timing her.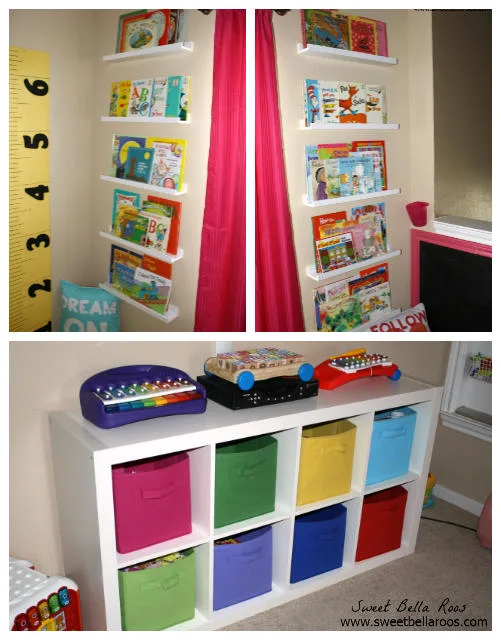 Another storage solution I implemented was the picture ledges to store and display the kid's books. I absolutely love the way this turned out. If you can't tell from the picture I am a touch OCD and organized the books to be symmetrical on each side (similar groupings of shape, size, colors). We have a lot of "vintage" books that were mine from 25+ years ago, so I stored these safely at the top. I put the board books, and ones I don't mind Sophia being able to reach, on the bottom ledge. It is the cutest thing ever to see her crawl over and pull down a book. This is one area that I do enforce the "one at a time" rule- get a book down, read it as long as you like, but put it back before "checking out" another one. TIP: Don't just store books on a shelf, store them out in the open to use them as decor and make them more easily accessible. Just like with the colorful bins, I love the pops of bright colors the books add to the room. The oversized pillows below the books are perfect spots for the girls to sit and read, or pull them out to the center of the room to watch TV.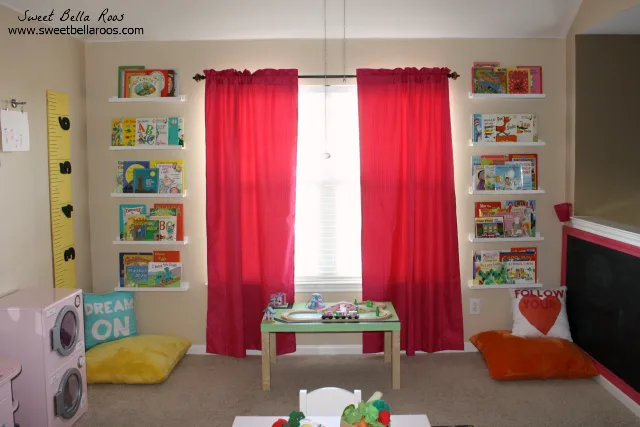 Going with my theme of storage meant to display, I created this area to display the girls' artwork in the room using an IKEA curtain wire and hooks. I purchased the Picasso quote on Amazon. I love this system so much more than putting the art in frames because this can be updated and changed out quickly and easily. And let's be honest, before this the art was just sitting in a huge pile of papers I didn't want to get rid of but didn't have a place for. I tried to be creative with my space, both on the floor and on the walls, to ensure they everything had a "home". A place for everything, and everything in its place.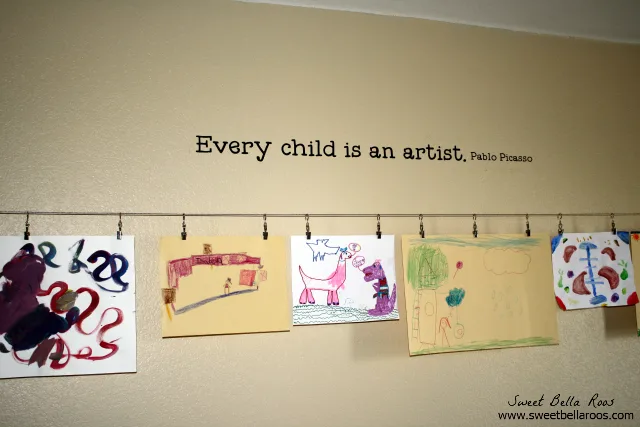 We have a half door in the corner of the room that leads to an attic storage space. I really wanted to make it less noticeable, so I used screw-in bicycle hooks from Home Depot to hang the kids' puppet theater (garage sale find) and IKEA wire baskets to house the puppets. I also used the wire baskets under the TV- one to hold Wii and TV remotes, and the other to hold movies. The basket holds five DVDs, so I store the rest in the closet and swap out as needed. (Click here to see how I made the Play/Read canvases.) This worked into my goal to simplify and get rid of toys that were outgrown or no longer being played with. TIP: If your child has an abundance of certain items, split them up and keep some in storage. Rotate out the current toys with the ones in storage- your kids will enjoy renewed play with the toys they haven't seen in awhile.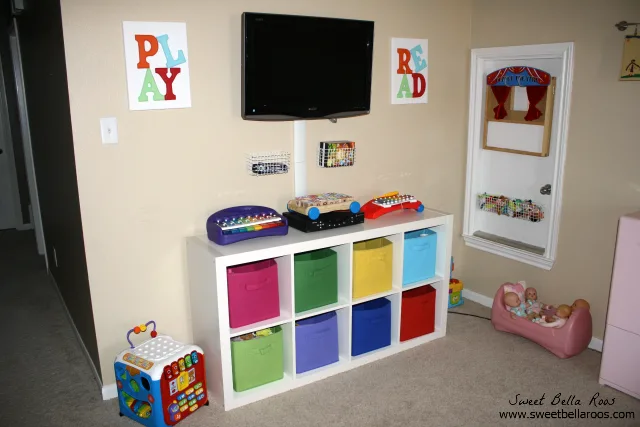 The pink kitchen is a STEAL that I found on Craigslist. Retails for over $1000 from Pottery Barn Kids (and the washer/dryer are discontinued; which we use to house dress up clothes). I got them in perfect condition for $200 TOTAL. Seriously the best find of my lifetime so far. I found those little geometric shaped mirrors at a garage sale and painted them to match. TIP: Scour Craigslist and resale shops, you never know what kind of awesome finds you will run across. Be specific and search often.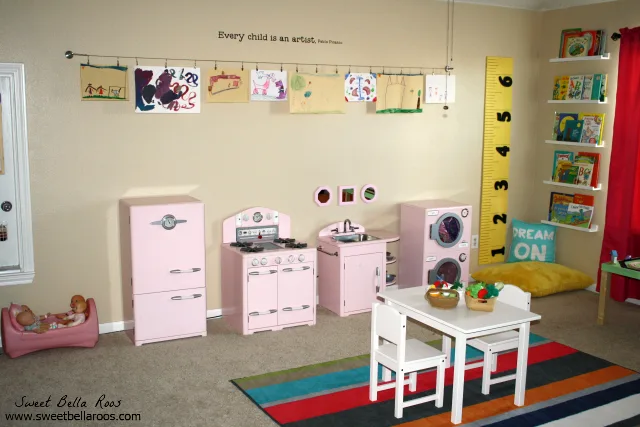 Another thing I did to simplify was to throw away ALL of the cheap plastic play food. We had WAY too many pieces, and it was just overwhelming, not to mention junk! The cheap little boxes get crushed, the plastic food is small and disproportional, and I was tired of stepping on it. I traded up for all felt food and it might seem like such a trivial swap, but I can't tell you how much happier it makes me. It's machine washable, BPA free, and so much easier for Sophia's little hands. It looks more realistic, and I just think it's more fun. (Seriously, I've thought about this way too much apparently!) You know how I'm all about everything having it's own home, so I love that the IKEA DUKTIG food sets come in their own coordinating felt baskets. I had a table similar to this when I was little and have a lot of memories sitting there coloring and serving food from my restaurant. The IKEA SUNDVIK table and chairs were ridiculously easy to put together. We hadn't had it two days before Isabella colored on it, accidentally, with colored pencils. I was shocked (and so relieved) to see that the marks wiped right off with a damp cloth.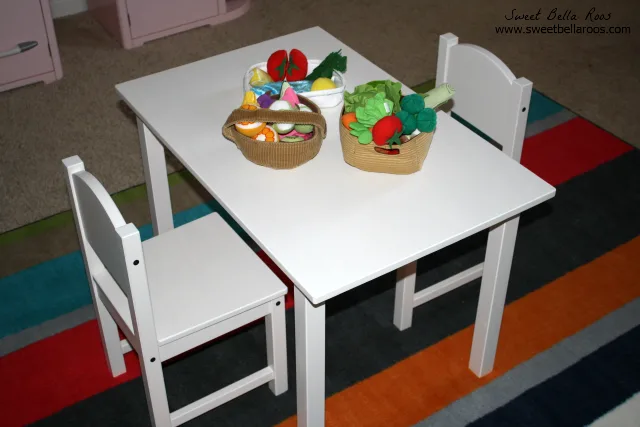 Along with creating storage and simplifying, I really wanted to create a shared space where I could work and the girls could play all in the same room. We have a little nook in the corner beside the stairs that was the perfect space for our computer. It's the perfect location for me because I am out of the way for play, and right by the stairs. Even though we use a secure wall mounted gate, I still feel better knowing I'm right there as the "gate keeper".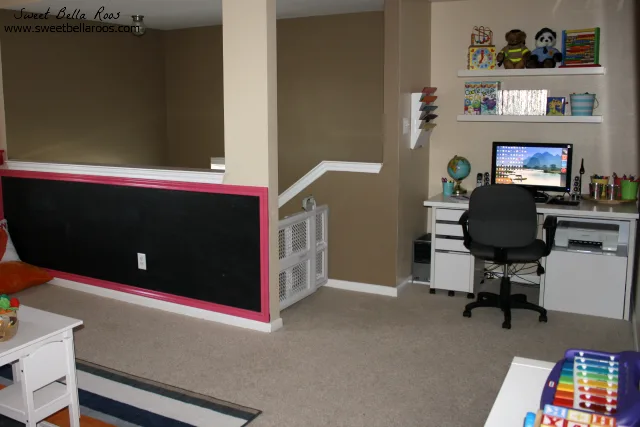 Previously we had my husband's old desk (read: stained, fiberboard, ugly) in that space and I wanted to change it to reflect more of my style but still fit the bright theme of the room. I have an IKEA desk in my office downstairs that I love, and chose a different one to meet my needs for the playroom. I love the storage space for the printer so it gives me more workspace. I used a lazy susan and buckets to store the girls' craft supplies. I like having their craft supplies (paper, scissors, markers, play dough, etc) stored on my desk because I get to be the "gate keeper" in this regard as well and monitor use. All of the toys/books that are in bins or shelves in their portion of the room they are free to play with at will, and I know they are all safe for both girls to use together. The questionable items (hello, scissors) or things I don't want to get damaged, I keep out of reach for them but still easily accessible for me. I used the shelves to store bulky items that didn't find a home in our bins. We have a large collection, most 30+ years, of Little Golden Books that I put on one of the shelves. We get these down to read with supervision, which they look forward to as kind of a "treat" because they don't get to read them all the time. (How perfect is the IKEA magazine holder for storing construction paper?)
I am so pleased with the way everything came together. By simplifying their toys, they are playing more with what they have. It almost sounds backwards, but before they were overwhelmed with all of the options. By scaling back, I've seen more creative play and use with the things they have available. Creating the storage solutions was also a great help; they actually have space to play now and I regained some sanity from no longer constantly stepping around, over, and on toys that have been left out.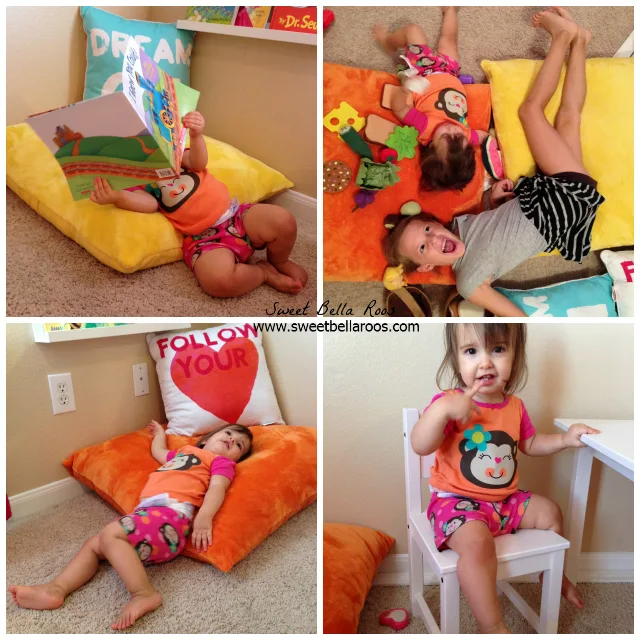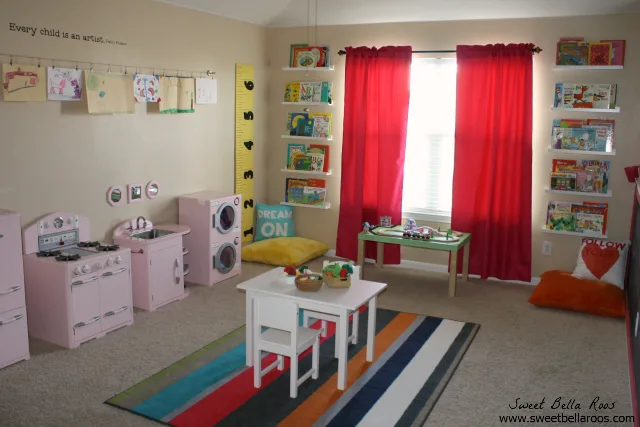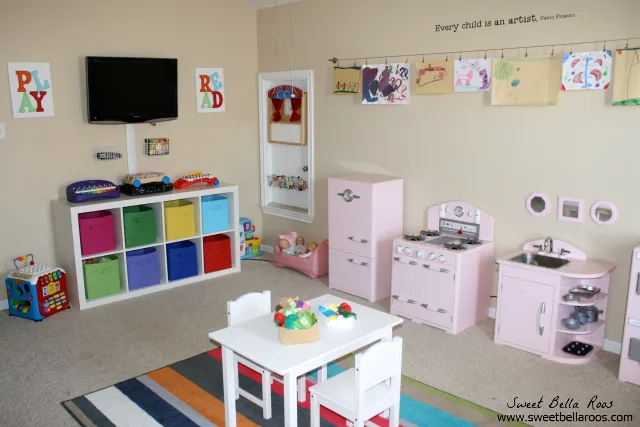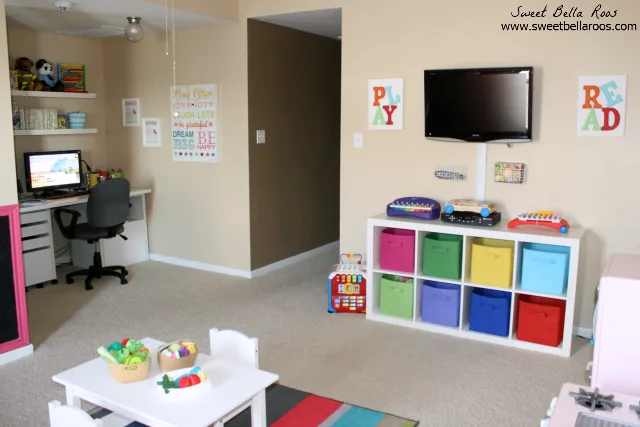 I've included links below to some of the items I purchased or used in the play room. (These are not affiliate links, I am just sharing sources.) You can also find these items all in one place together on my IKEA Inspired Play Room Pinterest Board.
Items I purchased from Ross:
Large Yellow Pillow $14.99ea
Large Orange Pillow $14.99ea
Small Dream Pillow $7.99ea
Small Heart Pillow $7.99ea
Striped Rug $39.99
Items I purchased from HomeGoods:
Large Canvas Wall Art $24.99
Items I purchased from Target:
Eclipse Bailey Thermaback Window Panel $15.99ea
ClosetMaid Cubeicals Fabric Drawers $5.99ea
Items I purchased from IKEA:
Items I received for review courtesy of IKEA:
You'll notice that I purchased A LOT of my items from IKEA. I love the budget friendly prices from IKEA, but I also really appreciate their commitment to safety. IKEA knows that children don't think about safety when playing – so they do. Not only does Children's IKEA follow the strictest laws and standards in the world, they also have zero tolerance for any safety or health risks in their products. If you would like advice for creating a kid-friendly home or play space, click here. You can also find information regarding activity play, creativity, role-play and storage. Thanks to IKEA for the review sample of EXPEDIT shelving unit and SUNVIK table and chairs. As always, all thoughts and opinions are 100% my own.
Be sure to check out the rest of the play room series:
–IKEA Inspired Play Room Ideas
–DIY Train Table: IKEA Hack
–DIY Growth Chart and Other Play Room Decor