It took me a long time to decide what kind of "theme" I wanted to go with for our indoor Halloween decor. This is our first "big" holiday in our new house and I am so excited to start hoarding collecting decorations. I love all of the bright, nontraditional colors- purple and greens- that are popping up into the decorations this year. I was tempted to go that route, but I didn't want it to be too "cutesy". With littles at home, I also didn't want it to be too scary. The gore/blood/guts avenue is really just not my thing, even without kids. (And I'm still mad at my husband for getting my sucked into The Walking Dead… I hate that show but I'm hooked now.)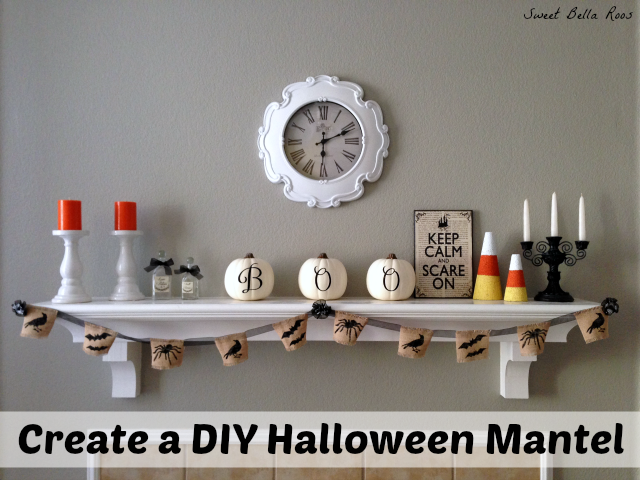 I decided to aim for a classic, spooky-but-not-scary approach. I couldn't find much pre-made stuff that fit what I was going for, so I decided to DIY it up. I'm really happy with the way everything turned out and came together. FYI: The clock is part of the every day decor (I got it at Ross) but I decided to leave it up because I couldn't find anything I liked better.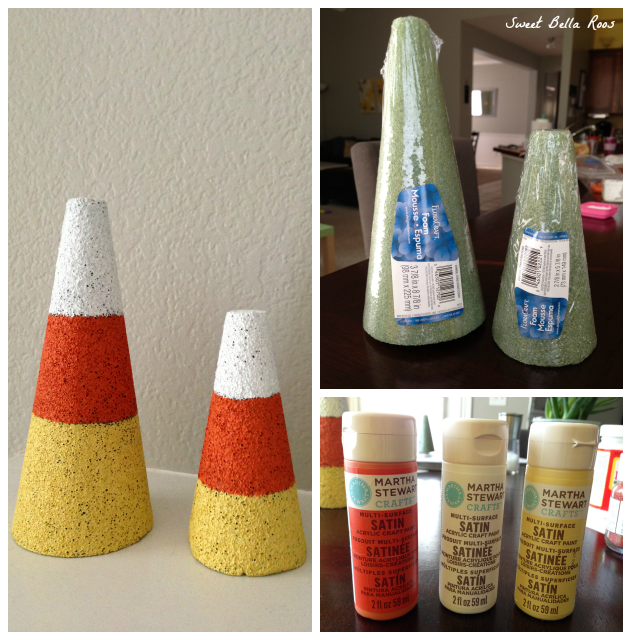 The first thing I created for my DIY Halloween mantel was the candy corn. For this you need two Styrofoam cones from Michaels ($2.99 for 6in and $3.99 for 9in). I used my trusty Martha Steward Paint- Jonquil and Carrot from the 10-Color Satin Paint Set, and Wedding Cake; all available at Michaels. (The same colors I used for my DIY Candy Corn Boo Sign.) Use a pen to mark small lines up every two inches on the smaller cone and every three inches on the larger cone. I painted the bottom first and worked my way up, everything dries pretty fast.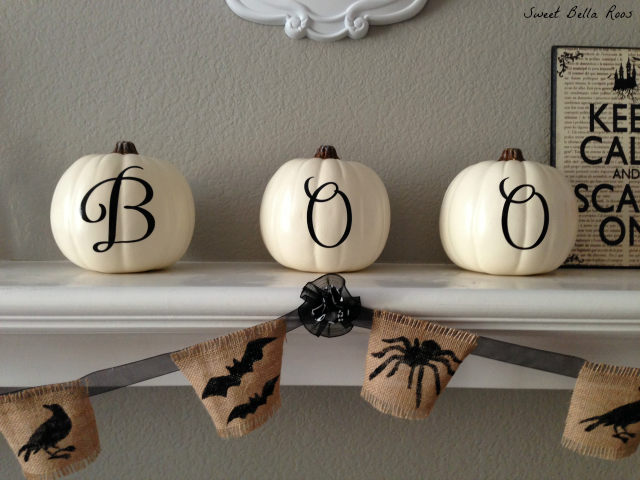 I created the BOO pumpkins using pre-painted faux pumpkins from Michaels ($4.99ea) and vinyl stickers from Hobby Lobby ($1.99ea, on sale $1.19ea). (You can go ahead and assume everything I got was 40% because I only shop sales and/or always have a coupon.) This was super easy, as you can imagine, peel the sticker off… slap it on the pumpkin. Done.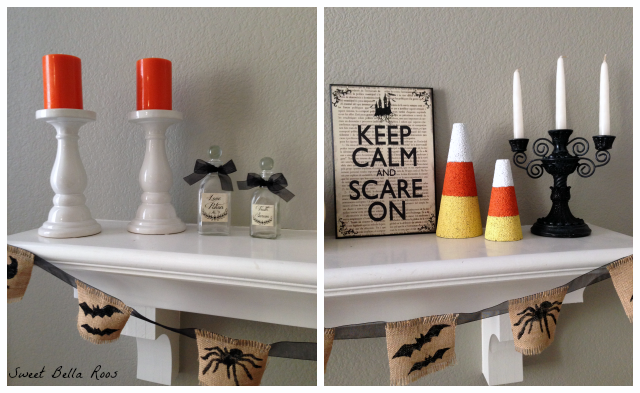 The white candle holders are also part of our everyday decor ($5.99ea Ross). The black glitter candelabra (19.99ea, on sale $11.99) and white candle sticks ($.77ea) are from Hobby Lobby. The orange candles are from IKEA ($1.99ea). The Keep Calm and Scare On sign is from Michaels ($5.39).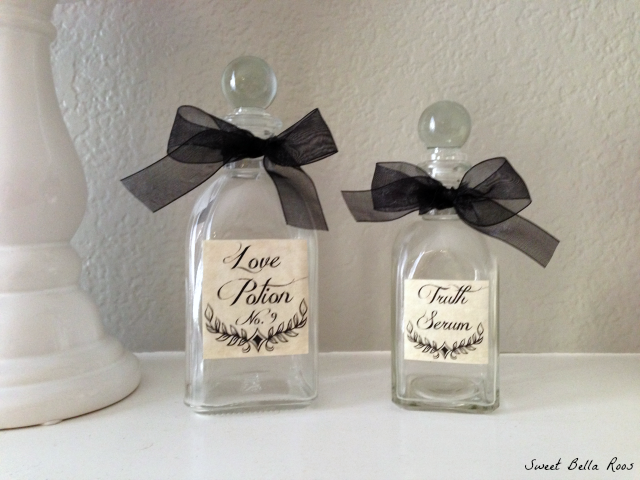 I'm pretty proud of these little DIY potion bottles. Hobby Lobby had a finished one that I almost bought, but I really wanted two and couldn't find any more. So I whipped up a quick printable in PicMonkey and used mod podge to stick it on to glass bottles I purchased from Hobby Lobby (large $4.99, on sale $2.49 / small $3.99, on sale $1.99). I tied some sheer black ribbon that I had on hand around the neck of each bottle.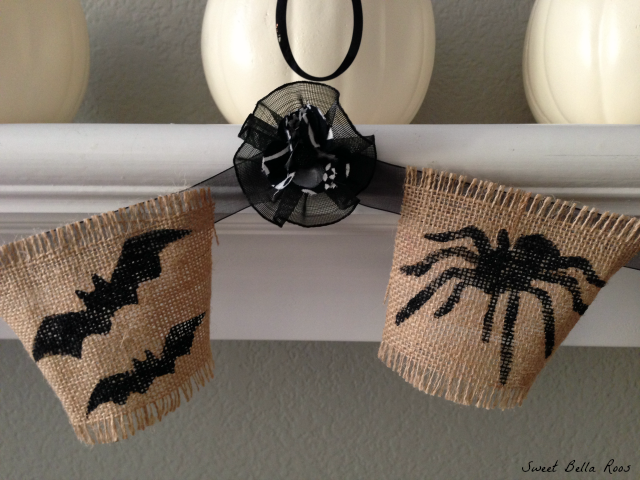 I love the way this DIY burlap bunting turned out. I purchased a small roll of burlap from the scrapbook section at Hobby Lobby ($2.99) and cut it evenly into squares. I used Martha Stewart Halloween stencils from Michaels ($6.99, sale $4.19) and black paint to create the patterns on each square. The stencils were great, no bleeding at the edges or anything, and it's a huge pack of different designs in various sizes to choose from. I finished it off with some premade stick-on ribbon embellishments, also from the scrapbook section at Hobby Lobby ($6.99 for 6ea). I used hot glue to adhere the burlap to some sheer black ribbon and heavy duty tape to stick it to my mantel in three places.

So all in all I spent around $65 for everything. I love that I was able to customize and make each piece my own, and that the finished pieces are simple and quality enough to be used again next year… probably with new DIY friends added to the collection.