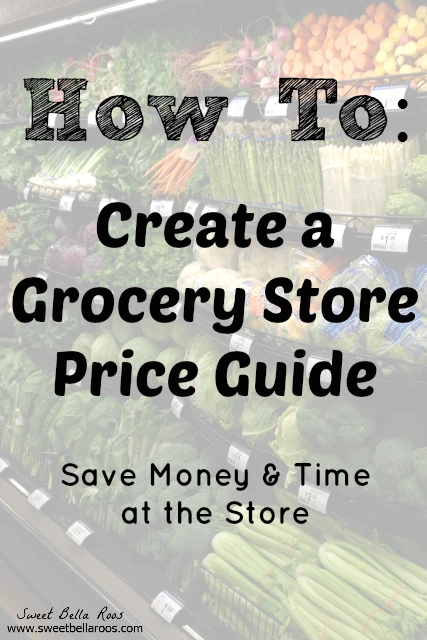 I have been on a serious mission this year to simplify and organize our lives- our schedules, our house, our finances, even our grocery list! I've never really been one to clip coupons, and even when I did I wasn't sure I was doing it right. How do I know if this is a good price? Should I buy this just because I have a coupon for $.30 cents off?
I've always been amazed that my mom could rattle off what is a "good" price to pay for something. Frankly, I'm happy to just have even a general idea of what I'm going to be forking over when I get to the register. We've all had that moment when the last item goes across the scanner, the grand total pops up, and you're asking yourself "what the heck did I buy?!" Am I right?
I created this grocery store price guide in an effort to not only better prepare, and prevent the sudden chest pain in the check out line, but to also save time and money at the store! The price guide will work hand-in-hand with coupons and store sales when I am planning out our meal plans and shopping list for the week.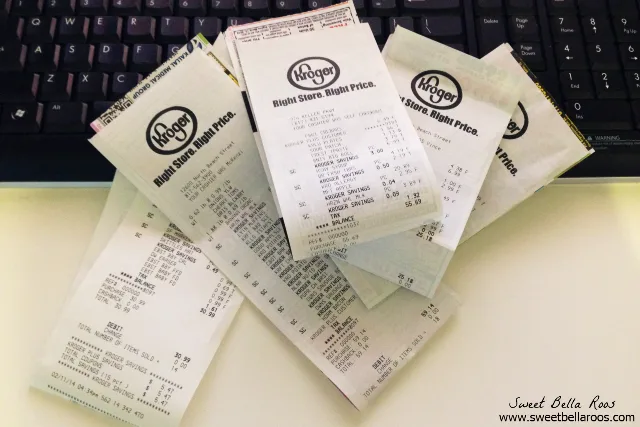 How to Create a Grocery Store Price Guide:
Save your receipts! This is the best way to track your spending habits and get a good idea of how many times a month you are shopping for certain items. This is probably the easiest way to start a price guide because you will have the prices right there for the items you purchased most recently- no running around the store with a pen and paper (yet).
Make a list of all the items in your pantry and refrigerator that you buy regularly/ will replace. ("Will replace": meaning that sesame oil that I bought for one recipe and ended up hating, I won't put on the list because I don't plan to replace it.) This is also a perfect time to check dates and toss old items!
Start your spreadsheet. Find a format that works for you. Do you plan on creating a price guide for multiple stores? If yes, take that into consideration when designing your sheet. I could walk to our Kroger, so I rarely do my grocery shopping anywhere else. In the future, I might be interested in shopping at multiple stores to save a buck. My spreadsheet looks like this:


| | | | | |
| --- | --- | --- | --- | --- |
| ITEM | PRICE | UNIT SIZE | AISLE | CATEGORY |

I used the category column to group the items together by their general store location: bakery, deli, frozen, produce, baking, etc. This made it easier for the next step:

Input your information. After you have created your spreadsheet, input all of the items from your receipts and from the pantry/fridge inventory list. Try to think of any toiletry, pet, baby, household items that you may be forgetting. When you think you've got it all, use the 'category' column to sort and group like items before printing; this will make it easier when you are updating the exact location in the store.
Print off the spreadsheet and head to the store! I ended up with about 110+ items and it took me about 30 minutes to gather all of my missing information. Including the brand name and aisle location is going to be especially handy when I send my husband to the store! It's also important to include the unit size- this will help you to compare sales and apply coupons properly.
Once you have all of the written information from your trip, enter it all in the spreadsheet. Don't forget to update your price guide as needed. You might want to continue to hold onto receipts and take inventory at the end of every week (or month)- whatever works best for you. Prices, and even locations, tend to change periodically so keep this in mind as well!
Other Helpful Tools:
I customized the grocery list excel template to include the information from my price guide. I love that it automatically updates the totals on the right and I know what to expect to pay before I even get to the store! Now when I make my list for the week: I look at the sales guide for my store to see what meals I can build around that, I check the coupons I have on hand against my price guide to see if that is an item worth stocking up on, and I use the grocery list to input all of my information and print it out to take shopping with me.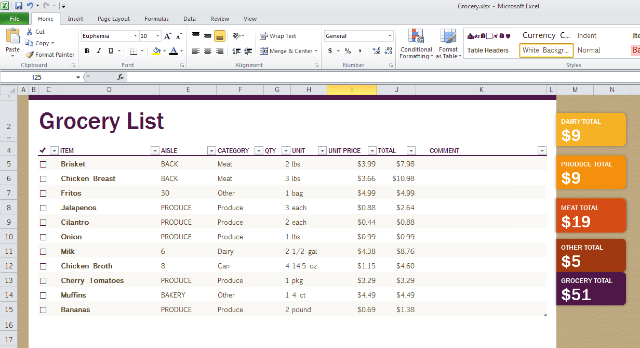 Do you meal plan every week? Check out my visual recipe index for some ideas!
Do you think creating a grocery store price guide will help you save time and money at the store? I would love to hear your success stories!