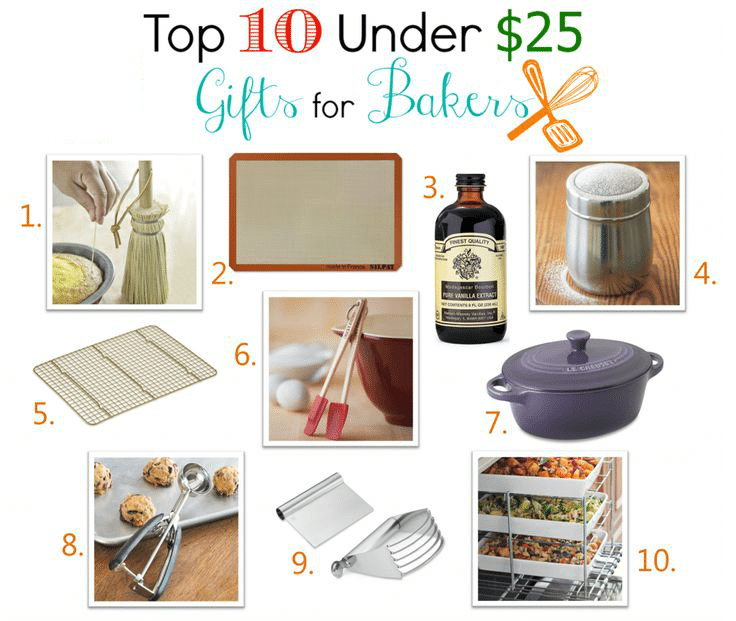 Do you have a baker on your list to buy for this year? Or maybe YOU are a baker and your Hubby or secret Santa needs a gift idea for you? I whipped up a list of great gift ideas all for under $25ea, all available on Amazon! (This post contains affiliate links.)

1. Broom Cake Tester– $7.25… How annoying is it to try to dig around your cabinet to find a tooth pick to check if your cake is ready? I love that this is meant to sit out on display. This is a something that I would probably never buy for myself, but would love to receive as a fun, thoughtful gift.
2. Silpat Silicone Cookie Sheet Liners– $24.75… everyone I know that has one of these agrees they are life-changing. No more sticking, no more greasing, no more mess. These come in a variety of sizes; half-sheet, cookie sheet, quarter-sheet, and jelly roll. Also great for rolling out dough!
3. Nielsen-Massey Vanilla– $14.95… you cannot go wrong with this vanilla! Their Madagascar Bourbon Pure Vanilla just might be my favorite smell in the entire world. Quality ingredients can make all the difference.
4. Mesh Sugar Shaker– $9.88… again, not something that I would likely purchase for myself, but would love to receive. I hate getting out the sifter to dust goodies with confectioners' sugar. This little guy is simple & classy; a great addition to any baker's arsenal.
5. Nonstick Cooling Rack- $16.99… I don't know about you, but I never have enough cooling racks. This commercial-quality metal rack has closely set wires- because nothing is worse than a piping hot cookie falling between the cracks!
6. Silicone Spatulas (Set of 4)– $9.99… Made of FDA approved 100% food-grade silicone, good for health and no concern of toxic release. Sturdy handle with securely attached head, stain and odor resistant.
7. Le Creuset Stoneware Mini Oval Cocotte– $24.98… who doesn't love Le Creuset? When I win the lottery (HA) I am going to buy one of everything from their collection (make that two of each) but you know what- you don't have to be a millionaire to afford many of their amazing pieces. I love that items from Le Creuset really are statement pieces; not only functional, durable, and versatile… but also perfect for going straight from the oven to the table. Trust me, you can't go wrong with giving anything Le Creuset to the baker in your life.
8. Cookie Scoop– $13.95… this is probably one of my most used tools in the kitchen (besides my stand mixer, and we all know that's not under $25!). This guy is very versatile, not just for cookies; I also use it for cupcakes, muffins, anything that I can if I want to get a uniform size.
9. Stainless Steel Pastry Blender-$7.99 & Scraper-$6.79… Thanksgiving reminded me how much I need both of these tools! Makes it so much easier to handle pie crusts and other types of dough!
10. Three Tiered Oven Rack-$14.90… much like cooling racks, space in the oven is a hot commodity! (Pun intended-ha). Another Thanksgiving realization, oven real estate goes fast. This stacked rack folds flat for storage, and can accommodate bakeware up to 4″ high.