…also known as why you should never do business with Beazer Homes.
I'm taking a break from sugar and chocolate today to tell you about a recent experience we had with Beazer Homes. I'd love for you to read it so that if you ever find yourself in the situation of building a home maybe you will have discovered new questions to ask or things to look out for (or you will take my advice and search for another builder). So indulge my rant, and I promise it's back to cookies tomorrow. I am also going to apologize now for the length!
When my husband and I began our search last Fall to purchase our first home together, we decided to look into new construction. We liked the idea of everything being brand new and getting to design from the ground up. Most houses around our immediate area are older, pre-existing homes, so this required us to expand our search location. After a quick search on the internet, we found an area not too far and in an excellent school district.
Beazer Homes had several lots still available in the community, and had a lot of options to customize. The model home was actually the floor plan we liked, but we need four bedrooms. The sales representative quickly gave us the pitch that we could customize the floor plan however we wanted. We verbally built and priced out a home with four bedrooms, a study (for my office), an upstairs loft (for the girls playroom), and a sitting room in the master bedroom. He told us that this could definitely be done, and it was in our budget. He then proceeded to tell us of a special promotion they were running through the end of the month that was a "$10,000 upgrade package: granite countertops, recessed can lighting in the kitchen, separate tub/shower in the master bath, stainless steel, and tile in all the wet areas."
It was then when the sales rep. went to write up the contract that he discovered that we would not be able to do the study, instead it would have to be a formal dining. Basically the only difference here would be the french doors closing off the room. While this was definitely disappointing, it wasn't a deal breaker, and we decided to proceed. He also informed us that he had to get "special permission" to build the upstairs loft and 4th bedroom option, as starting in November it would be an either or option only. Okay, that's great… but this is still October.
We asked about a corner lot, perhaps somewhere with a decent backyard. The sales rep informed us that "Lot 27 is the BEST lot left in the community" because it only has one neighbor to the right, there is a private owner behind (so just field space), and to the left is half a lot- not enough to ever build a house on- that will just be a maintained green space, and when they open the 2nd phase of the development those houses back fence will face the side of our house. Sounds great right? Who wouldn't love to essentially only have one neighbor? So we wrote the check for the deposit and sign on the dotted line.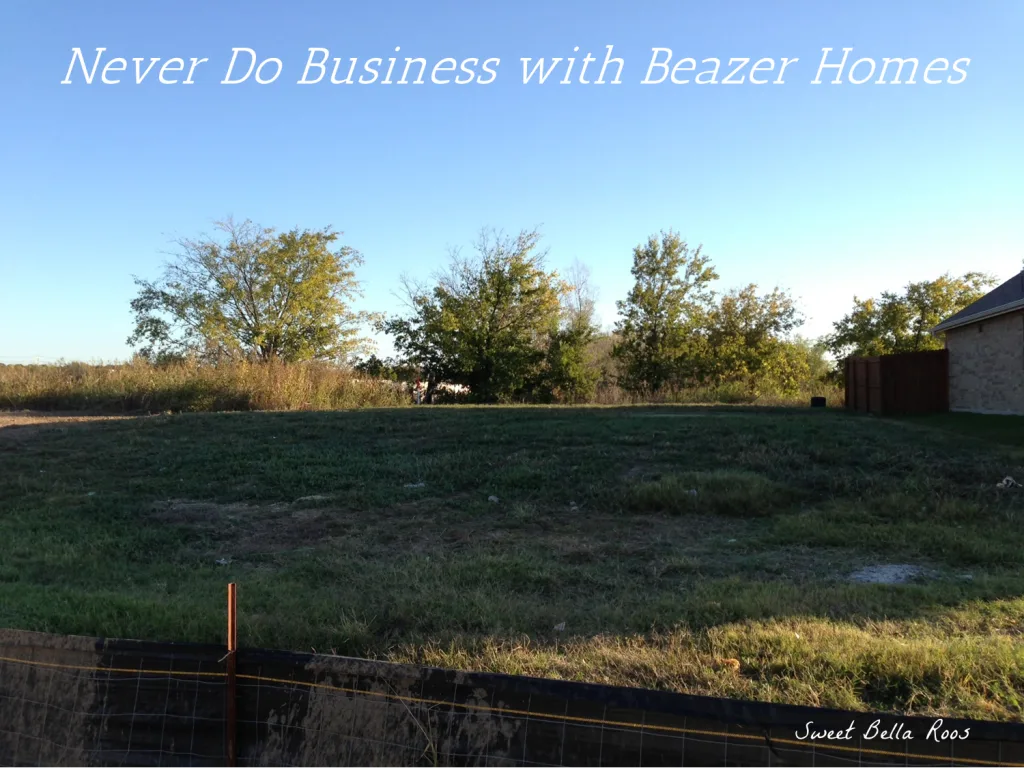 We go through the design center process and pick out all of our options for carpet, tile, paint, etc. Which by the way, your options are beige, light beige, dark beige, and medium beige. This in itself was a huge ordeal! Apparently our sales rep did not apply the credits correctly, and it made everything more difficult. Not only that but it was NOT a "$10,000 upgrade"… less than half that actually. The basic "builder grade" of everything was terrible. Maroon or green granite? You've got to be kidding me. Paper thin carpet? Acrylic knobs for all the faucets? (Note: I'm not judging anyone who has these options in their home, we've all had them, my point is it is not something I would expect from a brand new house built in 2013 for the amount of money we were paying) The point here is that everything "nice" was an upgrade!!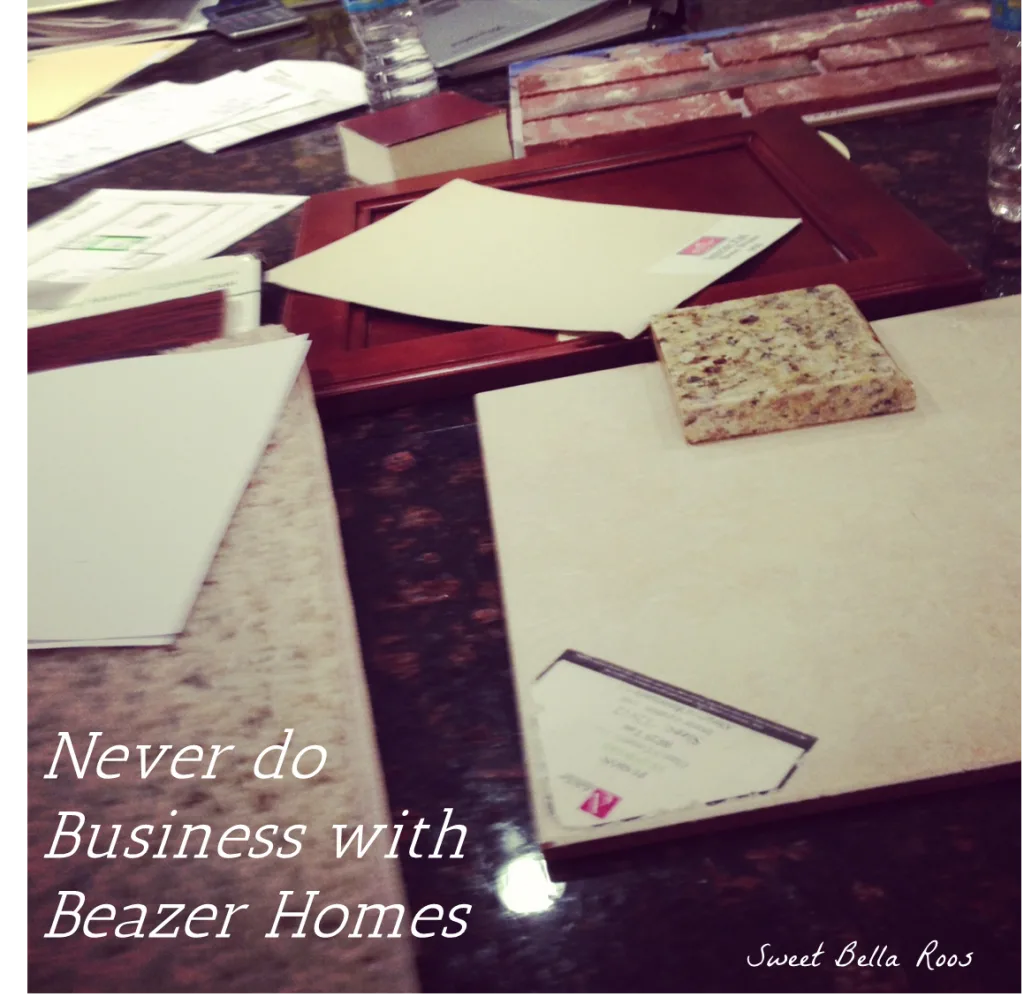 We later learned that the majority of the design "upgrades" we were required to pay more for come standard with other builders in the area.
So now we have decided on the location, floor plan, and design options of the house. We are waiting on zoning permits, and then they are ready to break ground with an estimated completion date of mid-March. We eagerly drive by the lot to check the weekly progress of our new home, and this is when we discover a heartbreaking problem.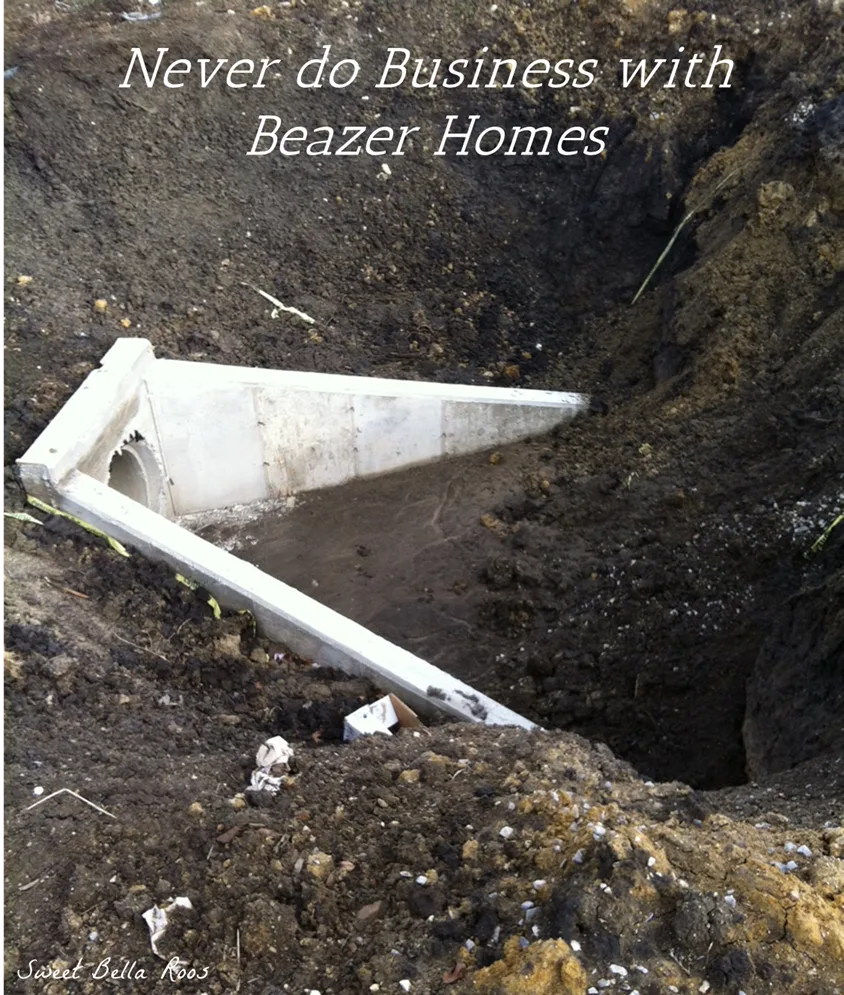 That? That drainage ditch that is going to be a drainage creek? THAT is the "maintained green space". That is the half a lot beside our house. We had no idea about this, and only happened upon it when we drove by one day to see the progress on our house. Our house that at this point now has pipes put in and is ready for concrete to be poured.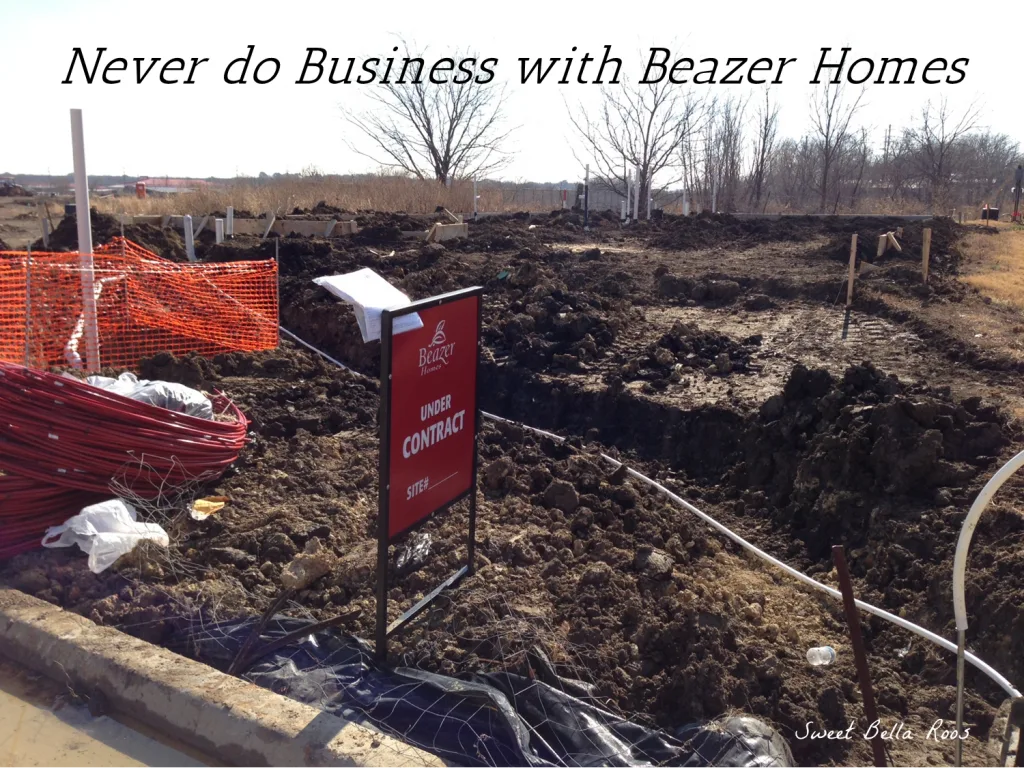 We called our builder, who advised us to talk with the developer to see what was going on with the drainage issue. We called the developer who quickly sent us over the drawings for the plans, he advised us that it was originally going to be a simple drainage grate (like what you might see in a parking lot) but that the engineer required them to change it to be a concrete creek. A concrete slope that STARTED at our fence line and took up the entire "half lot" beside our house.
So of course I call my real estate agent and inform her what we just found out, and she calls the Beazer Homes sales representative. And he denied knowing anything about it.
After talking us out of another lot, and selling us on the fact that this was the "prime" lot available… he now claims to know nothing about it? In fact, he claimed that his superiors at Beazer had no idea, and that because the city owned that land, they could do whatever they wanted with it, so their hands were tied. Did I mention the fact that the drawings that the developer sent me have signatures from AUGUST! Months before we even signed our contract. After pointing this out, Beazer suddenly began to sing a different tune.
They vowed to "make it right" and spent the next week trying to figure out where the communication break down happened. In the meantime, our house was still being built, and we were receiving NO updates. Do we have a house, do we need to start our search again, can we get our deposit back? I explained to them that this was completely unacceptable and that I cannot live next to a drainage creek that starts at my fence line when I have two small babies! They could either move us lots and build our exact house for the same price, or they could give us our deposit back.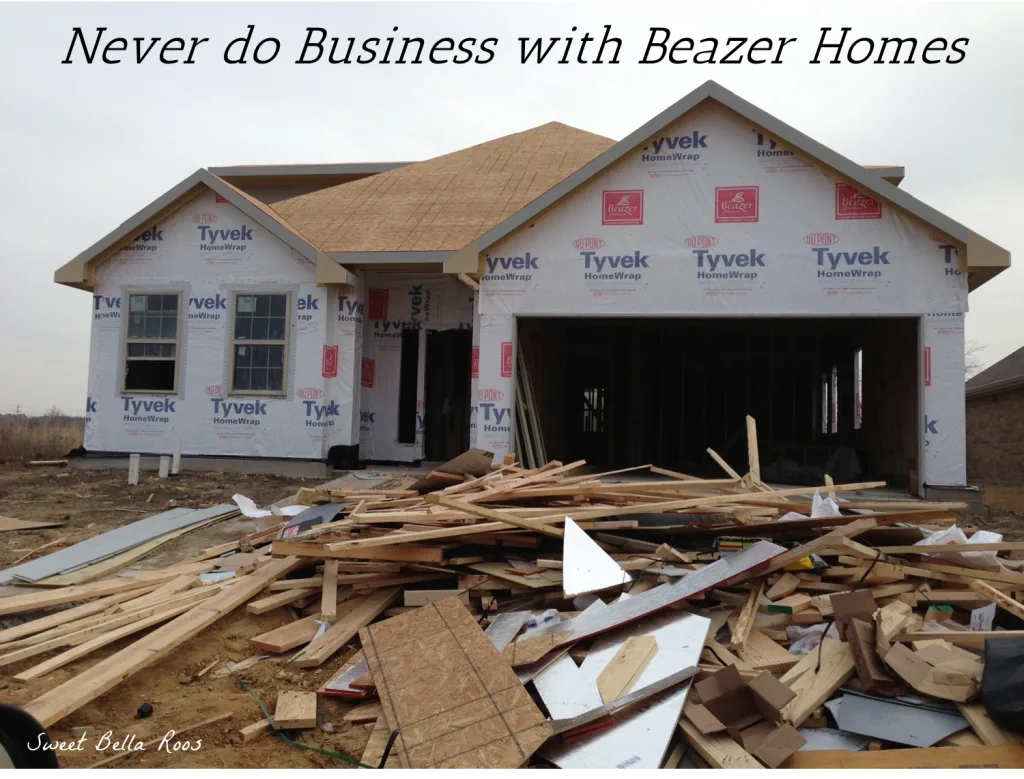 After two weeks, our sales rep finally informed us that they would not be able to move us to a new lot and build the same house because they no longer offer that floor plan and the base price in the community has gone up $15,000. They did not make good on their promise to make things right. This was just another lie added to the countless more we were told by the company throughout this whole process.

So we have received our deposit back and since put a contract on another home. I am going to credit this whole terrible experience to "everything happens for a reason" and that wasn't meant to be our house. If this is how Beazer Homes does business then I am so happy they did not get our money, and that we will not be living in a house they built. From what I have seen on their social media networks, it looks like many unhappy customers with long-term issues with the company after moving into one of their houses.
And to the person who ends up purchasing "our" home on Fern Valley Drive… I hope you enjoy the home we designed, but I think you should know that Beazer Homes went on to list the house for $15,000 MORE than what we were going to pay.
Shame on you Beazer Homes.
*UPDATED: 2/17/14- Looks like I'm not the only one Beazer Homes has lied to. This is an investigation report from NBC DFW regarding a community minutes from the one we were building in. Read the report here: Amenity Center Uncertainty Angers Homeowners