I posted about our first trip to the fertility doctors here.
We had to wait a month before we could get an appointment with the new doc, and I was anxious to say the least. I was really afraid we wouldn't like this practice either and have to choose between the two or go back to the first one. All the while praying we would just conceive spontaneously and I would get to call and cancel the appointment. I was almost 10 days late this cycle… let me tell you how beyond over it I was. It was a really frustrating month- between being late and James working over 300 hours in three weeks, I was ready for February to get here.
Our experience with the new doc couldn't have been more different from the first one. I even told James as we were walking in that I liked their building better ha-ha. No hoops to get an appointment, no dozens of pages paperwork I had to fill out online first, no 45 minute pre-meeting with the nurse to go over the exact same paperwork. As the nurse was walking us back to a room, we passed by Dr.K in the hallway dictating notes. He stopped what he was doing to shake our hands and introduce himself. That immediately gave me hope. We met with the nurse for maybe 5 minutes, she just checked that we had filled out the papers, and said Dr.K would be in soon. I tried to give her the scans and lab work I had brought with me, but she said that he would go over all of that with us, no need to do it twice. 🙂 Hallelujah.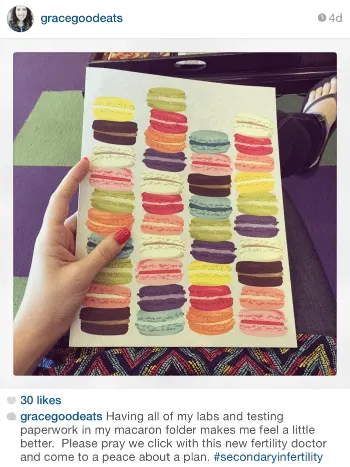 He sat down with as the table and just talked to us, without ever looking at our folder. The other doctor barely introduced herself before jumping to the paperwork. He got to know us and our side of "why are you here". After we started going through everything he leaned over to James and said "she is so organized and on the ball, even down to her colorful folder with the delicious little macarons, how did you get so lucky?" James laughed and agreed with him, and Dr. K said that his wife was the same way and that he was a lucky man as well. He treated us like people he already cared about, not just another chart or paycheck. We also found out that he and his wife struggled with infertility and eventually went on to do IVF to have their two kiddos.
He asked us about our visit with the other fertility doctor. We tried to answer as politically correct as we could, that we just didn't click/ weren't a good match, and he didn't press for details. He later commented on the other practice's strict no kids policy- very strict, as in you had to sign a paper saying you fully understood that under NO circumstances were you allowed to even bring children in the building… to the point that it literally said "there is a McDonalds around the corner, have another adult take your kids there." He told us that his office does not have any such policy; he is in the business of helping parents make healthy, happy babies and that he played a part to help get some of them here and enjoys getting to see them grow up. I thought that was so personable and so true.
Just when we thought my cycles were getting more regular (down from 35 to 30) I had a random 40+ day cycle completely out of no where. I've never gone that long before and it was super frustrating because I just knew that was going to interfere with the tests that Dr.K needed to do. I had already accepted the fact that this cycle was going to be a waste while we tried to schedule the last few tests before we could make a plan. To James and my surprise we were able to get all of the testing done that same day! We did another ultrasound- which I was really annoyed about at my last appt, but I get the drill now. (#alltheultrasounds) Especially when it's day 3 of your cycle. When they left the room for me to get into my lovely paper gown, I seriously asked James twice if he heard me tell them that it was day 3 (Day 1 of your cycle = day you start your period.) I was just sure that they weren't understanding the situation. LOL. Nope.
The ultrasound was super quick, everything checked out exactly as it did the other two. No cysts, no fibroids, great eggs, great follicles. Since we were already there, we went ahead and did the HSG test as well. I say since we were already there, but that actually required getting dressed again, only to get undressed in another room. And this time James couldn't stay with me since we would be using radiation and didn't want to radiate any swimmers! I should have seen that coming, but it did throw me off guard a little bit to have to do it alone. The nurses were super nice and helpful getting things ready. The test didn't take very long, and wasn't as painful as I was expecting. It was uncomfortable, and I could definitely feel pressure as they pushed the dye, but it wasn't horrible. The car ride home though was horrible. I felt every single bump and sudden stop. It felt like contractions, except there was no break between to get relief.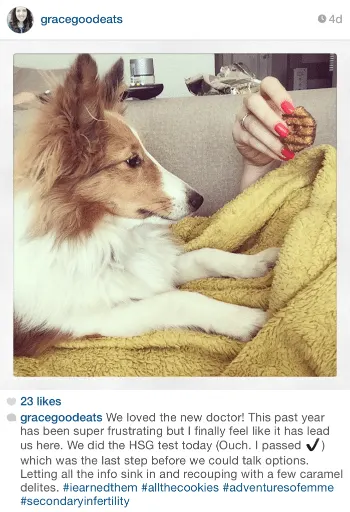 I passed the HSG test. Finally! We get to talk options! James and I are still going over them ourselves, so I'll update you with "the plan" soon. We are just so grateful to have clicked with Dr.K and to finally be done with all of the necessary testing. I truly believe that it all worked out the way it was supposed to in order to lead us to him.
Follow me on Instagram for updates.
Running total of expenses in our journey thus far:
Endocrinologist Appt Aug 2014: $40 copay
Lab work Aug 2014: $5.70 after insurance
OBGYN Appt Sept 2014: $40 copay
Lab work Sept 2014: $8.28 after insurance
OBGYN Appt Sept 2014: $40 copay
Endocrinologist Appt Dec 2014: $40 copay
Lab work Dec 2014: $23.46 after insurance
OBGYN Appt Dec 2014: $40 copay
Pelvic Ultrasound Dec 2014: $40 copay
Semen Analysis Dec 2014: $75 not covered
OBGYN Appt Dec 2014: $40 copay
Semen Analysis Jan 2015: $75 not covered
Fertility Doc Appt + Ultrasound with Dr. D January 2015: $315 not covered
Endocrinologist Appt Feb 2015: $40 copay
Lab work Endocrinologist Feb 2015: $104.17 (after insurance, toward deductible)
Fertility Doc Appt + Ultrasound with Dr. K Feb 2015: $40 not covered
Lab work Fertility Doc Feb 2015: $19.30 (after insurance, toward deductible)
HSG test Feb 2015: TBD
= $985.91