Part One- Secondary Infertility, 12 months in
Part Two- Meeting the Fertility Doctor
Part Three- The New Doc
I'll save you the scrolling, I am not pregnant.
When we left off a few weeks ago James and I were deciding our options. We decided to proceed with an IUI (intrauterine insemination) procedure. Our new doctor was confident that with my clean bill of health and James' only slightly below average motility levels, we only needed to provide his sperm a "head start" on the race. He suggested that we use 5 days of a low dose of Clomid and an HCG trigger shot to get the timing perfect.
I have read horror stories of people on Clomid- ranging from making women extremely hormonal to a raging "not very nice person". Thankfully, I didn't really see any side effects from the Clomid. I took them religiously at the same time every day as directed and had no issues. Because we are paying for all of this out of pocket, our doctor referred us to a pharmacy out of state that ships medications for less. They would be responsible for shipping the HCG trigger shot that I needed to give myself at a very specific time. Enter stage left: Icemaggedon 2015. The truck was unable to deliver on the delivery date, and the meds (which must be over-nighted due to the fact that it must stay refrigerated) were a day late (and not very cold). Luckily, it didn't mess up anything timing wise, but it definitely added unneeded stress. Not to mention the hassle of having to be home from 7am – 9pm for the "delivery window" an additional day because I had to be there to sign. The pharmacy sent a little bag of Hershey's Kisses with the medication- I thought that was really sweet.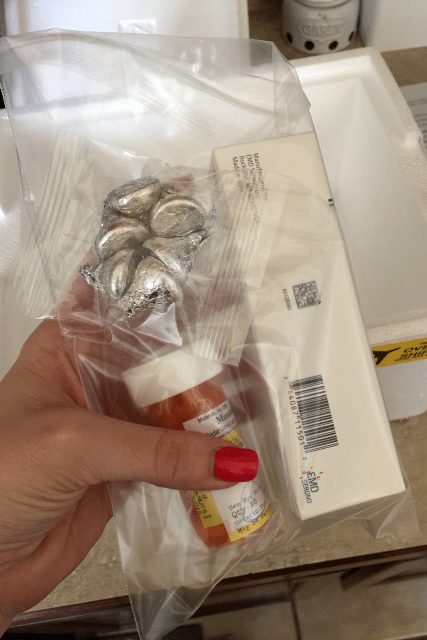 We went in for an ultrasound to see how my body reacted to the Clomid. Dr. K came in, slightly distracted, and looked as if he had just given someone horrible news. I was a little surprised to learn that I only had one egg, 18mm. (I mean, didn't I already do that on my own, without medication?) Everyone I read about online seemed to have more stellar results- in number and size. Dr. K suggested we give the egg one more day to grow, and then administer the trigger shot. This would mean we would need to come in on a Sunday (which James worked) or the next day. We all agreed that Monday would be fine and not negatively impact the timeline. I have to say, I didn't get the warm and fuzzies from this appointment. It was the first time I felt like "this really might not work." This is our one egg, in our one basket.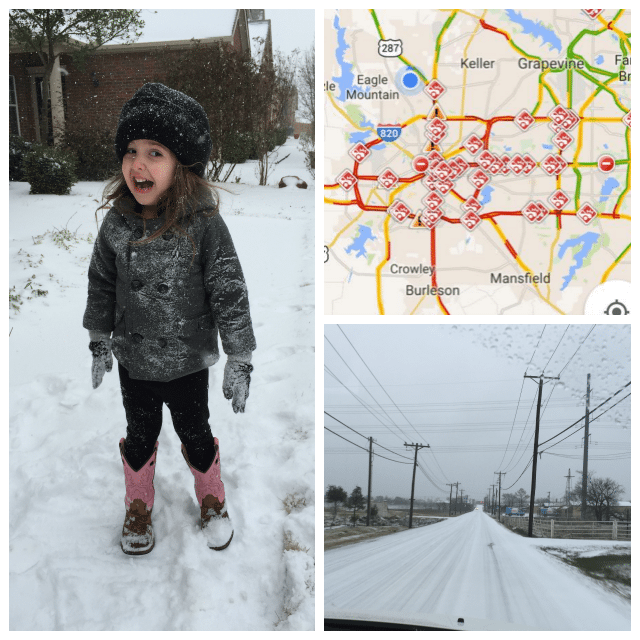 Enter stage right: Texas Ice Day 2015 on Monday. Texas is shut down. Shut-freaking-down. School is closed. Everyone is advised to stay home. Don't go to work. Don't go anywhere. That is unless you have a time critical baby making appointment scheduled. James white-knuckled it to drop the girls off with my Mom and then all the way to downtown Fort Worth. We had to be there to drop off his swimmers an hour before the actual procedure so that they could do a sperm wash (separate out the best of the best). I won't go into detail about this part, obviously, but let me just tell you: it was not the magical experience God intended for a married man and woman to engage in to result in a beautiful new life. It was a sterile room, with an ugly brown recliner, dirty movies and magazines, and a clear plastic cup.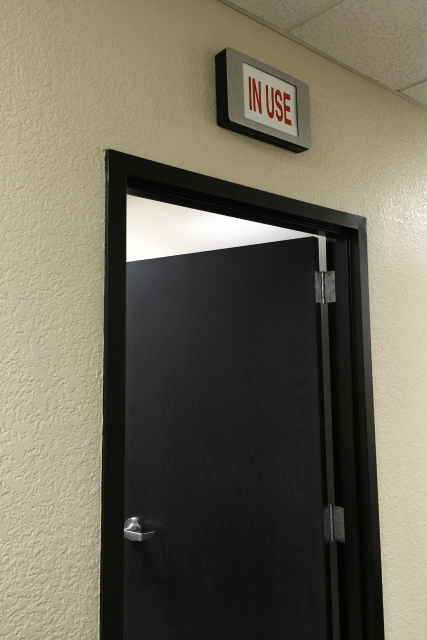 The actual IUI took less than a minute. I had to lay there for 10 minutes afterward, and then we were sent on our merry way with orders to come back in two weeks for a blood test. I expected the "two week wait" to be torture. There were days when this whole situation definitely consumed my thoughts, but for the most part, I did exceptionally well not obsessing over it. They of course tell you NOT to test prior to the blood test, and I was a little afraid to because I knew the HCG trigger shot could result in a "false positive".
The weekend before the blood test, James found out one of our couple friends are expecting. He was excited at the idea that we might be pregnant at the same time and our kiddos could grow up together. I couldn't help myself and decided to take a test. It was negative. I was shocked. I expected it to be positive, even if we later found out that it was only a result of the shot, and we weren't in fact pregnant. But there it was, negative. The blood work on Monday confirmed what I already knew. I'm glad I decided to test early to prepare myself; the nurse called right in the middle of my workout session with my trainer (which I KNEW was going to happen) and at least since I already knew the bad news, I was able to not react.
So here we are. We are waiting to hear from Dr. K about what his suggestions are for our next steps. James and I have to decide if we are financially, and emotionally, ready to do this all over again right away, or if we want to take a few months to save up the money and courage. The emotional side of this took a much bigger toll than I was expecting. It was really hard to accept my husband sitting across the room while I (potentially) became pregnant, and the fact that someone else would know before me and have to call me to let me know if I was, in fact, pregnant. There would be no movie-magic bedroom scene, and no Pinterest-worthy pregnancy announcement. This sucks.
Follow me on Instagram for updates.
Running total of expenses in our journey thus far:
Endocrinologist Appt Aug 2014: $40 copay
Lab work Aug 2014: $5.70 after insurance
OBGYN Appt Sept 2014: $40 copay
Lab work Sept 2014: $8.28 after insurance
OBGYN Appt Sept 2014: $40 copay
Endocrinologist Appt Dec 2014: $40 copay
Lab work Dec 2014: $23.46 after insurance
OBGYN Appt Dec 2014: $40 copay
Pelvic Ultrasound Dec 2014: $40 copay
Semen Analysis Dec 2014: $75 not covered
OBGYN Appt Dec 2014: $40 copay
Semen Analysis Jan 2015: $75 not covered
Fertility Doc Appt + Ultrasound with Dr. D January 2015: $315 not covered
Endocrinologist Appt Feb 2015: $40 copay
Lab work Endocrinologist Feb 2015: $104.17 (after insurance, toward deductible)
Fertility Doc Appt + Ultrasound with Dr. K Feb 2015: $40 not covered
HSG Test Feb 2015: $370 not covered
Lab work Fertility Doc Feb 2015: $19.30 (after insurance, toward deductible)
Clomid Feb 2015: $10.00 copay
HCG Trigger Shot + Progesterone pills: $157.99 not covered
Sperm Wash Feb 2015: $165.00 not covered
IUI Procedure #1 Feb 2015: $825.00 not covered
= $2513.90