Pottery Barn Kids sponsored this post and asked me to create DIY accessories to go with their new line of costumes- seen here. All thoughts and love of PBK, DIY, glitter, pink, and all things princess/ knight/ pirate are 100% my own.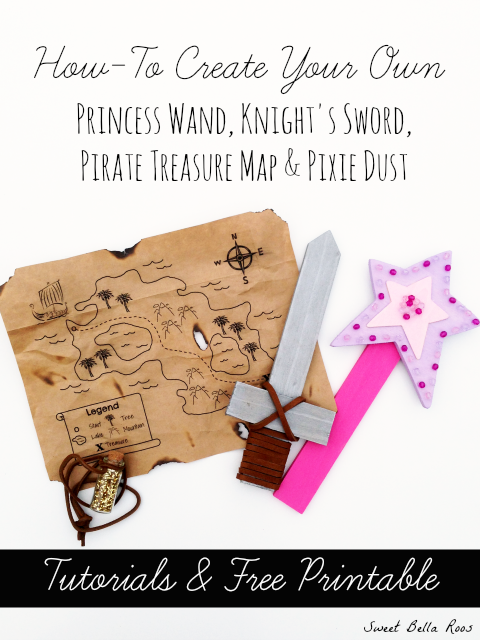 Did you know that Pottery Barn Kids has it's own line of baby and kid costumes? It probably would have been better if I did NOT know that fact, but now that I do, I want to order them all! I was even surprised by the prices, I have paid close to that in the past for cheaply made junk at some of the party stores around town. Not being able to sew really limits me on what I can DIY when it comes to costumes for my kids, so I don't mind spending a little more for quality (especially when I know it will survive the season and I can pass it down between siblings).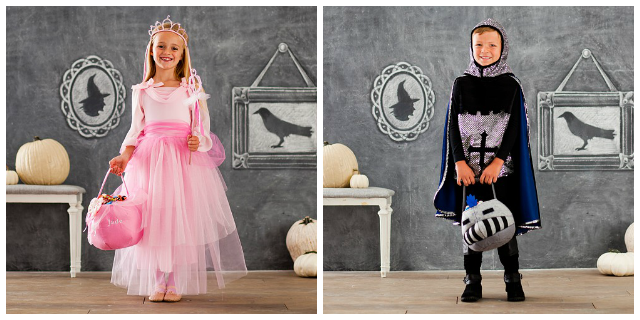 Because I can't sew, I thought of some other crafty ways to add some personal DIY love to a store bought costume. Of course we love all things princess in our house of girls- so I created a wooden, beaded princess wand. Not to leave a princess without her knight in shining armor- I also created a wooden sword for the boys.
To create the knight's sword:
-Martha Stewart Titanium Metallic Paint
-Leather cording
-24inch wooden stake
Cut the wooden stake into 2 ten inch pieces and a four inch piece. Paint 1 ten inch and the four inch with silver paint. Hot glue the four inch piece horizontally, stake side up, onto the ten inch piece. Use a dab of hot glue to adhere the beginning of the leather cord to the base of the sword, wrap the cording around the base and handle and secure the end with another dab of glue.
To create the princess wand:
-Martha Stewart Hailstorm Satin Paint
-Martha Stewart Pink Carnation Satin Paint
-Martha Stewart Raspberry Ice Satin Paint
-Martha Stewart Czech Beads
-Wooden star
-24inch wooden stake
Cut a ten inch piece off of the wooden stake (not the pointed end). (Or use the remaining ten inch piece if making the sword also). Paint the wooden stake with the dark pink paint. Paint the star with the light pink and purple. Use hot glue to adhere the beads to the star and the star to the wooden stake.
As my older daughter was browsing the costumes with me online, she decided she wanted to be a pirate. When we saw the baby parrot costume for little sister we thought it was too perfect!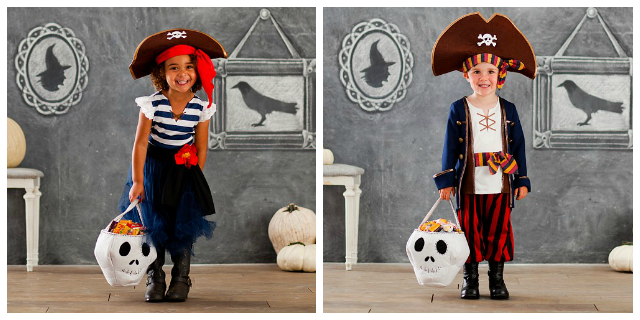 To coordinate with these costumes I created a treasure map and a necklace of pixie dust.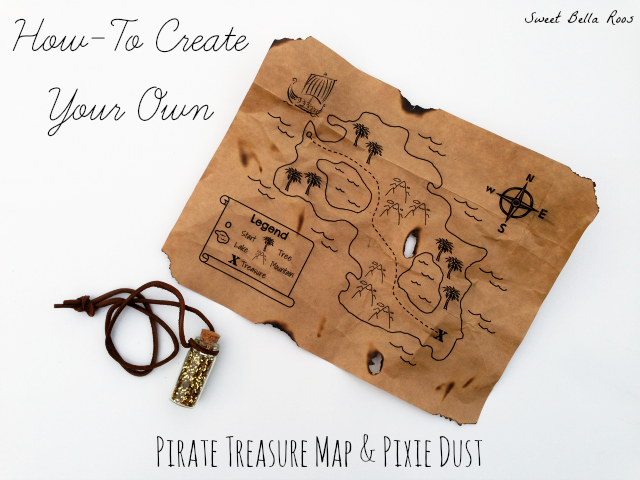 To create the pixie dust:
-Small glass bottle (check the scrapbooking section)
-Leather cording
-Gold glitter
Fill the small glass bottle with glitter (I used a funnel to make it easier). Place hot glue around the sides of the cork and press firmly into the bottle. Use leather cording to create a necklace.
To create the pirate treasure map:
-Free Printable
-Brown paper bag
-Lighter
Print my free treasure map printable here. Cut a brown paper sack to the size of an 8.5×11 piece of paper. Feed this into your printer to print the map on. I used a lighter to slightly (very carefully) burn the edges. Crinkle the paper and use a damp paper towel to give it more character.