Free Printable Christmas Gift Tags- perfect for neighbor or teacher gifts! Just print out and tie to your favorite homemade treat for an easy gift idea. This is a sponsored post written by me on behalf of BROOKSIDE Chocolate . All opinions are 100% mine.
Being due with a new baby just a week or so before Christmas already has me stressing out about the holiday season. In addition to preparing a nursery and washing teeny tiny baby clothes, I am anxious to get all of my Christmas decorations up, planning done, and presents wrapped. I'm trying to hold off until after Thanksgiving to put up the tree, but it's a daily battle. Instead I'm trying to keep myself busy with little projects- like these printable Christmas gift tags that are perfect for teachers, neighbors, etc!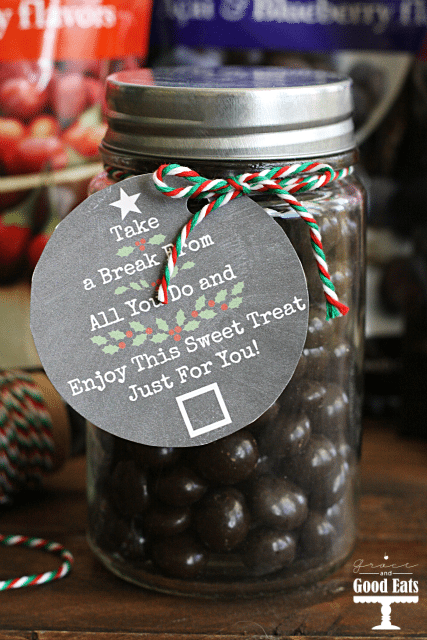 I'm planning to use these for the girls' teachers, but I also want to print up a few extra to give little treats to the nurses in Labor and Delivery at the hospital! I found these glass jars in the dollar spot at Target (major score) and tied the printables on with some cute Christmas twine. You can download the Free Christmas Tag Printable here.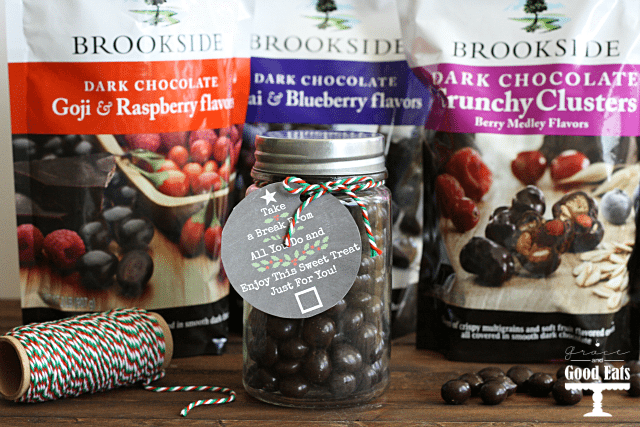 When I got the opportunity to partner with Brookside Chocolate I jumped at the chance to share some with the people I love. If you've never tried them- it's chocolate like you've never experienced it before. Brookside Chocolate is rich, dark chocolate with sweetened soft centers made with exotic fruit flavors.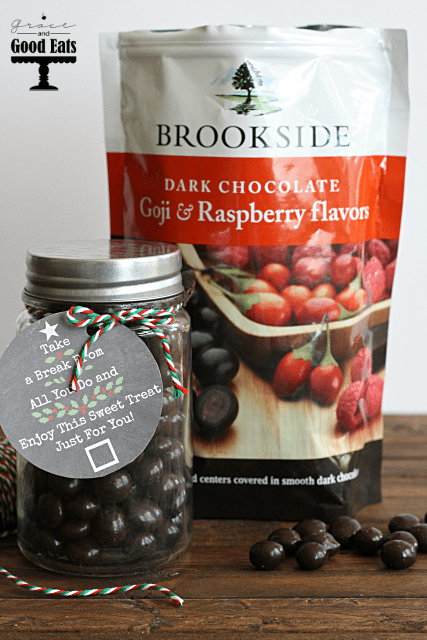 When I showed my oldest daughter this commercial she was totally jealous! 100lb bag of Brookside chocolate? Sign us up. She loves the Brookside Dark Chocolate Pomegranate Flavor. You can view it yourself here:
If there's anyone that deserves a share of 100lbs of Brookside Chocolate I would definitely think it is the sweet nurses that tend to newborn babies (and new moms) in the hospital. I've been blessed with fantastic nurses at the delivery of both my daughters and am hoping for the same next month! I know when I'm up at 2am snuggling a crying newborn a piece of chocolate (or five) definitely comes in handy.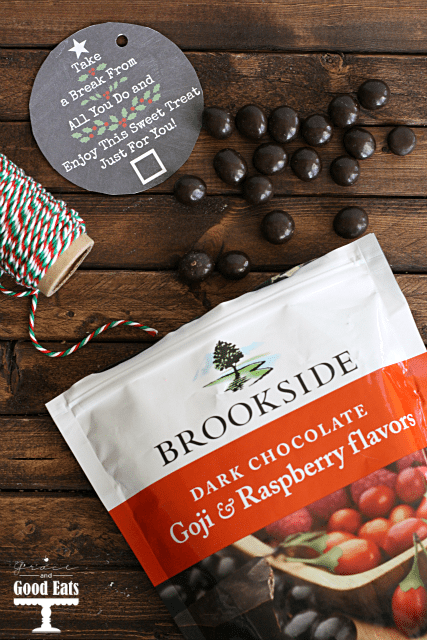 You can enter to win your own 100 lbs. of BROOKSIDE! 15 fans will receive 100 lbs of Brookside Chocolate and there will be winners of 2 lb bags every weekday as well. Flavors included in the 100 lb prize are:
Brookside Dark Chocolate Acai & Blueberry Flavors
Brookside Dark Chocolate Pomegranate Flavor
Brookside Dark Chocolate Goji & Raspberry Flavors
Brookside Dark Chocolate Whole Cranberries
Brookside Dark Chocolate Crunchy Clusters Berry Medley Flavors