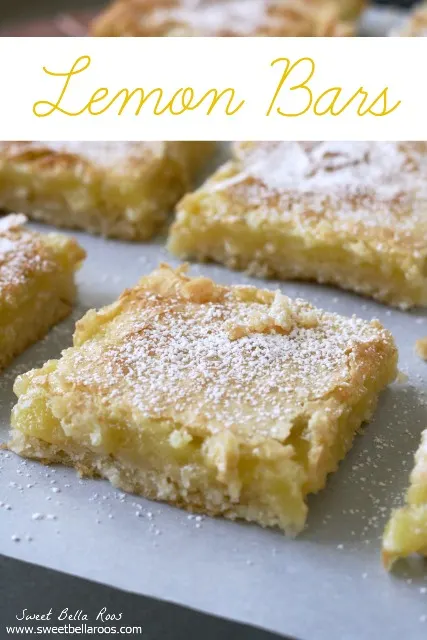 I've been in a little baking rut lately, maybe it's been the dreary weather, but the thought of baking something and lugging out of all my photography equipment seemed too daunting. Sometimes I just want to make something and enjoy it and not feel pressured to make it look pretty; but then I feel guilty and the whole time I'm "enjoying" it I think "I should have blogged this!". The other day I made a box cake, didn't even add frosting, and ate it straight from the pan so I wouldn't feel that guilt. Which resulted in me feeling a different kind of guilt for eating too much cake straight from a pan. Ha!
So to get me out of this funk, I gave myself a project. I searched my blog for an old recipe with the most horrendous pictures I could find, and made a goal to remake the recipe and update the photos. You wanna see the old pictures for this Lemon Bar recipe?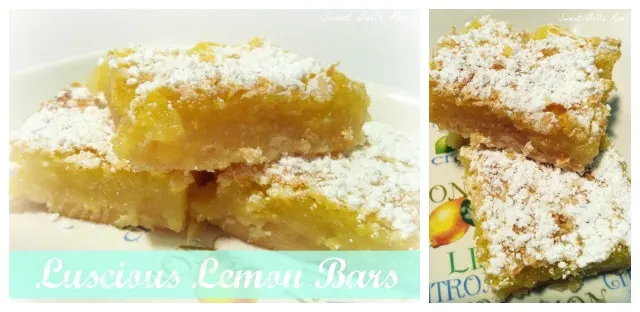 Oh. My. Heavens. In my defense, bars are sometimes hard to shoot. Clearly I've got some stacking issues going on there. This was also before I learned that natural light is king (aka just say no to flash) and how to shoot in manual. Don't even bother searching for that 2012 recipe now, I've banished it from the interwebs. I can't deny the obvious improvement to today's pictures, but I can't wait to see where I am two years from now. So much to learn.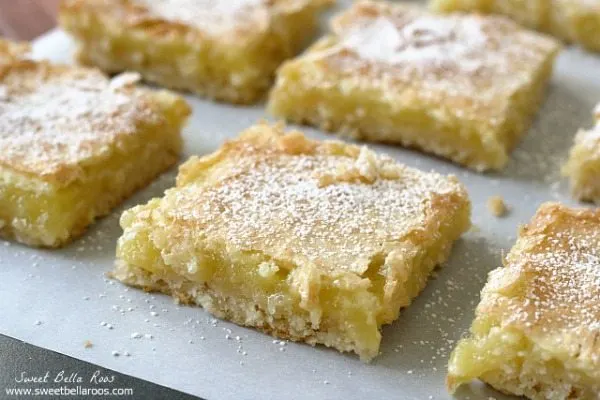 I'm not even a huge fan of lemon desserts. I like subtle lemon, like my Lemon Pound Cake, but for the most part I am a chocolate girl. That said, these Lemon Bars might be my favorite dessert.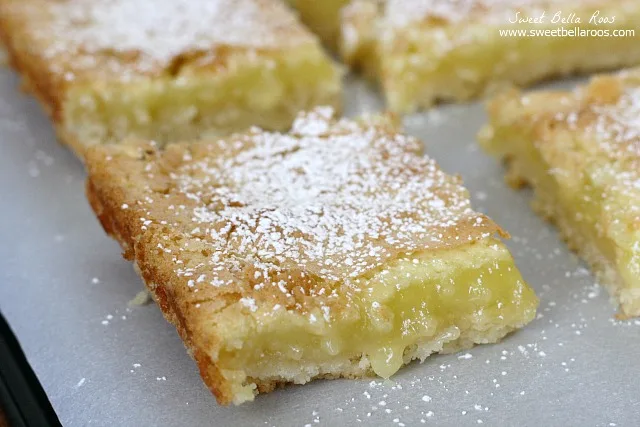 The crust is perfectly flaky and buttery. The filling is sweet and creamy with that subtle, soft lemon flavor I love, generously dusted with powdered sugar just to finish them off. I seriously have to remove them from my house a.s.a.p or I will eat the entire pan. Kind of like that frosting-less cake I made last week. Ahem.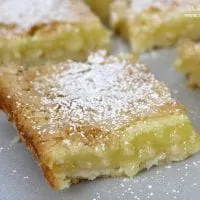 Ingredients
2

cups

flour

1/2

cup

powdered sugar

1

cup

butter

softened

2

cups

sugar

4

eggs

slightly beaten

4

tbsp

flour

1

tsp

baking powder

6

tbsp

lemon juice
Instructions
Preheat the oven to 350 degrees.

Use a fork to combine flour (less the 4 tbsp), powdered sugar, and butter.

Once you have formed soft crumbs press the mixture into the bottom of an ungreased 13x9 pan.

Bake for 15 minutes.

Combine all remaining ingredients and pour on top of the baked crust.

Allow to bake for another 25 minutes, or until top is very lightly golden brown.

Cool and dust with powdered sugar.
Nutrition
Calories:
470
kcal
|
Carbohydrates:
68
g
|
Protein:
5
g
|
Fat:
20
g
|
Saturated Fat:
12
g
|
Cholesterol:
114
mg
|
Sodium:
188
mg
|
Potassium:
116
mg
|
Sugar:
46
g
|
Vitamin A:
660
IU
|
Vitamin C:
3.5
mg
|
Calcium:
41
mg
|
Iron:
1.7
mg