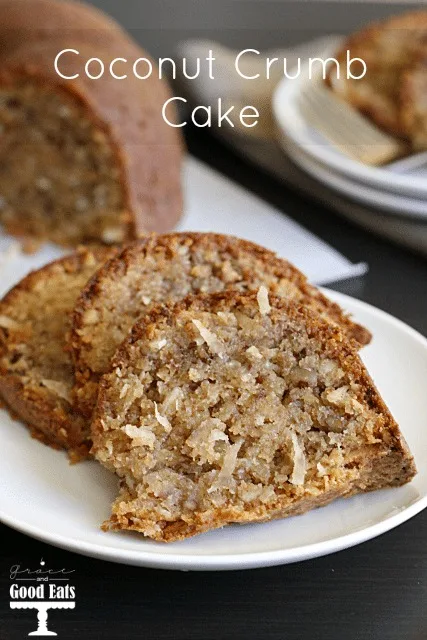 I can already hear you saying you don't like coconut. I hear you. Coconut is a tricky flavor (and texture) because I would say the majority of people I know will say that they don't like it. I would consider myself one of those people. I hate coconut candy bars, coconut chips, shaved coconut… and don't even get me started on coconut water. Someone gave me one of those after a 5k race once and it is still one of the top 10 worst things I've put in my mouth.
But you know what my favorite sno-cone is? Blue coconut.
You know what my favorite Girl Scout Cookie is? Caramel deLites (or Samoas depending on your region).
You know what I love to cook with and put on my skin? Coconut oil.
You know what my favorite cake is? This. Coconut Crumb Cake.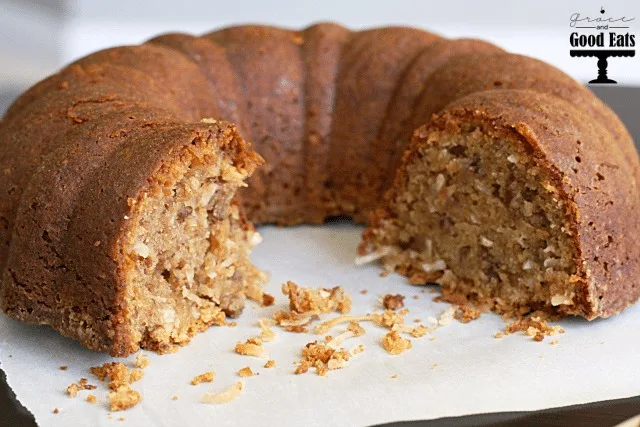 So before you tell me how much you hate coconut, just give this cake a try. I mean it has an entire box of vanilla wafers and two sticks of butter in it for goodness sake. If that isn't the beginning of something wonderful then I just don't know what's right or wrong anymore.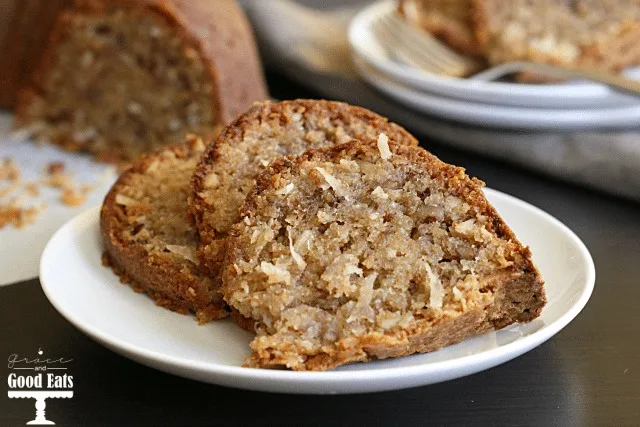 This cake is the perfect Sunday church potluck cake. It's the perfect dinner party cake. It's the perfect take dessert to a new mom cake. (Hint hint… I'm due in December in case you forgot.) It is sweet without being overly sugary from gobs of frosting. It's dense enough you can eat a slice with your hands and it transports well. Cake without having to dirty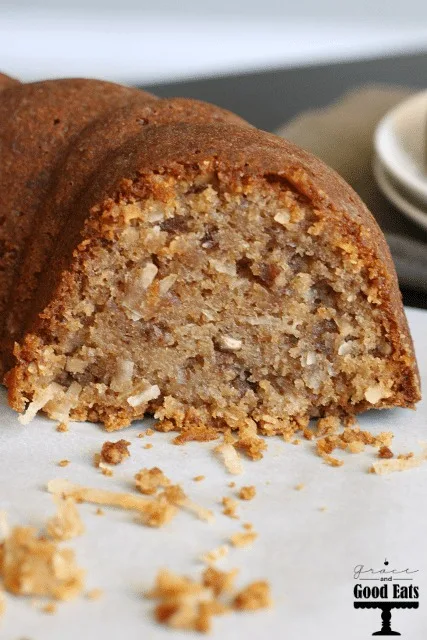 a fork and plate? Yes, friends. Give it a chance.
And for those of you that love coconut… well, what are you waiting for?!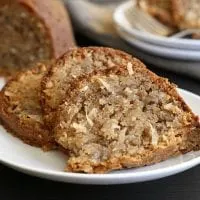 Ingredients
12

oz

box of vanilla wafers

7

oz

bag of shredded coconut

2

cups

sugar

1

cup

pecans

chopped

6

eggs

1/2

cup

milk

2

sticks butter

melted
Instructions
Pulse vanilla wafers in a food processor until fine crumbs.

Combine cookie crumbs, coconut, sugar, and pecans in a large bowl; mix well.

In a medium bowl, whisk together eggs, butter, and milk.

Pour egg mixture into dry ingredients and mix well. (The batter will be thick.)

Pour into a well greased bundt pan.

Bake at 325 degrees for 1 hour and 35 minutes.
Notes
I usually have the best results using baking spray to grease a bundt pan, or you can use Crisco and flour.
Nutrition
Calories:
526
kcal
|
Carbohydrates:
76
g
|
Protein:
6
g
|
Fat:
23
g
|
Saturated Fat:
9
g
|
Cholesterol:
99
mg
|
Sodium:
233
mg
|
Potassium:
188
mg
|
Fiber:
2
g
|
Sugar:
60
g
|
Vitamin A:
170
IU
|
Vitamin C:
0.2
mg
|
Calcium:
38
mg
|
Iron:
1.1
mg