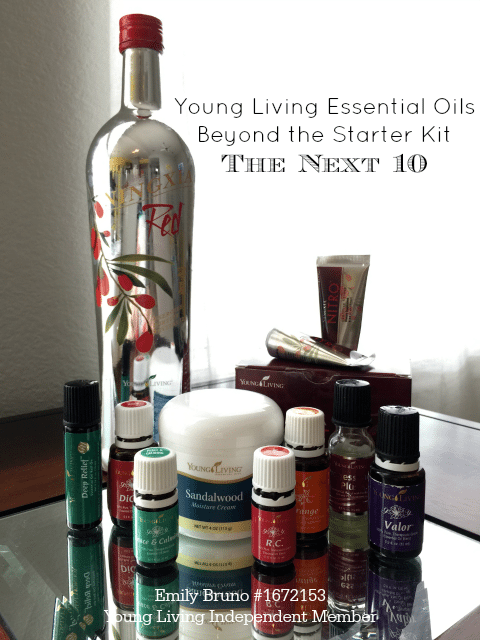 After I purchased my Premium Starter Kit from Young Living, I was hooked. Now that I've been using the oils for over a year, I've accumulated a nice little collection. The 11 oils that come with the starter kit are some of the most popular and most versatile oils that Young Living provides, but I wanted to share with you some of my favorite oils and other products beyond the starter kit.
Progessence Plus- is a pure, harmonizing serum that is designed specifically for women. Along with wild yam and vitamin E, Progessence Plus is formulated with Frankincense, Bergamot, and Peppermint essential oils for optimal results.
This is the very first oil I purchased after I got my starter kit. I attached a roller ball filament to this bottle and use it every night- just one swipe on each side of my neck. I suffer from various types of head ache pain, and have seen amazing results from using this oil. If you would like to hear more of my personal testimony about this oil, please e-mail me!
___________________________________________
Orange- includes the naturally occurring constituent limonene. Orange is a wonderful addition to enhance the flavor of many foods and drinks.
Orange is by far Sophia's favorite oil! She asks for it and loves to smell it straight from the bottle. Occasionally I like to add a drop to my sparkling water.
___________________________________________
*Now Included in the Premium Starter Kit*
DiGize- includes Tarragon, Ginger, Peppermint, Juniper, Fennel, Lemongrass, Anise, and Patchouli and can be used with every meal to support a daily wellness regimen.
___________________________________________
*Now Included in the Premium Starter Kit*
R.C.- stands for "respiratory congestion" and is a blend of Eucalyptus Globulus, Myrtle, Pine, Marjoram, Eucalyptus Radiata, Eucalyptus Citriodora, Lavender, Cypress, Black Spruce, and Peppermint. Rub R.C. on your feet or chest before exercise to uplift and inspire, or massage three drops on your feet before bedtime to encourage an atmosphere of comfort.
___________________________________________
Deep Relief- has an invigorating and energizing scent, and offers a convenient method of application for forehead, temples, and neck anytime, anywhere it's needed. Peppermint, Wintergreen, Copal, and Palo Santo essential oils as well as others play an integral part in this blend.
I just recently started using this oil and I love it!
___________________________________________
Valor- is an empowering combination of Spruce, Rosewood, Blue Tansy, and Frankincense that works with both the physical and spiritual aspects of the body to increase feelings of strength, courage, and self-esteem in the face of adversity.
This is my husband's favorite oil and it used to be included in the starter kit. This is one oil that I make sure we always have a few on hand and never run out of!
___________________________________________
Peace & Calming- is a gentle, fragrant blend made up of Tangerine, Ylang Ylang, Blue Tansy, Orange, and Patchouli and also used to be included in the starter kit. It was one of my favorite oils from the very beginning. It has an aroma that's comforting and freshens the air. It is a must have for every household, especially those with young children. This is one of my favorite oils to diffuse to create a calming and peaceful atmosphere- especially when the kids come home from school or during the "witching hour" later in the evening.
___________________________________________
NingXia Red- a powerful antioxidant drink that contains a super blend of blueberry, cherry, pomegranate, and plum juices, natural stevia extract, grape seed extract, pure vanilla extract, and orange, lemon, and tangerine essential oils. This powerful formula includes wolfberry, which is touted for its health-supporting benefits, while ongoing research continues to reveal exciting new properties on this ingredient. Enjoy NingXia Red daily to energize, fortify, and revitalize the body and support overall health and wellness, from head to toe.
I have a pretty selective (ahem, picky) palate and was really afraid I wouldn't like the taste of NingXia, but I love it. It's a little tart and best served cold. My husband likes to drink his first thing in the morning before breakfast, but I like to drink mine a little later in the day.
___________________________________________
NingXia NITRO- combines 100% pure, therapeutic-grade essential oils with naturally powerful ingredients to clear the mind and enhance mental fitness, while also providing a boost of energy and daily pick-me-up when needed.
I've already dedicated an entire post to why I love NingXia NITRO. I've recently started drinking one of these before I work out and now I don't think I will ever work out without it! Don't let the price scare you away; they cost less than $3 a tube for members, which is cheaper than a fancy coffee or sugary energy drink!
___________________________________________
Sandalwood Moisture Cream- is an ultra-hydrating formula of botanical oils and extracts that are rich in skin-protecting antioxidants. It contains Ylang Ylang, Geranium, Sandalwood, Lavender, Myrrh as well as Shea butter and vitamins A and E.
My husband likes the smell of this cream and can tell when I remember to put it on my face before bed. I have stretch marks and loose skin on my stomach from my pregnancies and I like to rub this cream on my stomach as well.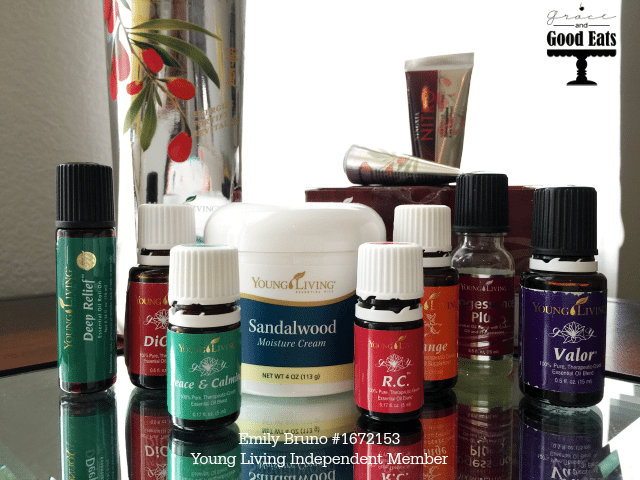 If you have any questions or would like to find out how to get started using essential oils, please let me know!
Find out more about Young Living Essential Oils.

Statements made have not been evaluated by the FDA. These products are not intended to diagnose, treat, cure or prevent disease. I share these experiences with you because of the results I've had, this is my personal testimony. The statements I make here are in regards to Young Living essential oils only.