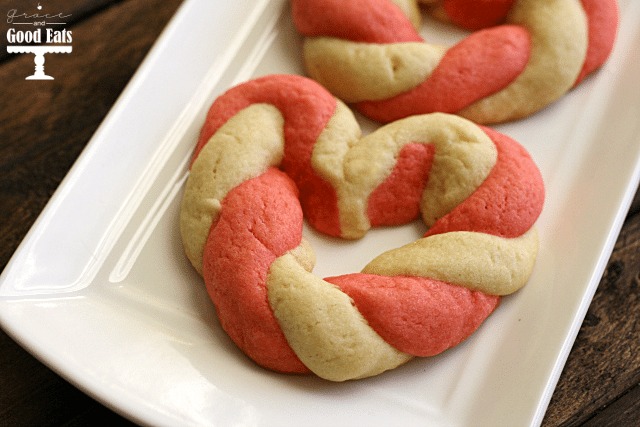 I have this delusion that I can draw. I look at something and think, "I can totally draw that". But any time I actually attempt to draw something it looks like I used my feet with my left hand behind my back and my eyes closed. There's definitely some disconnect between what my brain thinks I am capable of and what my hand can actually produce. I have the same issue with cookie decorating. In my head, I can totally do it. I wish I could decorate gorgeous sugar cookies like some of the amazingly talented cookie decorators out there (Sweet Sugar Belle, The Baked Equation, Bake at 350… just to name a few), but I've come to accept that it is just not one of my talents.
I do still love sugar cookies though, especially when they're soft with just a little crisp around the edges. I made these sugar cookies last Christmas as wreaths (you can find them in my FREE Holiday Cookies eBook here) and decided to try them as hearts. I think they turned out super cute- and best part, no icing needed! Sometimes simple is best.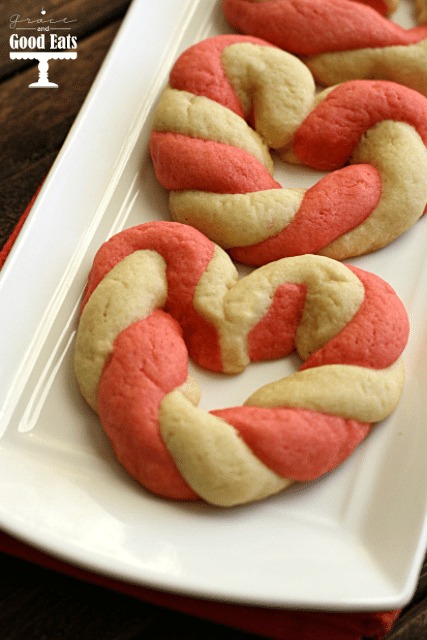 These Heart-Shaped Sugar Cookie Twists would be perfect for Valentine's Day! If you're able to send homemade treats to your kid's school, these would be a great option. I know my daughter's teacher would appreciate that they are less mess and less sugar without icing or sprinkles. 🙂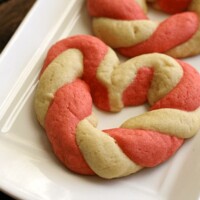 Ingredients
3/4

cup

shortening

1

cup

sugar

2

eggs

2 1/2

cups

flour

1

tsp

baking powder

1/4

tsp

salt

1

tsp

vanilla

1/8

tsp

red gel food coloring
Instructions
In the bowl of a stand mixer, combine shortening, sugar, eggs, and vanilla at medium speed until creamy.

In a medium bowl, stir together flour, baking powder, and salt.

Gradually add the dry ingredients to the wet, and slowly blend together.

Beat until well combined, scraping the sides of the bowl as necessary.

Divide the dough in half.

Add the red food coloring to one half.

Shape each color of dough into a ball, cover with plastic wrap, and place in the refrigerator to chill at least one hour.

Preheat over to 400 degrees.

Line a large baking sheet with parchment paper, set aside.

Shape 1/2 tbsp - 1 tbsp of red dough into a 6- inch rope.

Repeat with the plain dough.

Place ropes side by side and twist together about six times.

Form twisted ropes into a heart, gently pinching where the two meet.

Bake for 8-9 minutes, until just golden brown on the bottoms.

Transfer to wire rack to cool completely.
Nutrition
Calories:
189
kcal
|
Carbohydrates:
24
g
|
Protein:
2
g
|
Fat:
9
g
|
Saturated Fat:
2
g
|
Cholesterol:
18
mg
|
Sodium:
40
mg
|
Potassium:
53
mg
|
Sugar:
11
g
|
Vitamin A:
25
IU
|
Calcium:
17
mg
|
Iron:
0.9
mg