I transformed an unfinished tiny house cabin into my dream Farmhouse She Shed Office Studio. Electricity, hot water, cabinets, flooring, and faux shiplap all came together to make the perfect detached food photography studio office space. Check out the full reveal with sources below.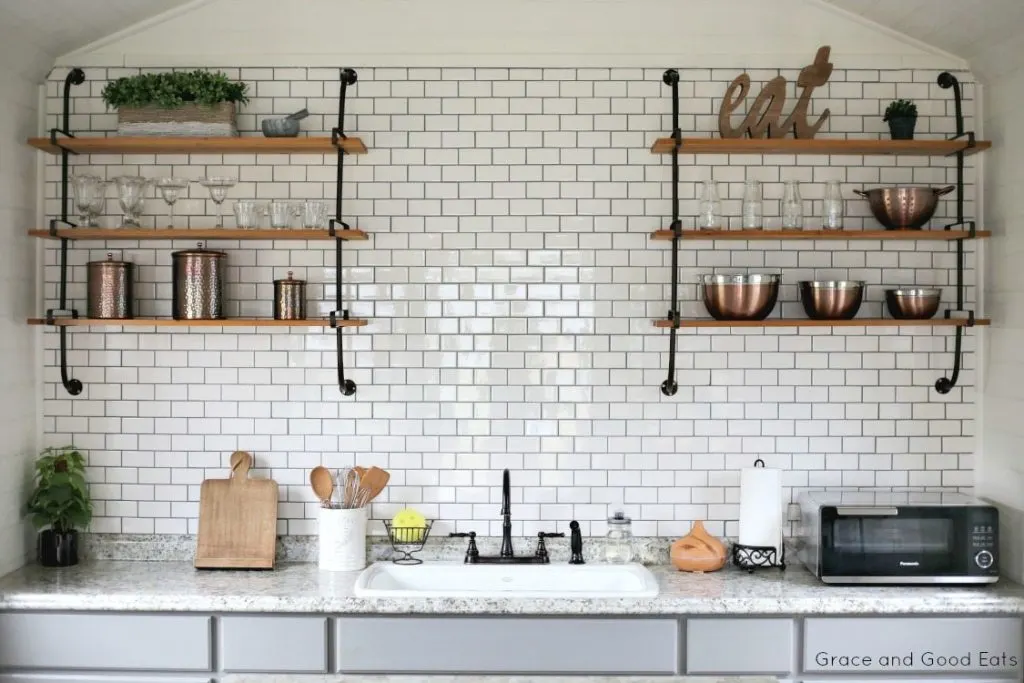 This post sharing the full reveal of my Farmhouse She Shed Office Studio (lovingly nicknamed the #FarmetteCabinette) is long over due! It has been completed for a few months now and I am still absolutely in love with my new detached office space. (This post isn't sponsored, but it may contain affiliate links for some of the products I used to create my she shed.)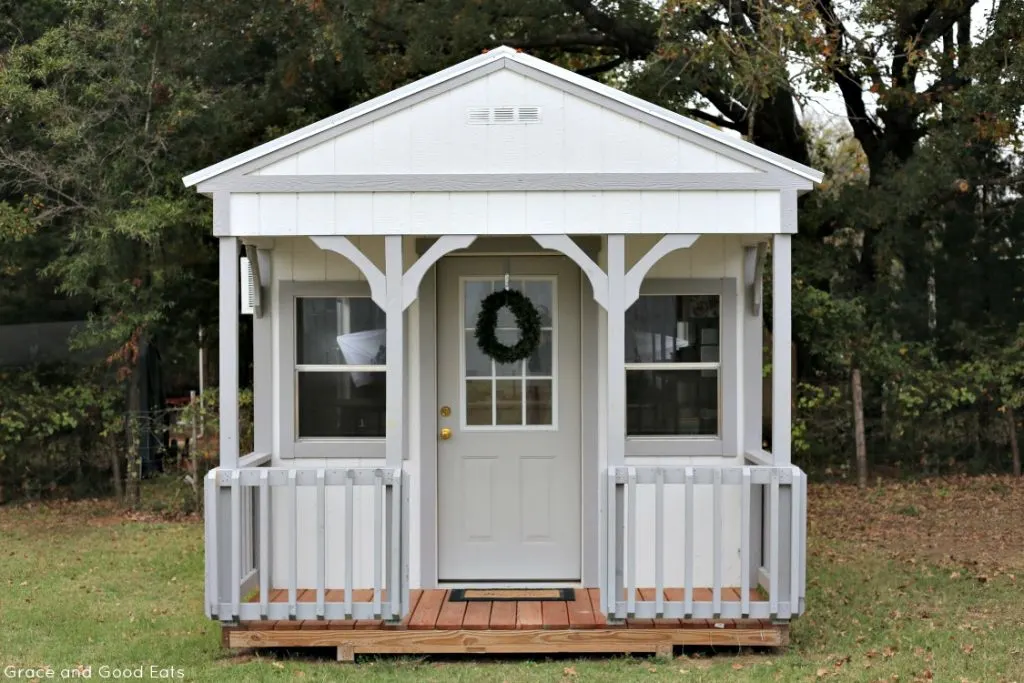 I purchased this "painted cabinette" tiny house from Leland's shortly after we moved to our land last fall. I was able to customize the paint colors, roofing, and window locations, as well as add a cutout for an air conditioning unit. It comes standard with the gable roof, 4ft covered porch, and two 3×4 windows. I chose to center the door and add two smaller windows on either side. I'm SO glad I did; it is so light and airy inside! The cabinette was delivered fully assembled and painted on the outside with an unfinished interior. Come on in, I'll give you the tour!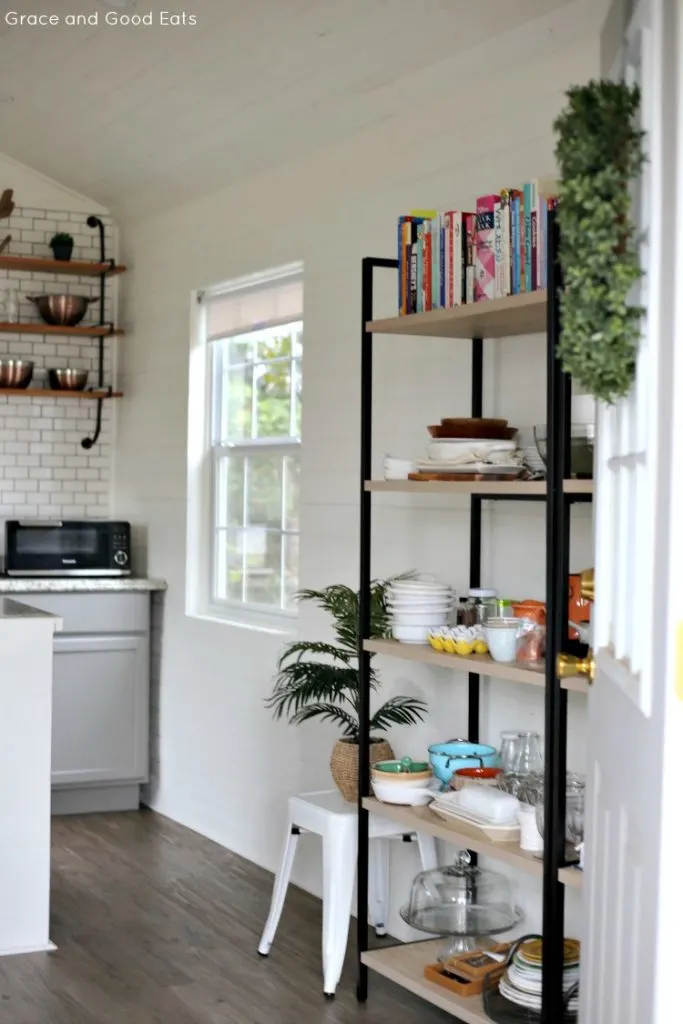 My husband did all of the work to finish out my farmhouse she shed; you can see what it looked like before here. (Perks of having a super handy hubby + living in the country aka outside of the city limits; I have no doubt that everything he did is up to code, but it saved us a ton of time and money not needing to hire professionals or get excessive permits.) He ran all of my electricity, installed my a/c window unit and hot water heater, put in the sink, the cabinets, the faux shiplap, the tile backsplash, and the countertops, hung my shelves, laid the flooring… everything.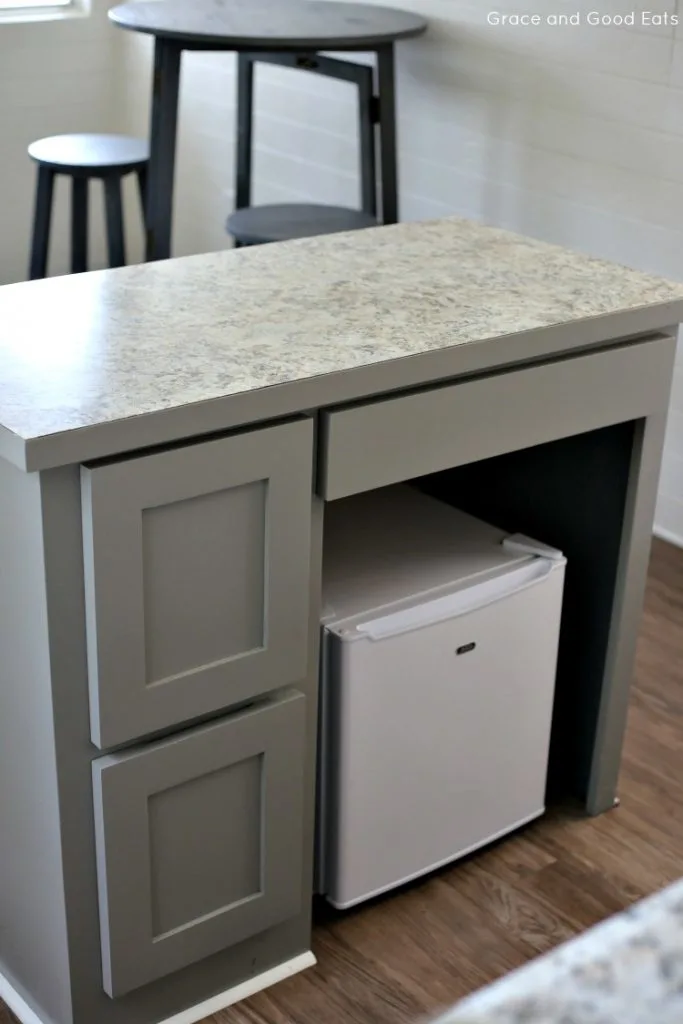 The kitchen island was actually a built-in desk from one of the bedrooms in our home that the previous owner made and left behind. James and I were standing in his shop discussing my options for an island when we remembered the desk we had already removed from the house! The chair cutout was the perfect spot for my mini fridge that I scored on clearance at Target for less than $50. We covered the back of the island with the same "faux shiplap" that we used for the walls. (The wall color is Alabaster and the cabinets are Tabby Cat Gray.)
The countertops are "Typhoon Ice" laminate from Home Depot. There were only a few color options, and we had to go to two stores, but I have been very happy with them. (Not to mention they cost about 10x less than the quartz in my real kitchen.) We used one 10ft piece for the cabinets and a smaller laminate sheet to cover the top of the island. I was impressed with the improvements to the countertop edge that helped make it look… well, less like laminate.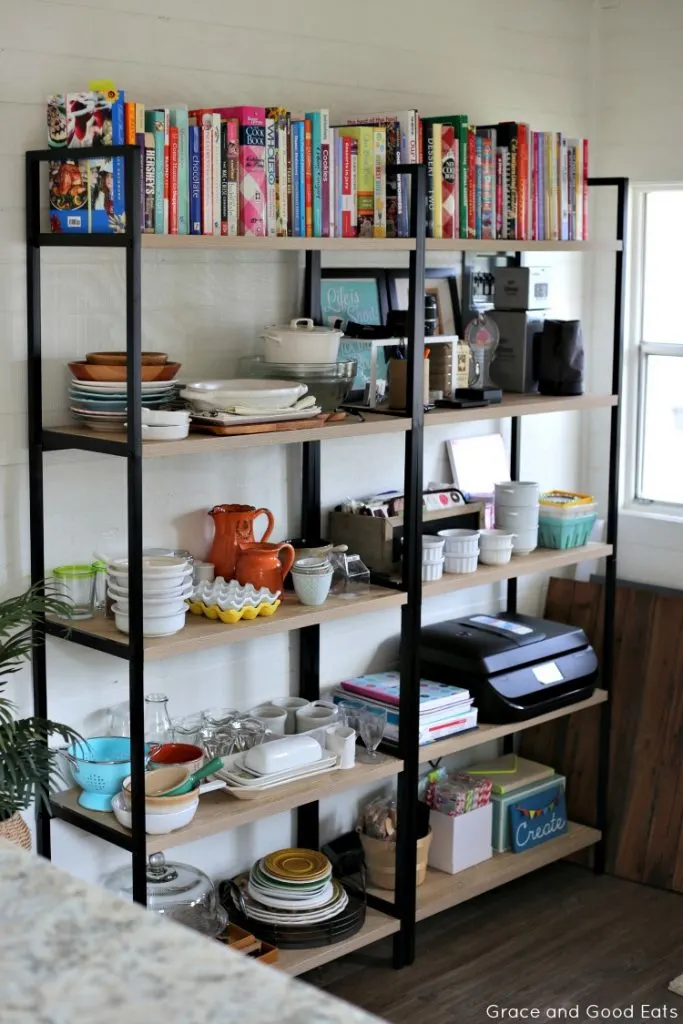 I purchased these two ladder bookcases from Target for $99ea to hold my food props and a few other office supplies. We used sheets of wall paneling from Home Depot, turned horizontally, to create a (super cheap, super easy) faux shiplap look. Using the premade panels helped my budget (and my husband's sanity) tremendously.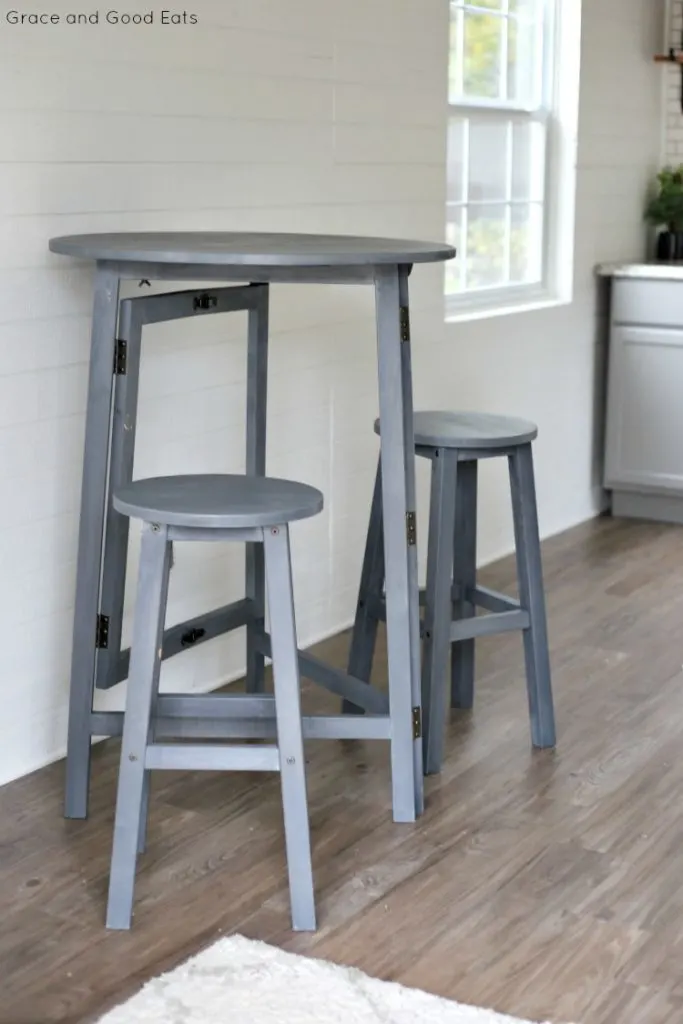 This table (which I use as a desk) was a clearance find for $150 at HomeGoods. In fact, most of the items on the back wall of shelves- the copper bowls and canisters, greenery, etc are all from HomeGoods or TJ Maxx. The shelves themselves (ha) are from Decor Steals. I shared more specifics about the kitchenette space (subway tile backsplash, sink, faucet) in this post about my she shed farmhouse kitchen.
We installed recessed lighting in a soft, neutral white light. They are super thin and easy to install, and only cost about $10ea. James installed them in rows, with two more on my front porch, and each row of two has it's own light switch. I love that I can turn on just one set or all four.
All told, my farmhouse she shed office cost around $7500 to build and finish out ($5200 for the cabinette itself and a little over $2k to finish out the interior). A small price to pay for the ability to have an office outside of the home, a place to store all of my food props, and a backdrop photography studio. My goal next year is to shoot more videos in the space as well. Continue to follow along with the #FarmetteCabinette on my Instagram and let me know if you have any questions I didn't answer!