Christmas Bingo is one of our favorite holiday traditions- it's great fun for everyone from small children to older adults. These free bingo cards are perfect for a class party or to keep little ones busy while cooking!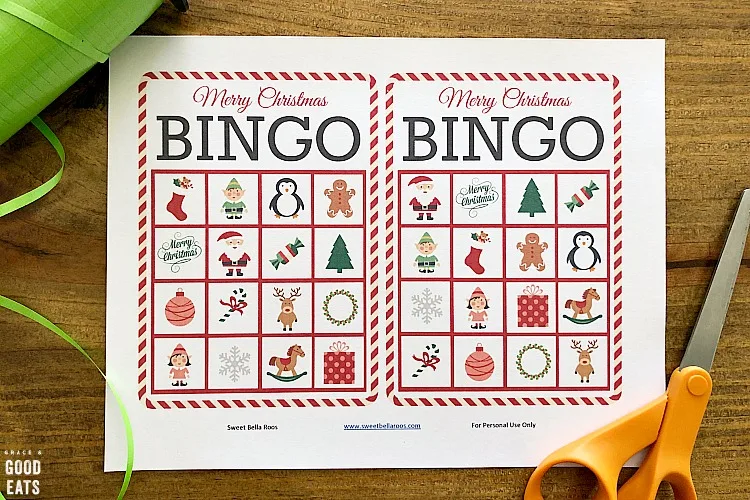 Whether you're looking for something fun to do together as a family… something to keep the kiddos busy while you frantically wrap last minute presents… or an easy game for your kid's class party- this Christmas Bingo free printable will do the job!

Sample Holiday Bingo Card
These free bingo cards feature easily recognizable holiday characters like a stocking, gingerbread man, santa, ornaments, and more. There are ten different cards included in the set. If you need more cards, I recommend playing in smaller groups or breaking the play up into different rounds. Or print as many as you need and have multiple winners each round!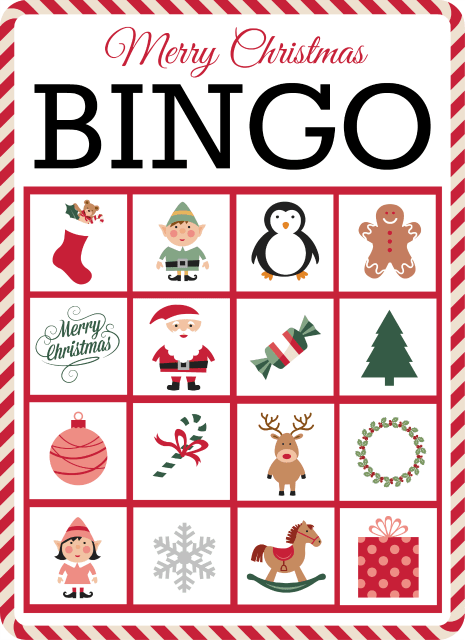 Bingo Markers
There's tons of bingo marker options for this holiday bingo set. We typically use candy because it is the easiest and, obviously, the kids enjoy it! Some of our favorite candy options are:
Individually wrapped Hershey kisses
Individually wrapped peppermints
Red and green M&Ms
Keep in mind the age of the kiddos playing as some small or hard candies may not be appropriate. Individually wrapped candy is less messy and better for class parties. I save candies like M&Ms or Skittles for when it is only family playing. #germs #stickyfingers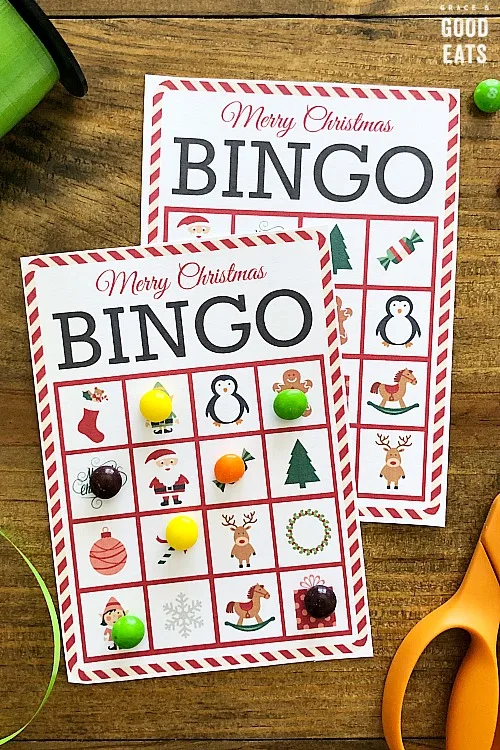 Non-Candy Bingo Marker Options
Holiday erasers
Jingle bells
Macaroni noodles (can even be dyed red and green)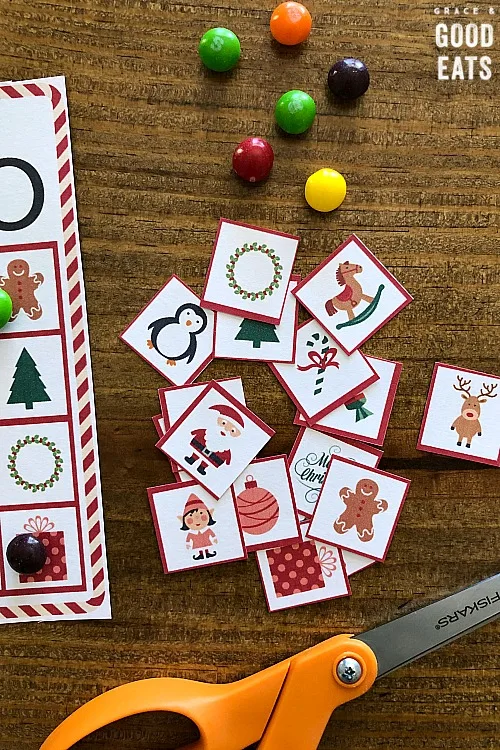 Christmas Bingo Callers
Print out an extra Christmas bingo sheet and cut out the squares to make the callers. Toss them all in a cup or container and use that to draw randomly. Note: there is not a designated "call sheet" – instead print out an extra card and cut out the squares.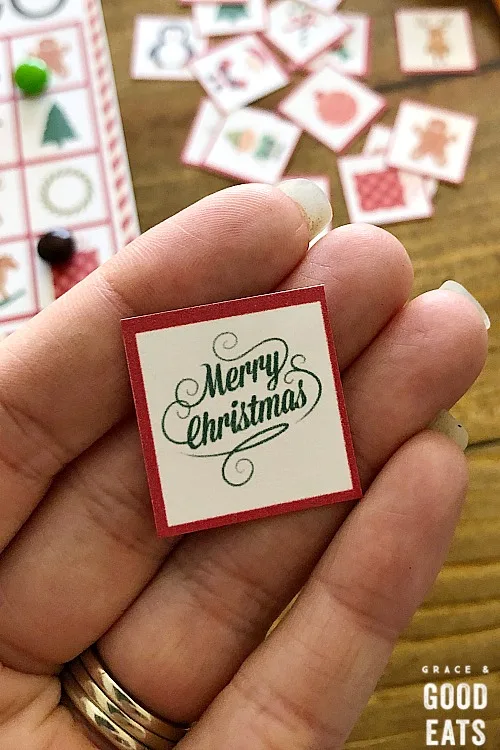 When you click the link above a PDF will open in a new window. In the upper right hand corner you should see a printer button. Click the printer and another window will pop up that should connect to your printer.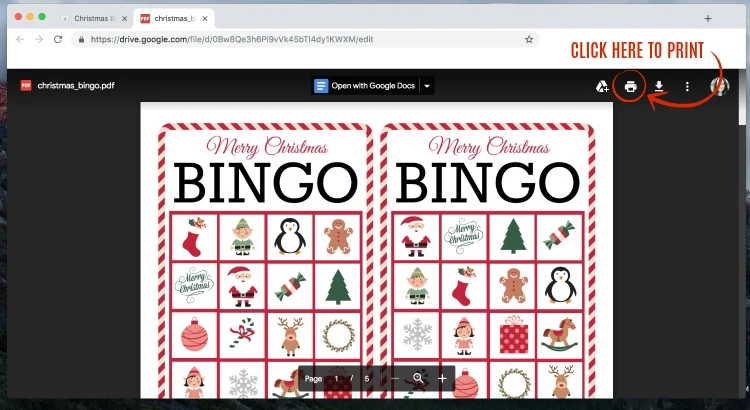 More Ways to Use this Christmas Bingo Printable
This holiday bingo printable can also be used as a matching game or memory game. To play:
Print out one sheet of bingo cards (two cards per sheet)
Cut out the bingo cards
For matching: Leave one card whole and cut out the smaller squares of the second card. Match the small squares to the bingo card.
For memory: Cut out all of the small squares, place them face down, and take turns turning over to make pairs.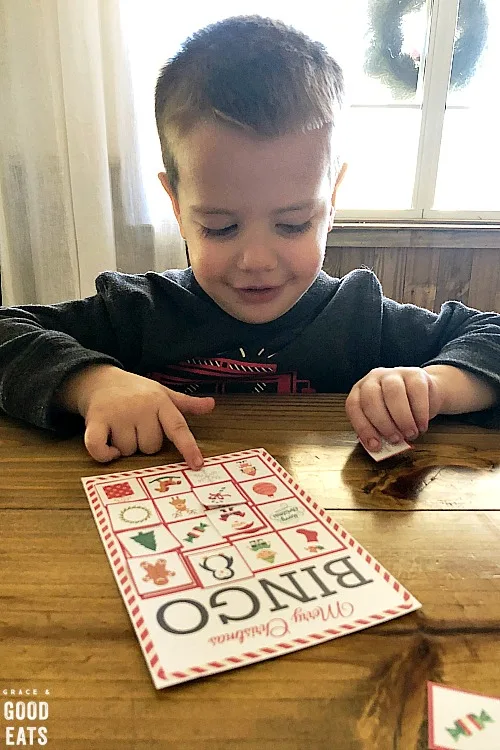 Looking for more free Christmas printables?
Download my free Christmas Word Search Printable: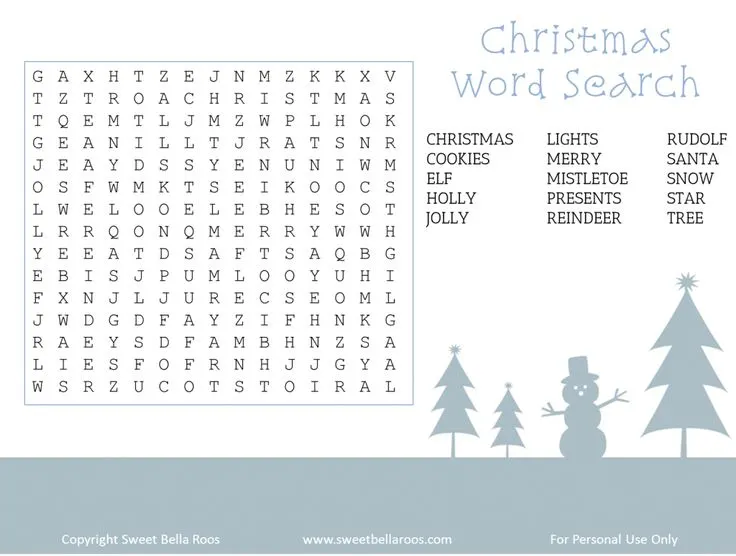 ---
Published December 24, 2013. Updated December 20, 2018.