This post contains affiliate links.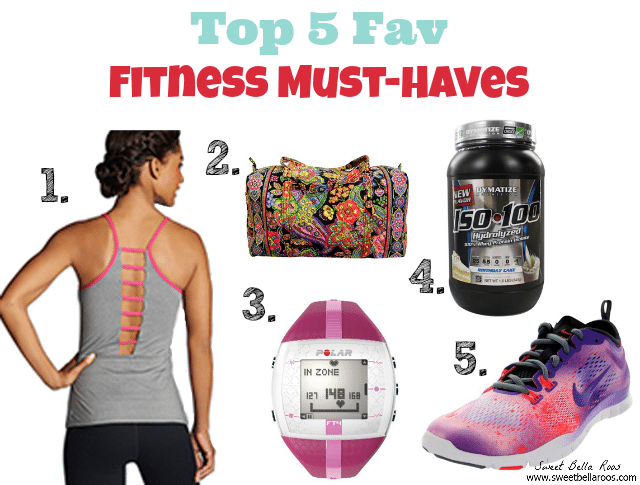 Since starting my fitness journey five months ago, I've come to accept that my life pretty much revolves around fitness. I'm obsessed with workout gear and Nikes. I can do an entire load of laundry with nothing but fitness tanks, sports bras, and athletic shorts. Isabella made the comment the other day that I only ever wear pajamas or gym clothes. And really, I'm ok with that right now haha.
I thought I would share my current top 5 fav fitness must-haves:
1. Cute workout clothes. In the beginning I ordered a ton of cute tank tops of Etsy with funny sayings on them- but with all the wash & wear, they just aren't holding up like I wanted them to. I recently discovered Fabletics and I am hooked. They are reasonably priced and great quality. I ordered a pair of their LIMA Capri's- and I love them! I always have an issue with my yoga or athletic pants pilling between my thighs (not cute) and these don't! I'm obsessed with these leggings and this ombre sweatshirt!
2. A good gym bag. I finally joined a gym two weeks ago and needed something to haul around my shoes and towel, etc. I found a super cute bag at Ross for $14.99. It was a little out of my comfort zone for style, but now it's grown on me and I love it. This Vera Bradley Large Duffel
has a lot of the same colors.
3. Heart Rate Monitor. I love my Polar FT4 Heart Rate Monitor
. I use it for every workout- running, lifting, PiYo. It tracks your intensity and calories burned during any activity, and after each workout it will display a training summary with your average and max heart rate. You do have to wear a chest strap, which I was against initially, but honestly you don't even notice it's there. It's made of soft fabric material that adapts to your body shape. I'm always surprised after a workout when I've soaked through my shirt that the chest strap never, ever smells and isn't dripping wet.
4. Protein. I love the ISO-100 protein, especially in the Birthday Cake flavor! It delivers 25g of hydrolyzed 100% whey protein isolate and 55 grams of Branched-Chain Amino Acids. It's gluten and lactose free, with less than one gram each of sugar and fat per serving. It's fast absorbing, and doesn't taste like chalk! I usually throw in 1 scoop of protein, 1 banana, 6-8oz of almond milk, 2 tbsp PB2, with a handful of ice and blend it all up in my Blendtec
.

5. Good shoes. I've been on a serious Nike kick lately. Now that I'm starting to get a little more "hardcore" with my workouts, I've come to realize how important good shoes are. And you're probably going to need more than one pair. I have a pair I use strictly for running- I got fitted for them at a running store and they have right cushion and stability for what I need. I have another pair of low profile cross trainers that I wear to the gym to lift. I really like the Nike Free Cross Training Shoes.
What's some of your favorite fitness gear?