This is a sponsored post written on behalf of Brother and Blue Print Social. As always, all thoughts, opinions, and desire to label all the things are 100% my own.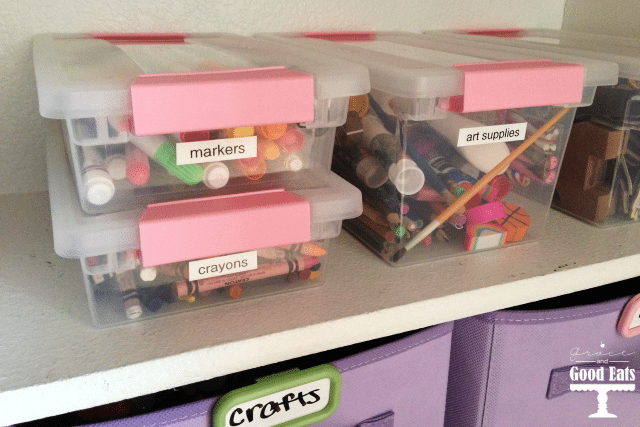 One area I've struggled with as a stay-at-home Mom is the balance between teaching my kids responsibility to do their own chores and just doing them myself. I had a major revelation the first time I asked Isabella to fold her own laundry. You would have thought I told her she was never allowed to eat ice cream again. She pitched an epic tantrum. Crying, stomping, full on flashback to the terrible-two's fit. It was then I realized that I had failed her.
I was the full-service laundry fairy. And while I was up there making clean clothes appear, I might as well pick up her toys, make her bed, put away her shoes, right? After all, it only took me about 15 minutes and the job was done. Want to know how long it took her to fold one load of her laundry the first time I asked? 3 hours. Not wanting to ever repeat that experience, I tried to do a better job preparing her for it the next time. After talking to her when we had both cooled off I realized that one of the things she needed from me was clearer expectations. She needed to know that I didn't expect her to fold everything perfectly.
I also took for granted thinking that she would automatically know where everything should go. I assumed that since she got her pajamas out of the same drawer every night that she would realize that's where they belonged. I wanted her to feel like she had ownership in making decisions about where things should go, so this weekend we pulled EVERYTHING out of her closet, her drawers, under her bed and decided together where it's "home" should be. January is National Get Organized Month and it was time to do an "after Christmas purge".
The first thing we did was tackle her drawers. I used labels to clearly designate each drawer: socks/underwear, swimsuits, shirts, skirts/shorts, jeans/pants, and pajamas. The Brother P-Touch Labeler made it easy to create durable, laminated labels in a variety of colors to choose from. I like that I can preview the label layout before printing and that I can store up to 30 of my favorite or most used labels into memory.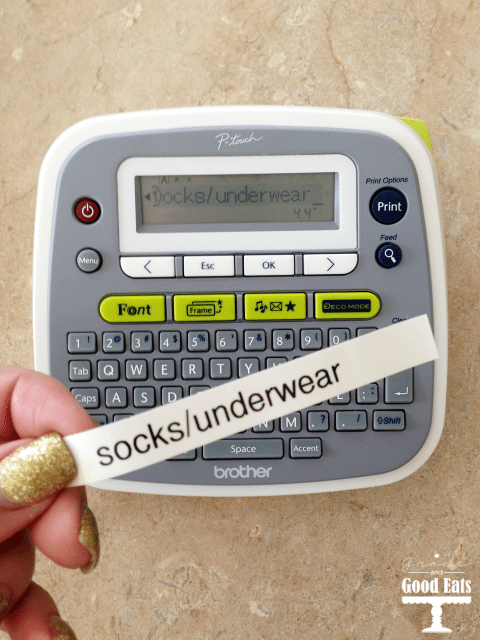 The Brother P-Touch is so user friendly that even Isabella was typing, printing, and cutting labels herself. You can change fonts, add frames, cute symbols, or use fun Deco mode with a click of a button. We put them inside the drawers, that way you can't see them from the outside on the furniture. She had a tendency to fold her clothes and put them away in whatever drawer was available, and then two days later would tell me she was out of pajamas because they were all mixed in with her other clothes. Now she knows what is supposed to be in which drawer.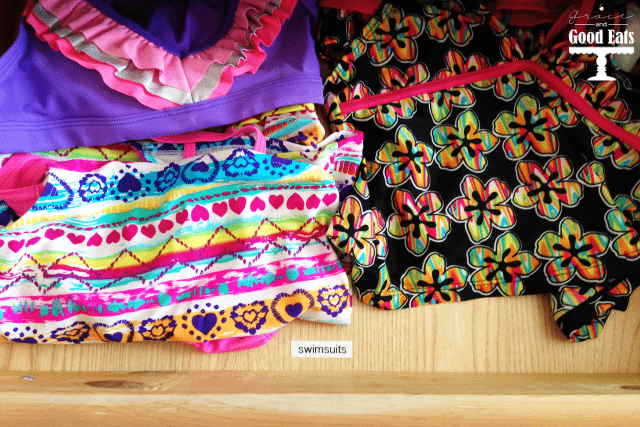 After we finished her drawers, we moved on to her closet. This was a much bigger task. I used small clear plastic totes to corral loose items like crayons and art supplies, and used larger canvas cubes to group games and toys. Again, clearly labeling everything so that she knows where it needs to go back when she is done using it. When we were sorting through the piles, she actually said "You know, Mom, this is kind of fun going through everything together with you."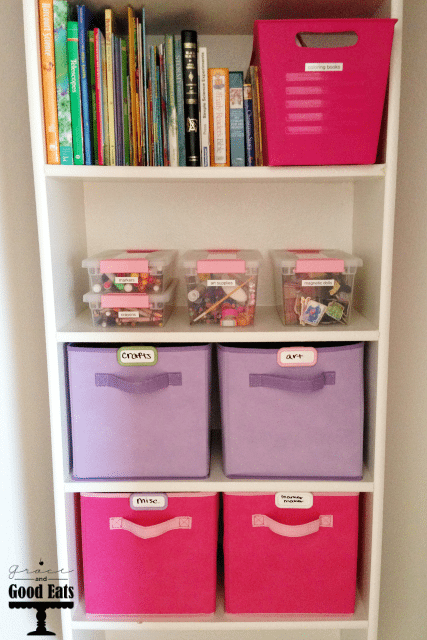 Not only do I want her to have a little responsibility around the house now, but I also want her to learn life skills for the future. Sadly, there is no laundry fairy; she will eventually have to learn to take care of herself and keep house. Though most of the time it's so much easier for me to just do it, by continuing to do these things for her I am doing her a great disservice.
I also don't reward her with stickers or candy, etc for completing chores I've asked her to do. I want her to learn that this is a part of life… no one gives me a sticker when I unload the dishwasher. Instead, I try to reward her with my time. By working as a team, we can finish more quickly, and I am free to spend time with her reading or playing a game. The same is true for me as an adult- when the house is clean and I feel like I've finished my to-do list for the day, I love nothing more than to curl up on the couch with my husband (or the DVR- ha!) and spend time together.
A few tips to help teach kids responsibility with chores is:
Start early, but be sure to select tasks appropriate for their age and ability. Provide plenty of encouragement and feedback, and don't follow after them to redo their work.
Set clear expectations of what is to be done, when it is to be completed, and consequences for not doing it.
Treat chores as opportunities to help, not punishment. Help them to take ownership and understand the importance.
Be an example. Kids are more likely to emulate responsibility when they see you provide concrete examples of it. Keep your word and do things when you say you will, don't make excuses for not getting it done.
Though it might be tough to get your kids on board at first (trust me, been there, done that), teaching them these simple life skills and providing them opportunities to learn responsible behavior will help them tremendously throughout their lives.
If you want help getting organized: Brother is giving away a P-Touch label maker every day in January as well as a Grand Prize pack worth up to $2000. Click here to find out more and enter to win!
Do your kids do chores? What tips do you have to get them to do them?