When we moved into our new neighborhood last year, one of the first things I did was scope out where all of my local grocery stores are.  We are lucky to live a few blocks away from a big store, but we also have several other options nearby.  It wasn't until I became a stay-at-home mom that I really began to watch our grocery bill and start shopping around for the best deals.  When I was working full-time outside of the home, I felt like I didn't have the time or energy to shop multiple stores, but now that I've seen the savings, I would highly recommend it.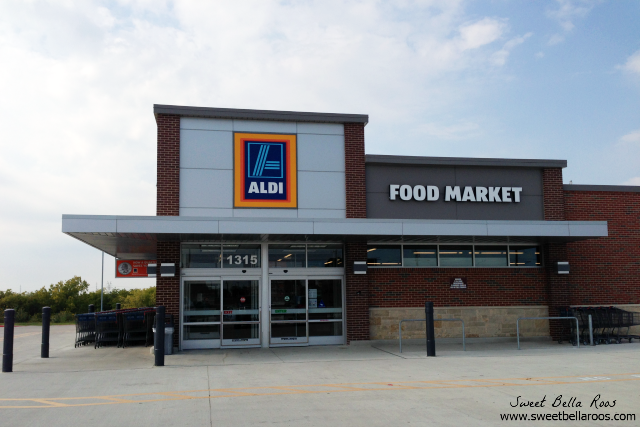 One way that I do that is by shopping at ALDI.  There are a lot of things I like about the way ALDI does business.  They are not your super big, one-stop-shop type of store; in fact, they are proud minimalist.  Minimal overhead, advertising, staffing, operating hours, and inventory are the very reasons that you can find such great deals at ALDI.  When you are used to the big box stores, it does take some getting used when you shop there for the first time.  Like, why do I need to pay for my shopping cart and what do you mean I have to bag my own groceries?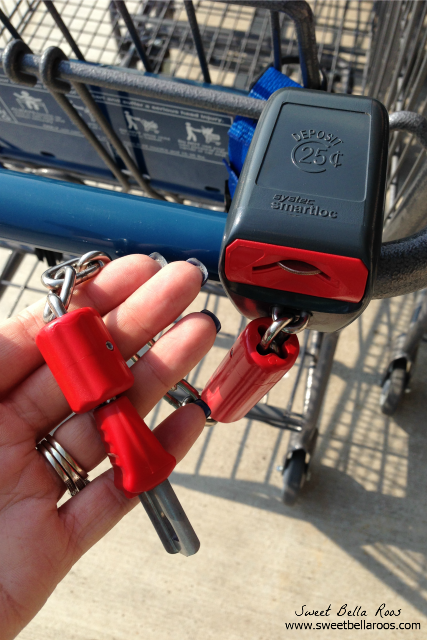 The shopping cart "rental" system is one of my favorite things about ALDI, and one of the many ALDI efficiencies that enable them to keep prices so low.  You pay a quarter to "rent" a cart, and upon returning your cart, you receive your deposit back.  This way there are no stray carts taking up space in the parking lot or causing dents to cars!  Also, by not having to hire someone to police the shopping carts, they are able to pass the savings on to our customers.  Several times when I'm on my way into the store, another shopper will "gift" me their cart instead of just returning it.  I also like to be a "cart angel" and leave my quarter for the next shopper to find.  It's just $0.25, but it always makes my day when I find a quarter waiting for me.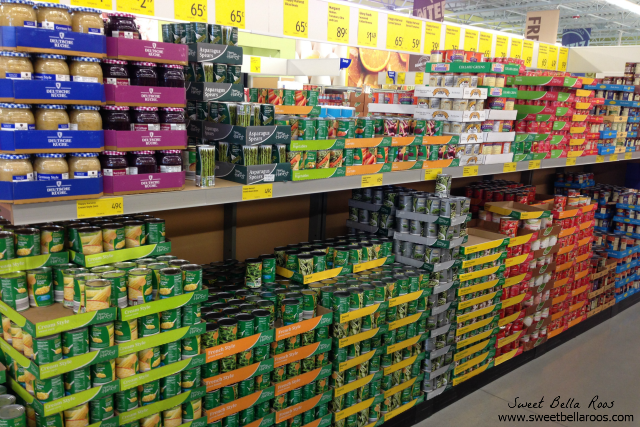 Another thing that might take some getting used to is the way the store is stocked.  Most everything, unless it is in the refrigerated or freezer sections, is stored on pallets in boxes.  I love the clearly marked no-frills labeling system, found above or below the items.  By not spending a ton of money on fancy signs and displays, they are again passing the savings straight to the customer.
I typically make my first trip to ALDI and then pick up some of my more specialty items, as well as organic/grass fed meats, eggs, and milk, at another store.  ALDI typically only carries 1-2 varieties of a particular item (for example, one brand of pie filling, baking soda, etc), and the majority of their products are the ALDI brand.  They are increasingly offering more organic (and gluten-free!) options though.  I love their Fit & Active and SimplyNature brands!  Like their SimplyNature Organic Chunky Strawberry Fruit Bars: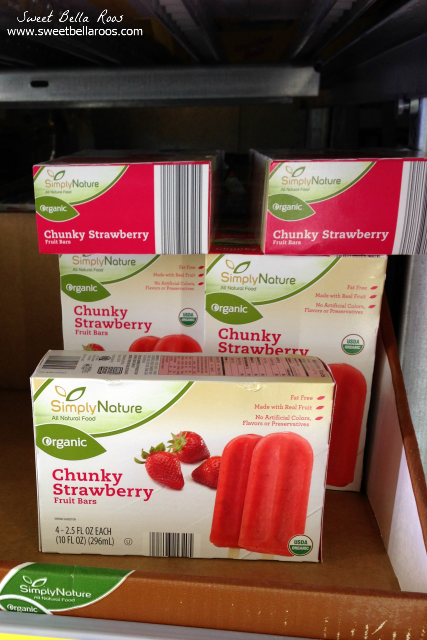 A few other items I love to pick up at ALDI:
Pineapple ($1.99!)
Avocados ($0.69!)
Chocolate bars
Ground turkey
Jarred marinara sauce
Organic canned tomatoes
Cheese
You need to always take a stroll through the "Special Buys" section, usually located towards the front/center of the store.  This varies greatly, but is usually geared towards a "theme" (for example, right now is Halloween).  And unlike most grocery stores that only publish their sales when they start, ALDI publishes their weekly ads and specials TWO weeks in advance.  You can grab a new ad preview paper on your way out of the store for the next weeks sales.  ALDI also has fresh meat special buys every Wednesday- but be prepared, because these usually go quickly!  You can also check out their new low prices on their website and find out when prices drop on certain items.
Another thing that really impressed me about ALDI is their "Double Guarantee".  If for any reason you are not 100% satisfied with any product, ALDI will gladly replace the product AND refund your money.  It makes me feel good shopping at a store that is so confident in their brands and products.
I also really appreciate that ALDI encourages less use of plastic bags.  I used to be really bad about forgetting my reusable shopping bags; but one time when I went to my other local grocery store, the checker put over five small items each in their OWN bags… since then, I've been pretty good about remembering.  🙂  I'm a stickler about how I want my groceries grouped together (as in, NEVER bag my produce and meat together, PLEASE) so I love that I get to happily bag my own groceries at ALDI.
Do you shop at ALDI?  What are some of your favorite items to buy?

Disclosure: This is a sponsored post in partnership with ALDI's Holiday Blogger Ambassador Program. As always, all thoughts and opinions are 100% my own.