This shop is part of a social shopper marketing insight campaign with Pollinate Media Group® and Playtex, but all my opinions are my own. #pmedia #RefreshYourNursery http://my-disclosur.es/OBsstV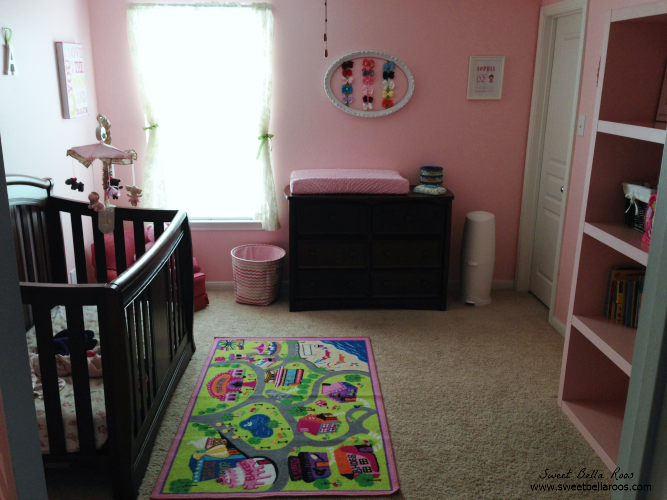 Lately I've really had to face the fact that Sophia is no longer my squishy little baby. She is a walking, talking, opinionated toddler. This past weekend I finally came to terms with this realization and decided it was time to update her nursery into a more toddler appropriate room.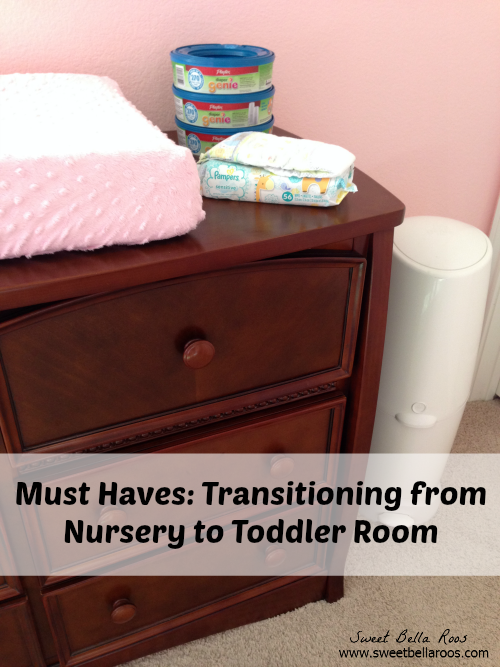 Sophia has always been super long, and she outgrew her changing table a few weeks ago. We aren't quite yet ready to begin full blown potty training, so I knew I still needed a changing station for her "updated" room. We removed the changing table all together, and instead turned her dresser into the changing station. I took the hutch off the top of her dresser, and placed the changing table pad on top. It's plenty long enough for her and leaves me room for other essentials, like diapers, wipes, cream, and Diaper Genie insert refills. Because as your kid gets bigger, so do the diapers… which means so do the smells.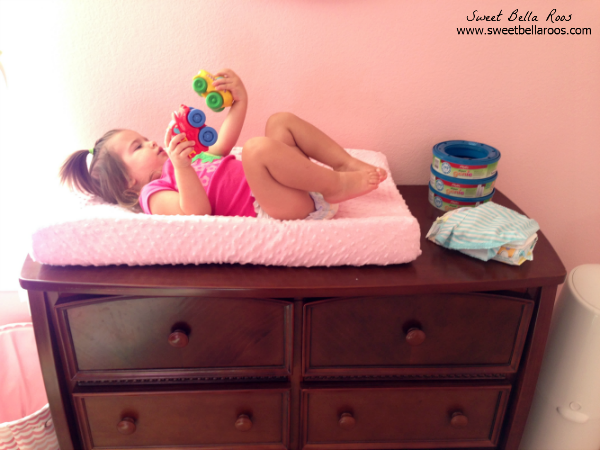 I knew our Diaper Genie was making the transition from nursery to toddler room for sure. When I was at Target picking up some new crib sheets for her room, I stocked up on Diaper Genie refills. Right now you can receive a $25 Spa Finder Wellness gift card after purchasing 3 or more varieties of Diaper Genie at Target and by saving your Target receipt and going to the following website: http://bit.ly/1leqgU7. (While supplies last.)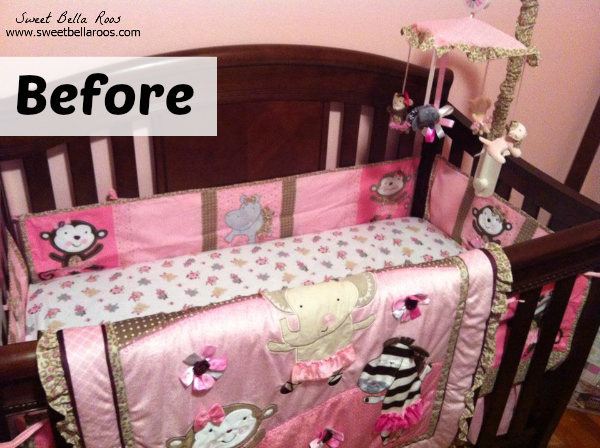 Sophia especially loved the lions from her previous bedding- we had wall decals and she would "roar" at them during diaper changes. I decided to leave her mobile up for now because she still enjoys it and we use it every night. Why rush things more than I have to right?! We also plan to stay in a crib as long as possible.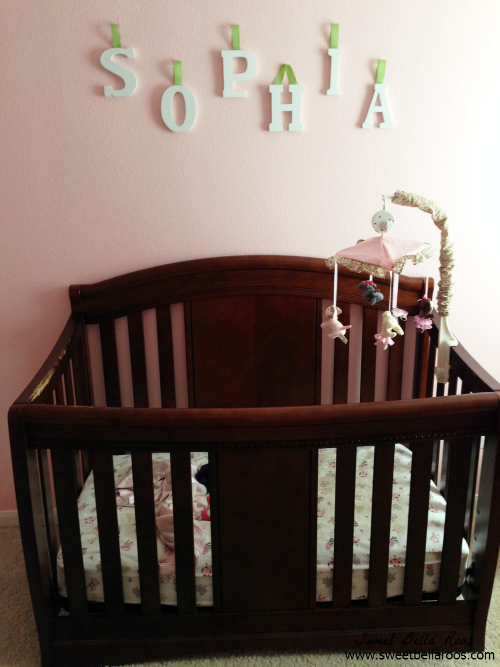 When Isabella was little, she was really great about playing in her room for independent play. Sophia, not so much. I don't know if it's because Isabella didn't have a choice because I was working from home at the time, or if it's because we have a two-story house now with her bedroom upstairs. So when I started to re-do her room I knew I wanted to make it more "play friendly".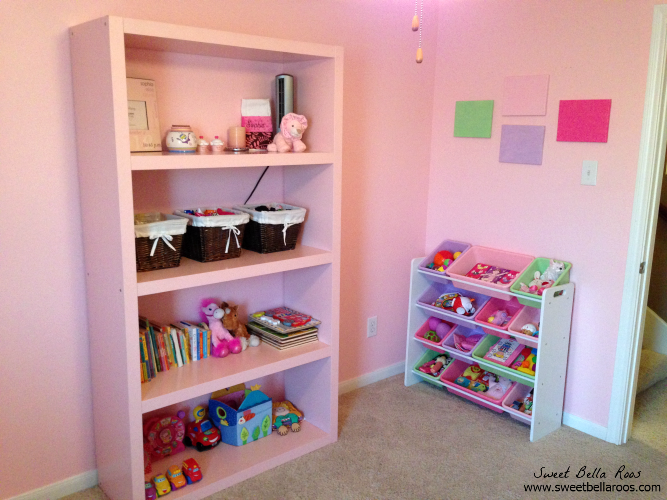 We had this pink bookcase already that used to be in the play room. I purchased the storage toy bins from a neighborhood buy/sell group for $35! I painted the canvases above to match, but haven't decided yet what to put on them. I moved some of the age appropriate toys from the play room into her room.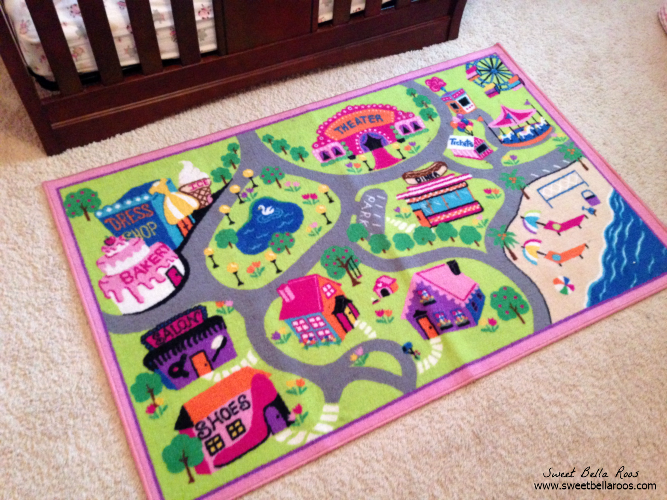 I bought this rug a few years ago and I am so happy I am getting to use it again. I love the bright colors and how playing with cars can be so "girly".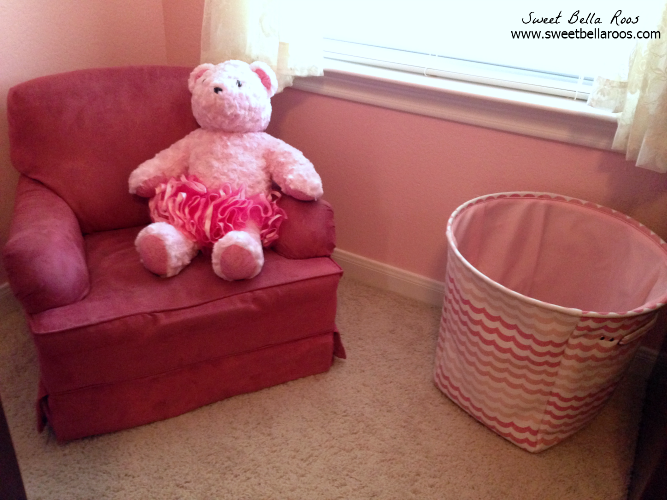 I also set up a little reading nook for her. The chair is a hand-me-down from Isabella's old room. I bought a new canvas basket ($12.99 Home Goods) for her dirty clothes. Sophia LOVES the chair, as seen in yesterday's Instagram picture.
For the total room re-do I spent about $80. Hoping to re-coup that by selling her old nursery decor soon.
-$35 toy bins
-$8 new crib sheet
-$15 new changing pad cover
-$12 laundry basket
-$10 wall art
Much to my husband's delight- I used the furniture, book case, rug, and curtains we already had. I upcycled a few things- like adding ribbons to the letters to hang above her bed and tying the curtains back with matching ribbon. I painted the canvases myself, and created the birth stats print and bow holder as well. Get creative- look around the house to see what you can re-use in a new way.
I am pretty happy with the way everything turned out and the money I saved. I think I will treat myself with my $25 Spa Finder Wellness gift card! Don't forget to head to Target and pick up 3 or more varieties of Diaper Genie refills to get one for yourself! (While supplies last.)