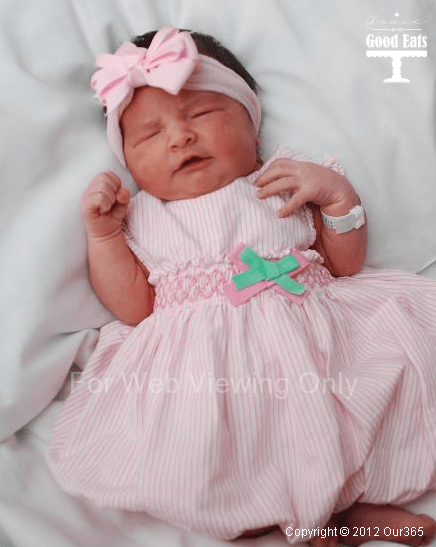 Sophia Elise
September 2nd, 2012
9 pounds 2 ounces
21.5 inches
I can't believe it has already been a week! A long, I-forgot-what-it-was-like-to-have-a-newborn week.
I feel like my blog is about to take a turn towards "Mommy Blog" but I promise I will still bake. Trust me, the only way to supplement the amount of sleep I'm getting is with baked goods. My sweet husband made us brownies after we got home from the hospital. Don't ever have babies with a man who won't make you brownies after giving birth.
So here's the story:
We arrived at the hospital at 6:00am for our scheduled induction. Apparently the "blue moon" put several mama's into labor, as all the nurses were busy and there was no one to check me in. We waited in our room until 7:00 am when a new set of nurses came in and we could finally get this show on the road. I was finally hooked up to an IV about 8:15am (after multiple attempts, both arms) and they started the pitocin at 8:30am. At this point I had no change since my last doctor appt a few days before, still only 3cm dilated.
I started feeling some mild contractions, but nothing to write home about. The nurse would come in and up my pitocin about every 30 minutes. At this point, I wasn't in much pain and was trying to hold off on the epidural so I didn't stall my labor. Especially because this was an "attempt" to induce– meaning that if I didn't make progress, and as long as my water didn't break, my doctor said I could go home and try again in a few days rather than end up with a c-section. (C-section = pretty much my worst fear).
At 2:00pm I was still only 3cm and still not experiencing much pain from the contractions. At 4:30 my doctor came in to talk options. He said that I wasn't progressing as quickly as he was hoping (or really at all at this point) and that it was up to me what I wanted to do. We could either continue with the labor and break my water in hopes of jump-starting labor, knowing that this would commit me to labor and possibly end in a c-section, or we could unhook all the IV's and try again in a few days. Sophia was still very high up and not in the best position to move things along, but Dr.V said that breaking my water could force her to move down and could help the contractions be more efficient.
At this point it was up to me, with my doctor, nurse, and husband staring at me for a decision. James said he wanted to go for it, but that of course it was up to me. I decided to continue with the induction based on my previous labor experience with Isabella and based on the fact that I didn't think waiting three days to try again would make a huge difference. So at 4:45pm Dr.V broke my water. (Ouch!)
From there the contractions immediately got stronger, and I was maxed out on the amount of pitocin they could give me. By 6:00pm I was starting to think about the epidural but wanted to make it to 6:30pm. We called for the anesthesiologist and at this point I was having to really focus and breathe through the contractions. I finally got some relief at 7:15pm with the epidural in. Originally it only took to one side (same thing that happened with Isabella) and they pushed two more doses and then upped the rate. Now I had one side SUPER asleep and one side comfortable.
At 8pm I was 5cm and Sophia had moved down some. Progress!! I was really glad to hear that I had made progress. The epidural made me super sleepy, and I fell asleep soon after. Apparently when I was asleep my breathing really slowed because when I woke up they had my on oxygen. I wasn't a big fan of that and remember feeling loopy and telling James it tasted like maple syrup.
Finally at 9:45 Dr.V came in to see how things were progressing, much to both of our surprise I was fully dilated! Sophia was still a little high and he prepared me for a lot of pushing. He said he would be back at 10:15 to start "practice pushing" to get her in position. Well before he made it back I started to feel the urge to push, so we called my nurse in. Dr. V came back at 10:15 and I was really feeling ready to go. It felt like everyone was taking forever to get thing set-up! Apparently someone else had just come in and my nurse was trying to get her checked in. Dr. V got a little snappy (lol) and told the other nurses to get things ready that it was time! He also called in the NICU nurses, which made me nervous as he had never mentioned this. He said it was due to her large size he just wanted them on standby.
Finally 15 minutes later it was time to push. I pushed for 3 rounds of contractions and at 10:45 Sophia was born! I think everyone was a little surprised it went so quickly, Dr. V even said that I made that look easy ha-ha.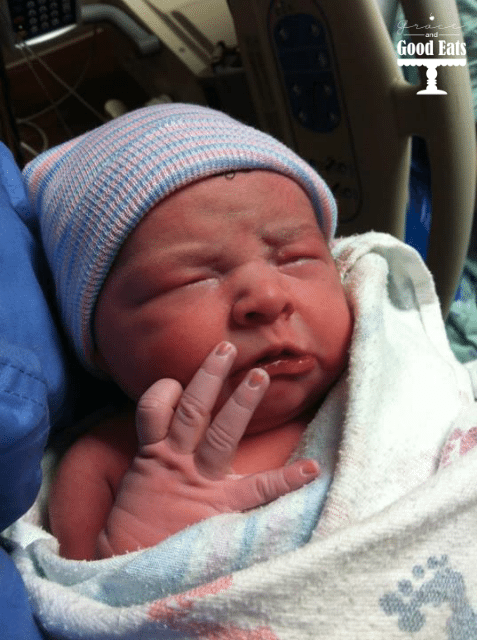 Dr. V handed her straight over to the NICU nurses– James didn't even get to cut the cord. She inhaled some fluid during the birth and had to have her little tummy suctioned. She had a slight fever, and her heart rate was slightly elevated, but other than that she was perfect.
We are so happy to be home. Little princess is eating like a champ and sleeping pretty good (as long as she is being held). We are all tired and slowly adjusting to life as a family of four. BellaRoo is great big sister.