In the fall of 2014 I shared a post about how Truvia was working with the United Nations World Food Programme to "Share a Sweet Future" for families and children in Bolivia.  I was able to attend a webinar and learn more about their efforts, as well as the dire daily needs of people living in that area. Learning that every day over 40% of Bolivian families struggle to support their children's most basic food needs really made an impact on me. As a mother with three little mouths of my own to feed, that statement just overwhelms me. I'm excited to share a follow up to this project with you.
Launched in 2012, "Sharing a Sweet Future" is a three-year partnership between Truvia and the United Nations World Food Programme that aims to combat childhood hunger in Bolivia. Why Bolivia? Bolivia, a part of South America where the stevia plant originated, is one of the poorest countries in the world with one of the highest rates of nutritional deficiencies. The "Sharing a Sweet Future" campaign is one element of the Truvia brand's comprehensive corporate social responsibility program. As the leading stevia brand, the company is committed to sourcing responsibly, stewarding natural resources and working to improve communities.
As a result of this partnership, nearly $1 million in contributions from the Truvia® brand have been used to help reduce childhood hunger in Bolivia. With its "Sharing a Sweet Future" program, the Truvia brand set a goal to help establish self-sufficient communities, by equipping Bolivians with the necessary tools to achieve more optimal nutrition. For example, the Truvia brand was able to provide vegetable oil fortified with the highest level of Vitamin A nutrients and micronutrient powders in school meal baskets, to help children combat nutritional deficiencies. The team also helped to establish safer cooking conditions, through the purchase and installation of energy-efficient, cleaner-burning cookstoves for Bolivian schools to use for safely cooking nutritious meals.
One of my favorite parts of this program is that the students' and teachers' lunch ingredients were often sourced from local farmers, "helping lift those farmers out of chronic hunger and poverty themselves" – according to Rick Leach, President and CEO of the World Food Program USA. This really resonated with me, as my family has been making an effort to eat locally and support more local farmers and businesses. The kids love going to the Farmer's Markets on Saturday mornings and picking out their own fruits and vegetables. We now get our honey from a local source just one town over and I couldn't believe the difference in taste (and even color) from what you get at the store. I'm reminded again that we can all do our part to help. Whether it be through monetary donations, raising awareness, shopping local, or supporting businesses that are doing good things in other parts of the world, we should all try our best to give back instill positive change.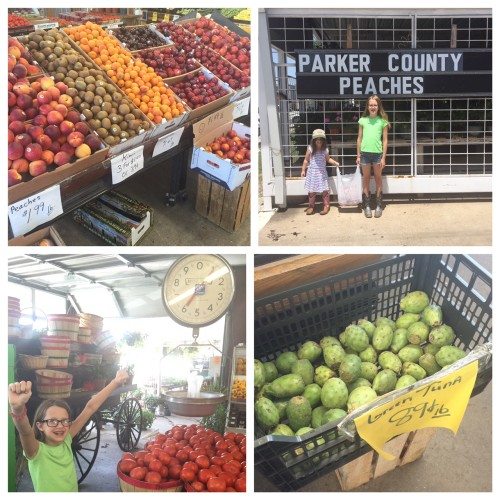 To learn more about this initiative, visit the Truvia.com sustainability page at https://www.sharingasweetfuture.com.

I've partnered with the Truvia® Brand to share today's post. All opinions are 100% mine.