Last year when my daughter started Kindergarten I wasn't aware that it's common practice to give a teacher gift on the first day of school. Christmas- sure, last day of school- absolutely… but I was not prepared for first day of school/ meet the teacher night. This year though, I'm ready!
I love giving personalized gifts, and even better when it's handmade. This frame cost me around $20 total and took me about 10 minutes to make. I picked up all of the supplies at Michaels, except for the frame that I got on clearance at Kohl's. You could easily use any frame you have on hand- or if you have time, garage sales and thrift stores are also a great place to look. It doesn't matter the color or condition since we will be covering it up. (And always be sure to checkout out Michaels website or download the app for coupons!)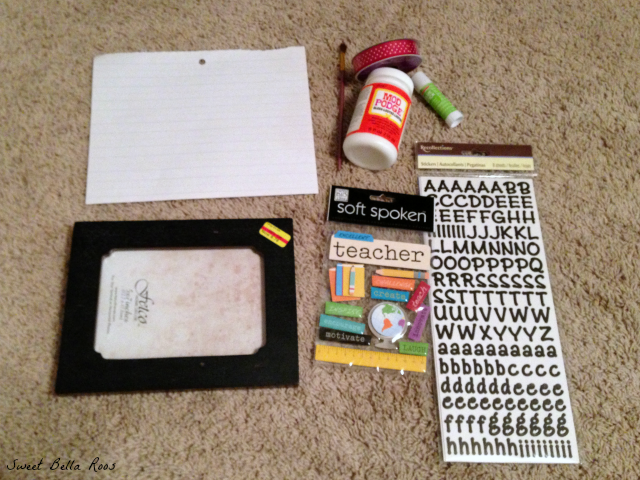 Here's what you need:
-4×6 or 5×7 frame (any larger and it will be too big for your paper)
-piece of blank handwriting paper (with the guide lines)
-alphabet stickers
-teacher/school themed stickers
-glue stick
-mod podge
-ribbon
Trace the frame on the handwriting paper and cut it out. Use the glue stick to adhere the paper to the frame, watch for bubbles. Apply a thin coat of mod podge over the paper, and smooth out any new bubbles. Allow the mod podge to dry- should only take a few minutes. Decorate with the stickers. I made a bow the only way I know how- for hair bows. You can make it any way you know how, or search for an easy DIY hair bow tutorial. Use a hot glue gun to glue it to the frame.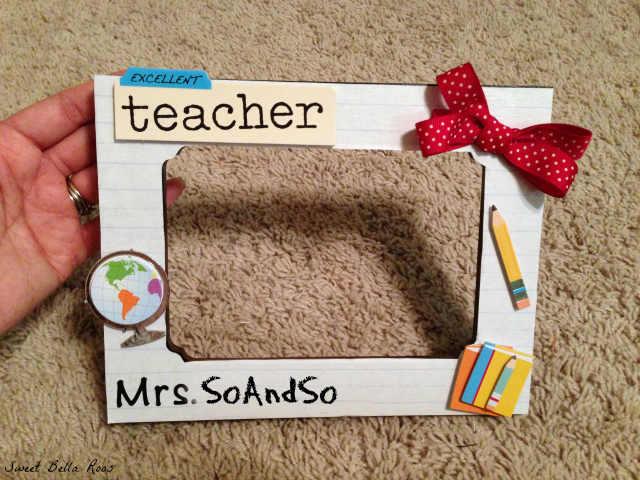 Looking for more back to school ideas? Check out my Lunchbox Love Notes free printable.