When I say that this has been a long week, what I mean is this has been a really L-O-N-G week. In addition to being almost nine months pregnant, Sophia has been battling a fever since Halloween and missed the entire week of school, Isabella had an emergency orthodontist issue, and oh yeah, we had a tornado about five miles from my house. We are so blessed to not deal with sickness around here on a regular basis, and that this is just a virus that should run it's course soon, but good grief I am ready for our house to be well again! (And relentlessly praying that no one else comes down with it!)
So what's a stressed out, overwhelmed, barely-hanging-on Mom to do? Throw a party, of course!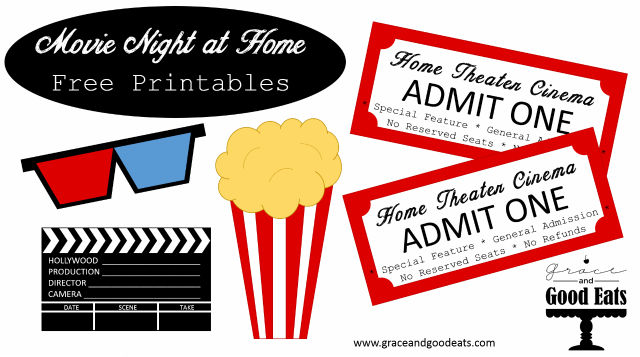 We've had a lot of couch time this week which means we've watched the same movie about 7024589 times. As hard as that has been to watch, it's been even worse seeing Sophia just wilted on the couch and not her usual self! Isabella had an early release from school today, so I decided to surprise the girls with a Movie Night at Home party. We could definitely use a little fun around here! Popcorn and chocolate cures all, right?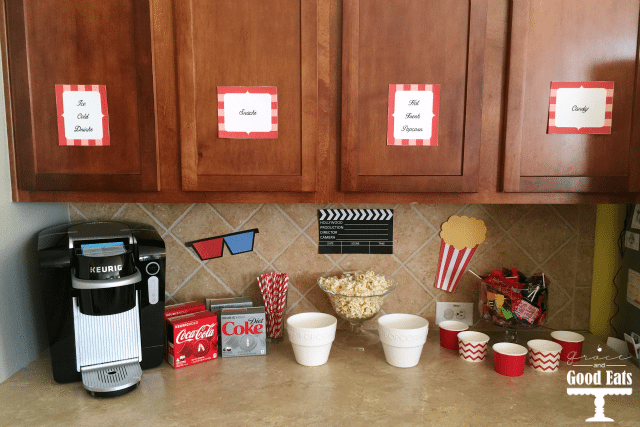 I created some cute printables, popped a bag of popcorn, and set out some of our (never-ending) leftover Halloween candy. It was really easy to throw together, but the girls thought it was so special. Isabella didn't even complain that we were watching the same movie again- ha!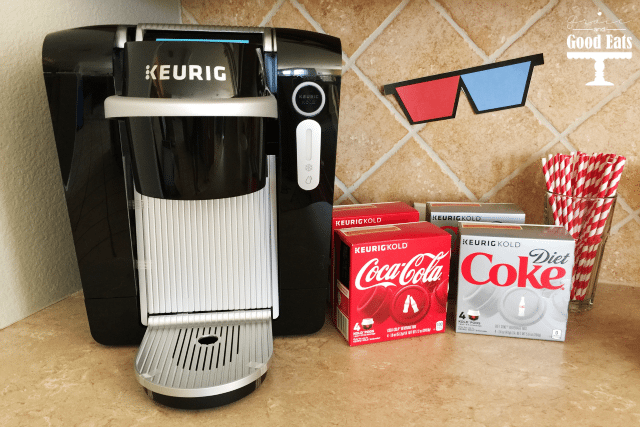 I received a Keurig® Kold™ for review and it was the perfect addition to our movie watching party. We only let the girls have soda on special occasions and this week definitely qualified. (Not to mention nothing sounds better when you're sick than a cold fountain Sprite.) The Keurig® Kold™ makes soda and seltzer perfectly carbonated without a CO2 canister. You can have all your favorites (craft sodas, iced teas, flavored waters, and sports drinks) at home perfectly chilled (about 39°) and perfectly portioned at 8 ounces (most having 100 calories or less). My husband couldn't wrap his head around the need for a product like this, but then I showed him he could also make cocktail mixers. Ha! It's perfect for someone who isn't an avid soda drinker and prefers that fresh from the fountain taste. I haven't had many cravings this pregnancy, but my biggest one has been fountain Fanta. It can't be from a bottle, can't be from a can… and I can tell you every restaurant in a 5mi radius that has it on the menu. Now I can make it myself at home whenever the craving hits!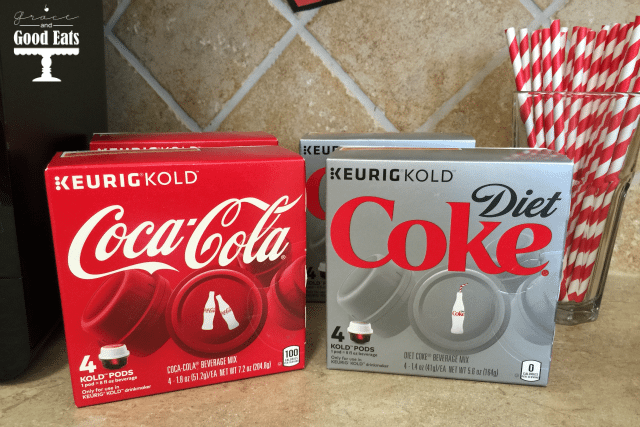 You can find out more about the technology and innovation behind the Keurig® Kold™ and watch a cool video on how it works here. The Keurig® Kold™ would be a perfect addition to a home theater or man cave. We've also used it for family game nights and dinner parties. It even has a party setting that uses ice to allow you to make more drinks in a shorter amount of time.
You can download my Movie Night at Home Free Printables here. (I used them as decorations, but the popcorn, glasses, and movie clapper would also be cute photo props!) The girls loved having their own "tickets" to the show!
Check out my Sweet and Salty M&M Popcorn and snack recipes (Spicy Ranch Pretzels or Fried Ravioli with Spicy Marinara, maybe?) for more tasty additions to your movie night! I've also got a list of 35+ Sweet and Savory Popcorn Recipes – you're sure to find something for everyone!