I have lovingly nicknamed this quick leg workout routine "Legs for Days" because after you do it, your legs will be sore for days.  Y'all know that leg day is my favorite so get ready.  Thank you Curves International for sponsoring this post. Ready to get #CurvesStrong?
A few weeks ago I was invited to an event in Dallas at a local Curves® to celebrate their 25th birthday and see for myself what they are all about.  I have tried a few different types of gyms over the past decade, but I have never been to a Curves location, or a women only gym.  Curves International, Inc. is one of the largest chains of fitness clubs for women in the world and is famous for its 30-minute Circuit with a Coach program that works every major muscle group with strength training, cardio, and stretching.
In the Curves Fitness® Program, women are able to participate in a 30 minute, total-body workout on strength training machines.  These circuit classes are designed to burn fat, increase strength, and kick start weight loss.  Curves members not only work every core muscle group in just 30 minutes, but they also become a part of a supportive group of empowered women.
I wasn't sure what to expect and was surprised to walk in and not find any free weights or cardio machines.  Instead, Curves is a 30 minute, total body workout on strength training machines.  Simply walk in and jump on any machine in the circuit!  In your 30 minute workout, you'll work every major muscle group with strength training, cardio and stretching.
The coaches are very involved and encouraging throughout your rotation in the circuit; they were eager to help with proper form and positioning on the machines.  I was also surprised to find that the machines are not adjustable- they are ergonomically designed and therefore meant for a one size fits all approach.  In between the circuit machines are mats where you perform cardio or plyometric type exercises.  My legs were burning after all those lunges!
Lunges are a great warmup exercise that I do often at the beginning of my workouts to get my heart rate up.  Lunges engage several muscles/muscle groups, including the quadriceps (or thighs), the gluteus maximus (or buttocks) as well as the hamstrings.  (A long lunge emphasizes the use of the gluteals whereas a short lunge emphasizes the quadriceps.)  I'm sharing one of my favorite leg day routines below.
Give this quick leg workout a try… you may be cursing me when the second-day soreness sets in, but your quads + glutes will thank me later.  One of the great things about lunges is that they are a very basic movement that can be performed with bodyweight alone.  Increase the difficulty with dumbbells or kettlebells in each hand or with a barbell atop your neck and shoulders.  I did this workout three times through with two 10lb dumbbells.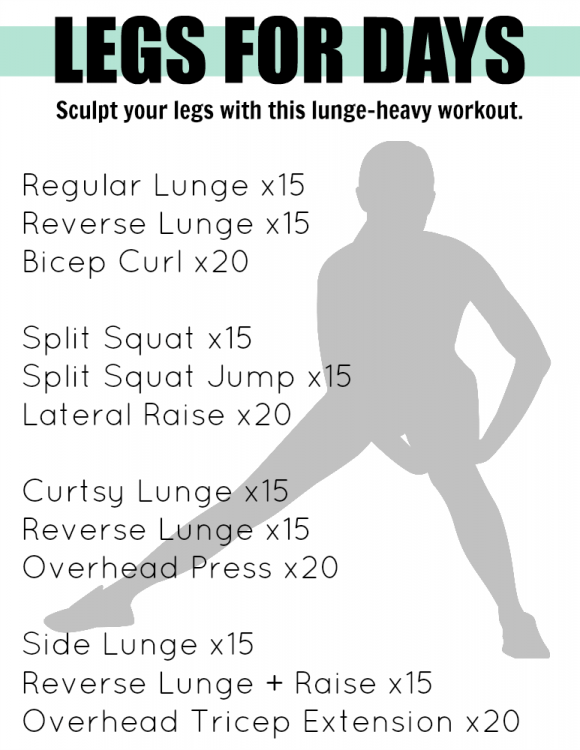 Note: the count for this should be for each leg.  For example: "Regular Lunges x15" means do 15 regular lunges, alternating legs.  15 regular lunges on the right, 15 regular lunges on the left.  
Join now at your local curves and get your first thirty days free (with annual membership).  Get more information and find locations here.
This post was sponsored by Curves International but the content and opinions expressed here are all my own.
---
*While I am a certified personal trainer, I am not your personal trainer, and because I don't know your exercise abilities, injury background or medical history, please see your doctor before beginning any new exercise program.  This is an opinion blog; no information in this blog is intended to be taken as medical advice or prescription. Please see your doctor for any health concerns.