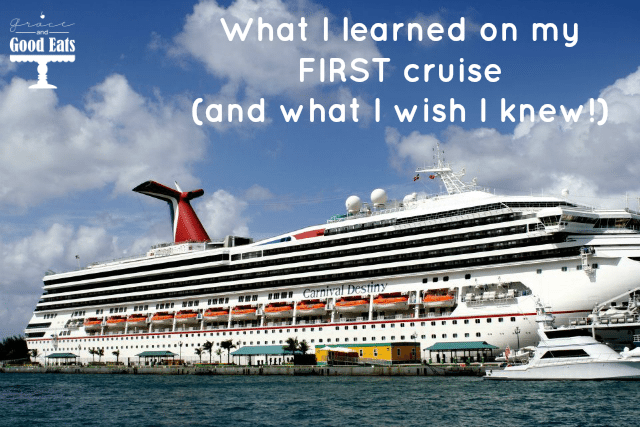 When James and I started talking about honeymoon options we kept coming back to what a great deal cruising is. Great pools, spa, dining/buffets, shopping, shows, and casinos all in one place, all for one price? Sign us up. We decided on the Eastern Caribbean- Nassau, Half Moon Cay, and Grand Turk, leaving out of Miami.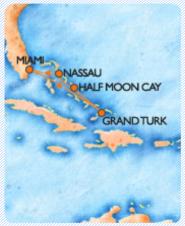 What I learned from my first cruise
-I get sea sick. We prepared for this thankfully, as I also get sick in the car and on planes (yay!). I would recommend taking a pill the day before you depart, and make sure to try to take it at the same time each day. After 24hours I could definitely tell it was starting to wear off. Also, no one really prepared me that you still feel like you are on the boat after you get back. (Think: the feeling you get after you get off a trampoline.)
-The food is good but not spectacular. Think: catered food. Rarely do I leave a luncheon or event thinking 'wow that [insert generic caterer here] meal was amazing. (Ask for the French baguettes at dinner, they were delish.)
-The chocolate cake, however, was to die for. I will talk more about this below because it warrants it's own section.
-They try to seat 'Honeymooners' at a table alone for dinner. Note to self: Be on honeymoon for every cruise, check. (Ha!)
-The spa/fitness areas were really nice. We got a couples massage that I probably could have done without. Sounded nice in theory, but imagine hot stones boiling in a crock pot in a room the size of your closet.  It was really cramped and noisy. I did choose to get my hair done (wash/dry/style) before the 'formal night' and LOVED that.
-I love towel animals. Seriously. Coming home to boring, folded towels was such a let down.

James stole a towel animal for me when I thought we didn't get one. My towel animal collection on the last day. What is that???
What James learned from our first cruise
-Don't give your bags to the guy standing outside the ship. I don't believe they are a part of Carnival (?) and more than likely you will board the ship before your bags. Also, the guy reminded me to tip him at least 17 times.  (Note: Pack your swimsuit in a bag you plan to carry on the ship so you can enjoy the less-crowded pool areas while everyone else is still boarding.)
-Make sure you pack your wife's motion sickness pills. (Also, if your wife is like mine, they will make her sleepy to the point that you can sneak away to the pub to catch the game while she naps. You know, just in case you find yourself cruising while the Rangers happen to be in a pennant race for the 2nd year in a row.)
-You will see the same people over and over and over. Some people love this and end up making lifelong friends. What sucks though is when those people are annoying and obnoxious. There was a group of 7-10 there for a wedding, and I don't know who I was more sick of seeing (hearing, really) by day 3- the bride or the groom. Thankfully, the family next to us at dinner were good people.
-The staff learn your name and you have the same waiter every night. We met a lot of cool people from all over the world. Don't be afraid to talk to them!
-Skip the 'sit down' breakfast and go to the buffet. The food is comparable (if not better) and takes half the time.
-Speaking of saving time… the elevators take forever, so be prepared to take the stairs.
-The excursions can be pricey, but they were worth it. Power snorkeling was AWESOME.
-If you buy an underwater camera to take pictures while you are power snorkeling… make sure your finger is out of the way of the lens… otherwise you will end up with the tip of your finger in every…single…picture.
-The drinks can also be pricey, but they are worth it (ha-ha). Skip the "drink of the day" they are usually too sweet/very fruity.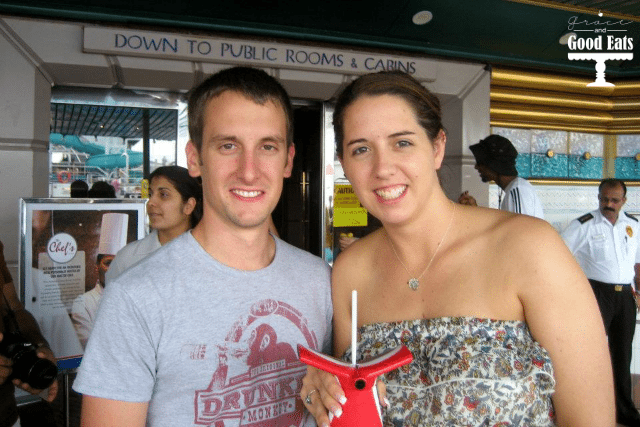 Enjoying one of the 'drinks of the day'
The Chocolate Cake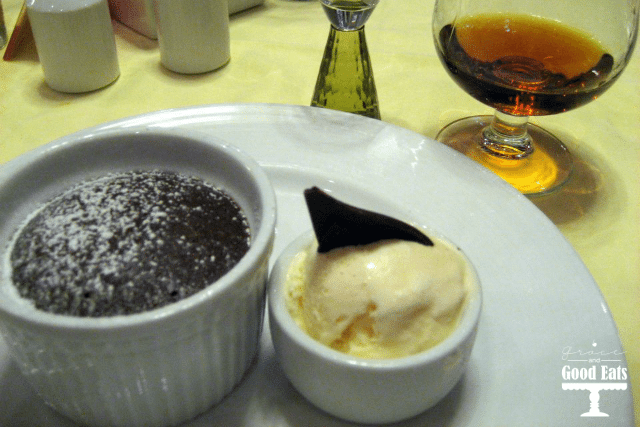 The chocolate molten cake may have been my favorite part of the cruise. (You know, besides being on my honeymoon with my new husband…) By the 3rd night our waiter didn't even give me a dessert menu anymore, he just brought out the cake. It really was heaven on a boat and I've been trying desperately to find it on land. I found a recipe online but my first attempt was a major fail. I'm holding off on attempt #2 only because I'm pregnant and the recipe is basically a barely cooked cake with a large amount of eggs.
All in all, I really enjoyed our cruise and I would do it again. I thought I would have been more freaked out about being surrounded by nothing but water (hello Titanic) but as long as you don't stare out over the side it's not too bad. (Which was easy for me to not do because of the motion sickness.)
Tomorrow I will post pics from our first stop, Grand Turk!