My husband and I enjoyed a little staycation this past weekend. We got a hotel room at a local hotel and enjoyed a night away with NO kids. I had big plans to try new restaurants, pop in for happy hours, walk around and enjoy the awesome weather. Things didn't exactly go as planned, but we were able to try out a new restaurant that I've been wanting to go to for weeks.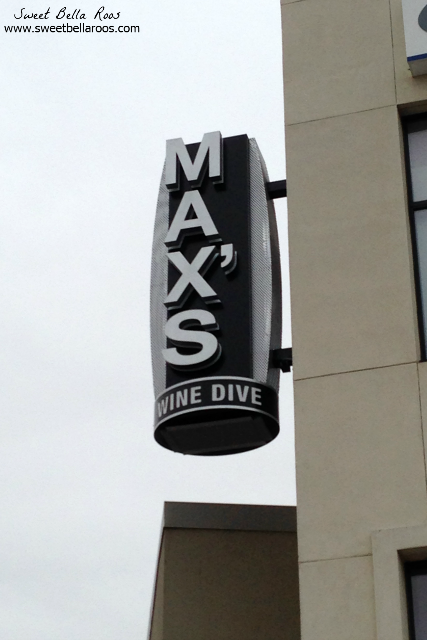 MAX's Wine Dive
2421 W 7th St #109, Fort Worth, TX 76107
MAX's Wine Dive is a Houston import, with branches in Dallas, Fort Worth, Austin, San Antonio. According to their website Atlanta, Chicago, and Denver are also slated to open this year. The servers wear shirts with the restaurant's motto: "Fried chicken and Champagne? … Why the hell not?!"
MAX's features "gourmet comfort food" paired with wines from around the world. "Inspired by dive bars, MAX's provides a unique "wine dive" atmosphere where you can try hand-picked wines, indulge in comfort food delights, and enjoy your favorite tunes on the jukebox in a relaxed, [self-proclaimed] unpretentious atmosphere." It was a cozy space with seating available at the bar, tall pub-like tables, and limited booths. Warm and rustic- with wood and exposed brick- but I wouldn't say completely unpretentious or "divey" for that matter.
Same goes for the menu, which consists of two pages—the first containing Wine Dive Classics that are common to all Wine Dive locations. On the other half of the menu, you will find seasonal changes, unique to each location, comprised of the Chef's creativity and local ingredients. At the Fort Worth location dinner is available seven days a week, with happy hour deals Monday through Friday, and brunch Friday through Sunday only.
We visited for brunch and I was happy to see the $3.75 Wine Dive Mimosas available with orange or Texas grapefruit juice. (I actually ended up with cranberry juice, it wasn't on the menu but the waitress offered. Must have been a popular choice because I overheard later that they ran out and had to borrow some from the bar next door.) I have to admit when we walked in the first thing that surprised me was how dark it was for brunch. It was dark and moody- not the light, sunny, typical brunch vibe. The seating was pretty close quarters; I think we might have had more privacy sitting at the bar as opposed to our booth.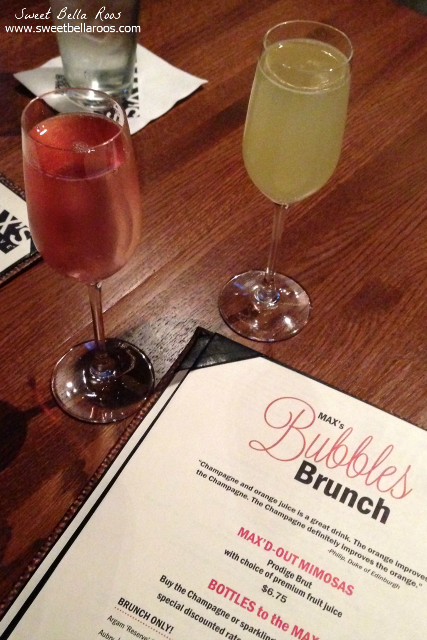 As I was reading over the menu I had to smile a little at their repeated claim of being unpretentious. Everything sounded delicious; but when you start throwing around cavatappi pasta, hydroponic Bibb lettuce, and black truffle aioli it bumps your pretentious factor up just a smidge. I surprised myself by ordering the "MAX 'n Cheese ($11): cavatappi pasta tossed in truffle cream with provolone, Gruyere and Parmigiano Reggiano. Typically I go for something smothered in syrup, but unlike their Dallas brunch menu offerings, there weren't many sweet options. (Dallas offers house-made cinnamon rolls, red velvet pancakes, and Creme Brulee French Toast.) Not a big fan of orange, I couldn't get past the orange flavored Dreamsicle French Toast. The Fort Worth Frito Pie Omelette sounded intriguing, but the wild game chili was too much for me. The MAX 'n Cheese was delicious. Perfectly cooked, creamy, and cheesy. I, myself, love pretentious pasta (ha) and appreciated the cavatappi over a boring elbow macaroni.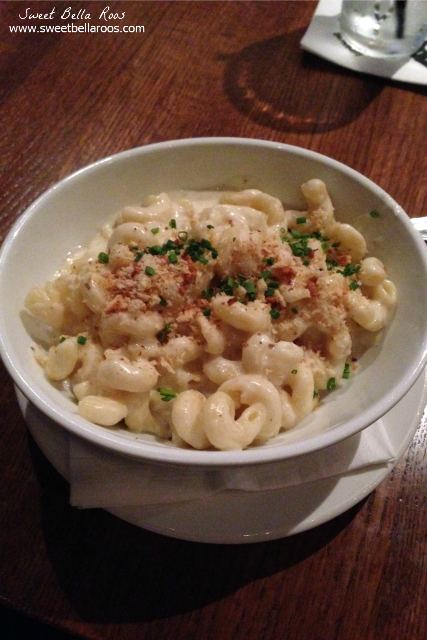 James decided on the Eggs Any Style ($10): two eggs any style served with jalapeno cheddar grits or home fries, applewood-smoked bacon, Texas toast and habanero salsa. He said the jalapeno cheddar grits were amazing, and the eggs were cooked perfectly, just as he ordered.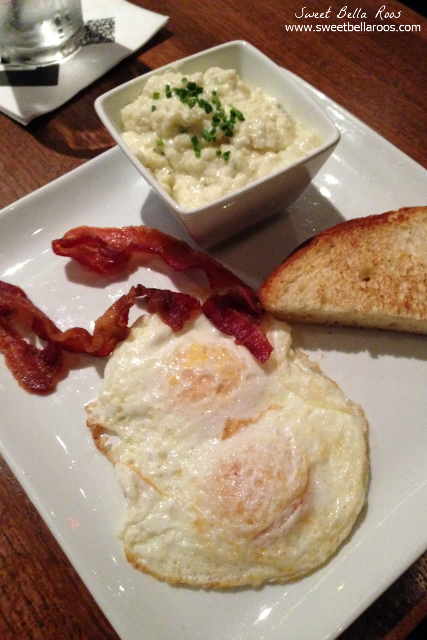 Neither of us were hungry enough to go all in on their award winning fried chicken. Famous Southern Fried Chicken ($16): served with home fries, collard greens and Texas toast – chipotle honey served upon request. "Our Famous Fried Chicken is marinated in our signature jalapeno-buttermilk and deep-fried "slow and low" at 250F in order to keep its juiciness and rosy color. During busier hours, please allow a longer than usual wait time so that we may keep making our Fried Chicken the same way that made it famous in the first place." They also note: "Also available, our BAD ASS Gluten Friendly Fried Chicken!" I don't know about you, but I only want to eat at places that describe their food as "bad ass".
Overall: I have to say that, aside from taste, the thing that impressed me most about the dishes were the appropriate portion sizes, made from scratch offerings, and locally sourced ingredients. The staff was friendly, and I enjoyed seeing the Chef occasionally walk around to visit with patrons. Bonus points for available parking and complimentary valet. It was an excellent meal for less than $30, including mimosas.
LOCAL FRIENDS: on Tuesday, April 8th at 7:00pm MAX's Wine Dive is hosting a French Wine Dinner. Tickets are $60/person or $100/couple. Sounds like a fun out-of-the-box date night or girls night out.