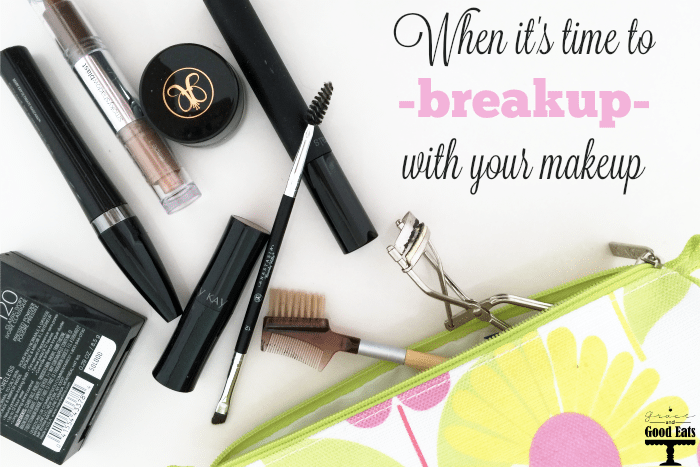 Here's a secret: I rarely wear makeup.  And by rarely, I really mean, like, maybeee twice a month.  I grew up battling eczema and sensitive skin, so rather than risk a breakout, I just got used to going au naturale instead.  Now that I'm getting older (did I just say that?) and could probably benefit from a big girl beauty routine, I don't have a clue where to start.  All of that to say, while I may not be a makeup expert, after recent events I would consider myself an expert on when it's time to breakup with your makeup.  Keep reading below and I think my authority on this particular subject will be made clear.  Or more accurately: red, bumpy, and angry.  Ha.
A few weeks ago, Sophia was invited to the birthday party of a friend from preschool.  (Her first "friend party"… she was SO excited.)  The morning of the party I decided that I was going to put "above average" effort into my appearance because, let's be real, morning drop-off is NOT my best look.  I washed and curled my hair, wore real clothes, and decided this four-year-old's birthday party was even worthy of dusting off my makeup bag.  I remember my face looking a little flush that evening, but assumed it was simply a side effect of the stuffy, stinky, hot-as-heck bounce house warehouse.
Fast forward to a few days later and another "makeup worthy" event.  I put on my tinted moisturizer with sunscreen, some brow liner, and mascara.  By the end of the night it felt like my entire face was covered in hives.  I snapped this pic before heading home and sent it to my paramedic husband who almost made me pull over right then to buy some Benadryl.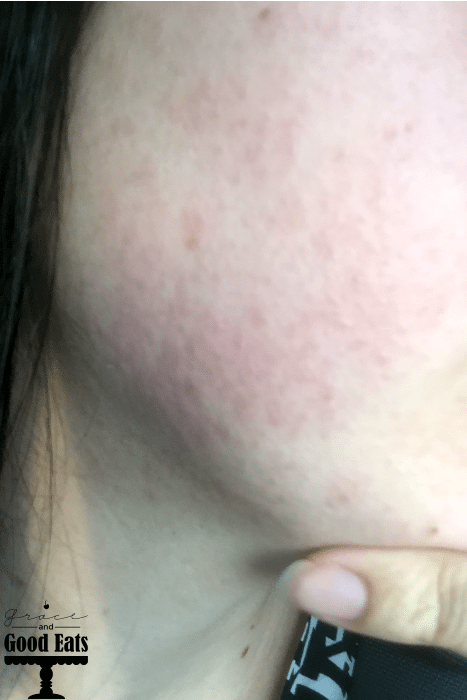 Bright red- check.  Bumpy- check.  Angry and super gross- double check.
I went ahead and took some Benadryl before bed, gently washed my face, and hoped for the best.  I was at a cooking event, so I briefly worried I had eaten something weird, but also knew I've been under a lot of stress lately and chalked it up to that.  It wasn't until the next day that I thought to look in my makeup bag.
And this is what I found: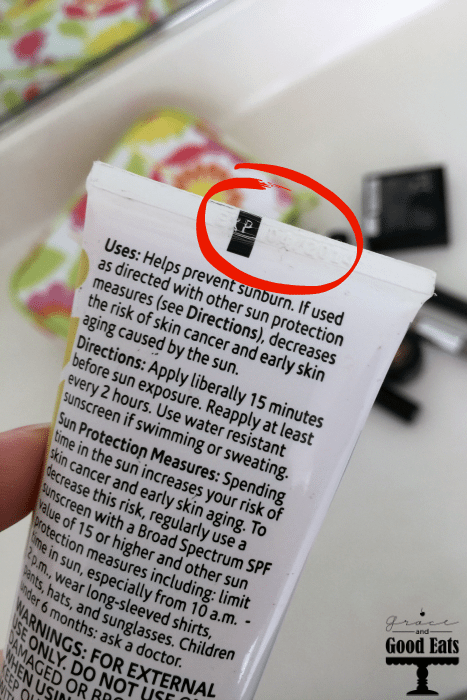 See that impossibly hard to read expiration date there?  Well, just in case you can't, it says 2014.  April 2014, to be exact.  Yes, a full two years ago.  A quick Google search confirmed that my face would fit right in as the poster child of why not to use expired makeup.  I immediately dumped out my entire makeup bag, because honestly, I am willing to bet I had some items in there that might be even older than my first child.  I'm looking at you, Wet & Wild white shimmer eye shadow.  It took almost a solid week for my skin to recover and during the "worse before it gets better" stage I was worried it might never be the same.
Don't be like me, friends.  Go through your makeup bag regularly.  Write down dates and keep track of when you purchased what.  I'm not even a makeup addict but I can see how collecting #alltheshades could turn into a hoarding situation from not wanting to throw things away.  Especially those expensive color palettes!
I've shared a handy little guide below with "best practice" suggestions on when you should toss your makeup.  Print it out and tape it inside your bathroom mirror or cabinet.  You could even write out the date you purchased what item next to each category for handy reference.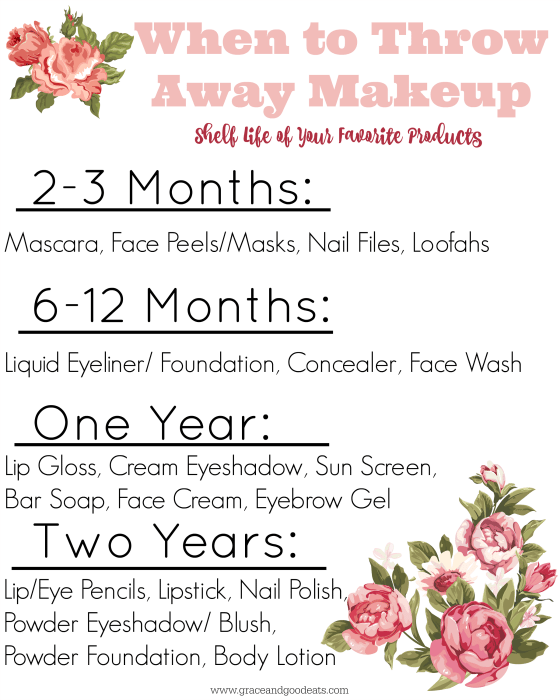 Download the free printable here.
As a general rule though, and to get the most good, clean, life out of your products, always make sure to wash your hands (and your brushes!) before touching anything (especially stuff in a jar)!  It's probably a good idea to also change our your makeup bag every so often, as well.  Be extra careful with acne medicine (breaks down quickly) and sunscreens (subject to extreme heat).  If it smells funky or the color/consistency has changed… toss it!  Putting expired makeup on your face is like eating spoiled food; it might not make you sick in the same way, but it can still cause a lot of preventable damage!