This post is part of a social shopper marketing insight campaign with Pollinate Media Group® and Diaper Genie® but all my opinions are my own. #pmedia #PlaytexEssentials http://my-disclosur.es/OBsstV
When we found out #BrunoBaby3 is a boy, I immediately began planning the nursery… i.e. created a Pinterest board haha. We both wanted a boy, but I think I was secretly hoping for another girl because a) I've got experience as a #GirlMom and b) ALL of our baby gear is PINK. I teased James before we found out that he should just hope for a girl for his wallet's sake. I mean, even the infant bath tub is pink. Lucky for him I since I did hold on to all of Sophia's clothes (and 50 pairs of shoes!) and nursery gear, I have been able to sell a lot of the items through online "garage" sales.

Seriously the only thing that we will be able to pass down from the girls is our beloved Diaper Genie. Luckily those are only available in white, or I probably would have a pink one of that too, ha!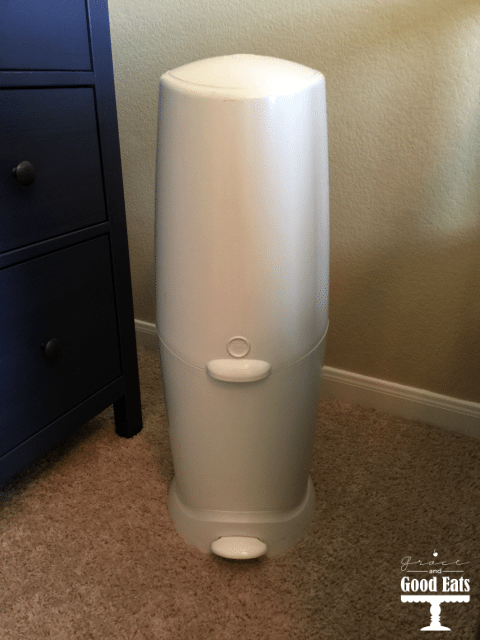 I was perusing the baby aisle at Target the other day (because let's be honest, you take a trip through that section during every shopping trip when you're pregnant) and noticed a new Mommy Time Rewards Program. It's an easy way to take a little more 'me' time and earn eGift Card rewards from participating retailers like Sephora and Zappos, or eGift Cards for massages, dining and more. Once enrolled, every time you purchase participating Diaper Genie products and upload a photo of your store receipt you can earn points on MommyTimeRewards.com. (You can even upload a picture of your baby registry from your desktop or take a picture of your receipt using your mobile phone.) Um, points towards massages for products I'm already going to be regularly purchasing? Sign me up!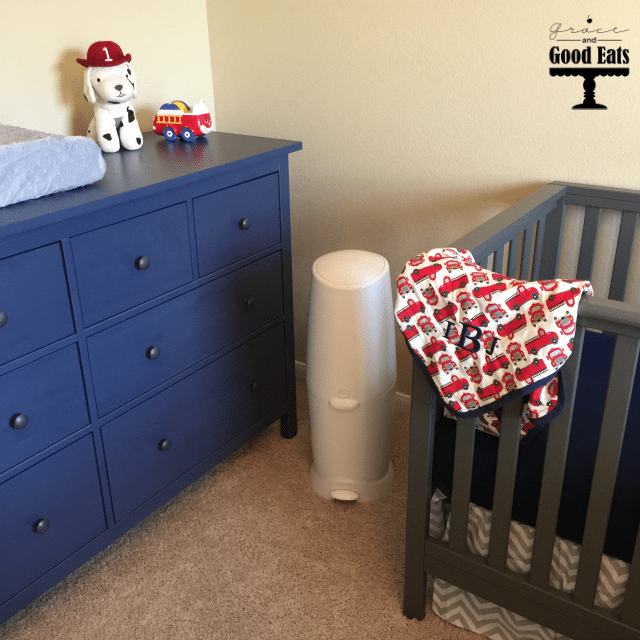 It's been so different shopping for blue though! With James being a firefighter, of course a firefighter nursery was only natural. I didn't want it to be "cutesy" fire trucks and dalmatians, and have tried to achieve a more "vintage" feel for the room. I found the perfect prints on Etsy that are going to be so cute hanging on his walls!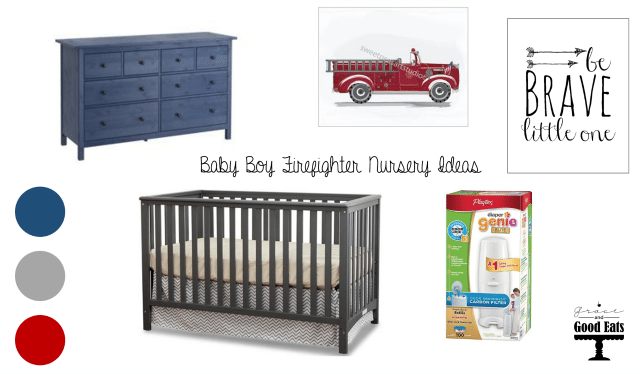 We've purchased the big items- the crib and the dresser- and a few of the decor pieces. I am going to attempt to make a embroidery hoop mobile- not for over the crib, but to hang from the ceiling over the glider. Speaking of gliders- do people really pay $600 for them? Oh my Heavens. We didn't use one in the either of the girls' rooms because we had a recliner in the living room, but now that we no longer have that, I thought I might like one in the actual nursery.
We still need to paint the walls- a soft gray- which James is thrilled about. He just loves painting. I'm also hoping to do an accent pallet wall on one of the walls. I've pinned several different DIY tutorials, but I'm still working to convince the hubs we can do it. So far things are coming along nicely and I'm SO excited to see it all finished.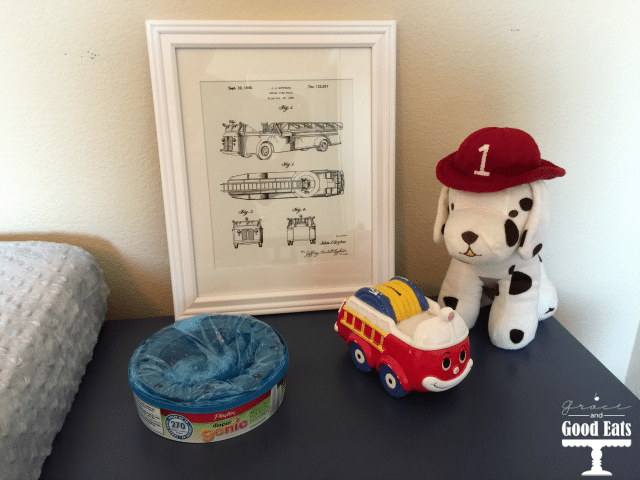 Be sure to take advantage of the Diaper Genie "Mommy Time" Rewards Program! Earn points to use towards great rewards for yourself every time you buy or register for Diaper Genie products.