So I posted the other day about my #EmGetsStrong journey. I don't want to call it a "weight loss" journey- because while I definitely want the scale to move- I want so much more than just that. I don't want to be defined by a number- be it on the scale or the size of jeans I wear. I want to be healthy, and fit, and STRONG.
I kind of can't believe I'm about to post these pictures. Honestly, I didn't expect to see that "dramatic" of a difference, so I didn't even bother to clean my mirror in the Day 1 pictures. So… just excuse that. 🙂
My trainer took my stats a few sessions ago, and while I was excited to hear I had made progress, I really didn't think it was that big of a deal. When I took the pictures this morning, I could feel that the clothes I wore for the before picture fit a little better. It wasn't until I put the before and after pictures side by side that I literally gasped out loud. I am SHOCKED at the progress! You can definitely see it in my hips, legs, even my face!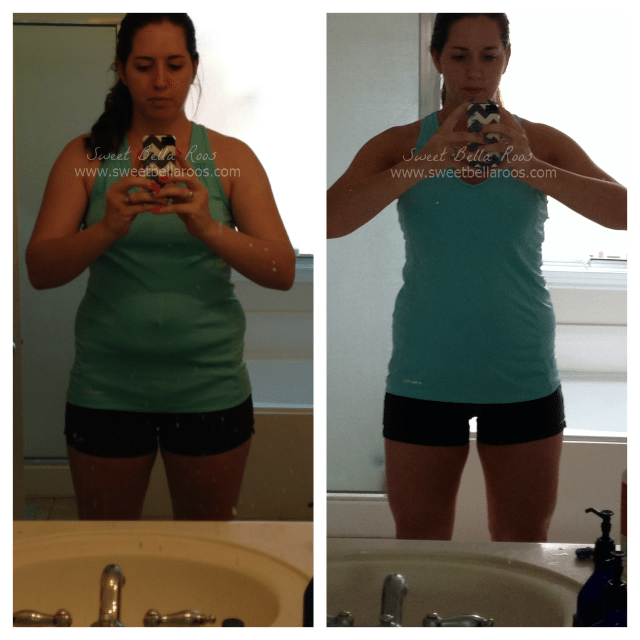 No pills, no drinks, no wraps, no crazy fad diets. Just good ol' eating right, exercise, and HARD WORK. I run 2-3 miles a few times a week. I work out with my trainer 2x a week. I have had zero pasta (personal goal), tried to limit my white flour/sugar, and increased my protein. I've been snacking smarter with cheese sticks, almonds, and occasional fruit.
I am so stoked and feeling totally re-motivated. Since being sick a couple weeks ago I haven't been as on top of my diet as I should be and I'm ready to get back on track.
My stats- 7 weeks:
Total weight lost: -7.5lbs
Total inches lost: -11.25in
Total Body Fat % lost: -3.2%
Follow along with my #EmGetsStrong journey on Instagram.